Reflections as AAGL's 50th President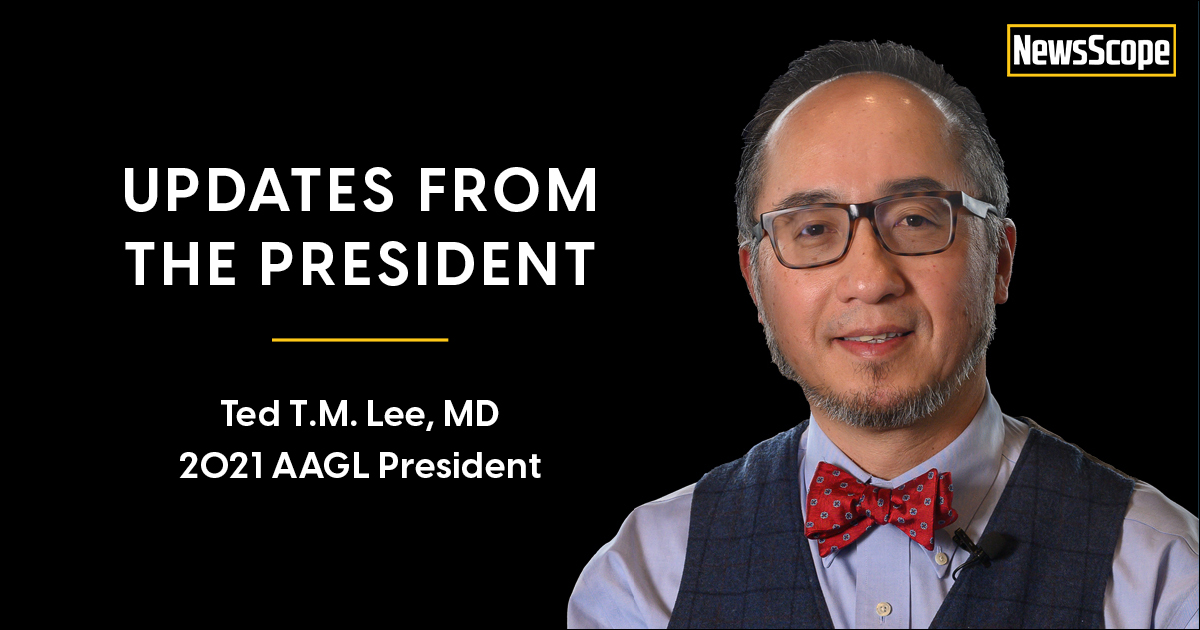 We entered 2021 fatigued from the pandemic but with renewed hope for our future. Now that we are at the close of 2021, and I reflect on this year, I see the perseverance of the human spirit and the strengths, unique skills, and perspectives that we, as an association, have developed.
Our organization 50 years from now will likely look back on this year and recognize that this is when the AAGL evolved. We utilized the tools that we developed early in the pandemic to transform into an advanced version of ourselves. The AAGL of the last 50 years empowered progress in MIGS by sharing the newest technologies and best practices of our field during in-person training sessions held once or twice a year. This was effective training for 50 years and was responsible for developing the field of minimally invasive gynecologic surgery that exists today. Then the pandemic forced us to re-evaluate how things were always done. It allowed us to rethink how we communicate information. We adopted a culture of virtual communication, learned how to utilize online venues, welcomed new voices into our trainings, adapted our style of sharing information, and effectively expanded the global reach of the AAGL.
The AAGL, which has always been known for its educational content and CME activities is now also known for its digital footprint. By using this incredible new skill set, the AAGL expanded our impact this year through ongoing webinars, high definition live-streamed surgeries, and platforms that were accessible all throughout the year. We found that virtual training had a wide global reach. We could train surgeons in developing countries who were previously unable to attend our in-person meetings. In addition, by utilizing translation technology, we began to access the unheard expert voices in our field as they trained in their own language.
One of the ways that we expanded our reach was by launching a series of international training webinars. The "Everything You Wanted to Know About MIGS But Were Afraid to Ask," webinar featured several of our gifted Latin American surgeons. Over 945 registrants from 44 countries tuned, in proving how much we value trainings from gifted surgeons in any language. Two additional webinars by our Latin American Surgeons were equally popular. Our members also tuned in for the APAGE/JSGOE Frontiers of Gynecological Laparoscopic Surgery in Asia webinar. Last, we kicked off our Congress with the very popular International School of Surgical Anatomy (ISSA) "How to Become a Sailor and Not a Pirate-The Secrets of Laparoscopic Retroperitoneal Surgical Anatomy to Perform Safe Gynecologic Surgery" webinar chaired by Marcello Ceccaroni and Shailesh Puntambekar. The AAGL international training webinars were a huge success and showcased so many of our talented members.
Another way we shaped the future of the AAGL was by the creation of the new Fibroid and Pediatric and Adolescent Gynecology SIGs. We also expanded the content of SurgeryU by adding representation from each SIG onto the SurgeryU Editorial Board. These developments will produce increased educational content for years to come.
This year we partnered with other societies in several ways. We joined with three sister societies in submitting an amicus curiae brief advocating against the CA Department of Justice's decision against Johnson & Johnson (Ethicon, Inc)'s mesh devices. We also partnered with the Indian Association of Gynaecological Endoscopy (IAGE) to develop Centers of Surgical Educational Excellence in Minimally Invasive Gynecology (CSEEMIG) in India that will provide continuing education in MIGS. In May, we collaborated with seven gynecologic societies on a joint statement regarding gynecology social media ontologies that acknowledged the powerful impact that social media has on the general public's understanding of medicine, joined our efforts in countering pseudoscientific claims and standardized the way we communicate. We also issued statements condemning racism and violence against the Asian community and the attack on women's health rights in Texas. Over the last 50 years, the AAGL has truly become a strong, collective voice that can throw its weight behind the causes that we care about and make a difference in the world.
My passion project this year was the creation of the Endometriosis Center Task Force and advocacy for advancements in Endometriosis research, diagnosis, and treatment. AAGL produced an endometriosis webinar, "Beyond Awareness: The Future of Endometriosis Care" in March 2021 that was well received. I am certain that soon all these efforts will be finalized and ICD10 codes for endometriosis will be revised for the first time in 40 years. The work the AAGL did in support of this project will make a tremendous impact on women's health care for generations to come.
By facing the challenges of the last two years, we evolved, and the AAGL evolved with us. I am proud of who we have become. I am grateful to see our increased inclusivity, our adaptability, the fighting spirit within us, and the compassion we displayed for each other. I feel great hope for the next 50 years of the AAGL knowing that these traits will steer us in the right direction.
Thank you for your trust and support during my time in leadership. It has been a great honor to serve this incredible association.