The "Surgical Renaissance in MIGS" is Just Around the Corner!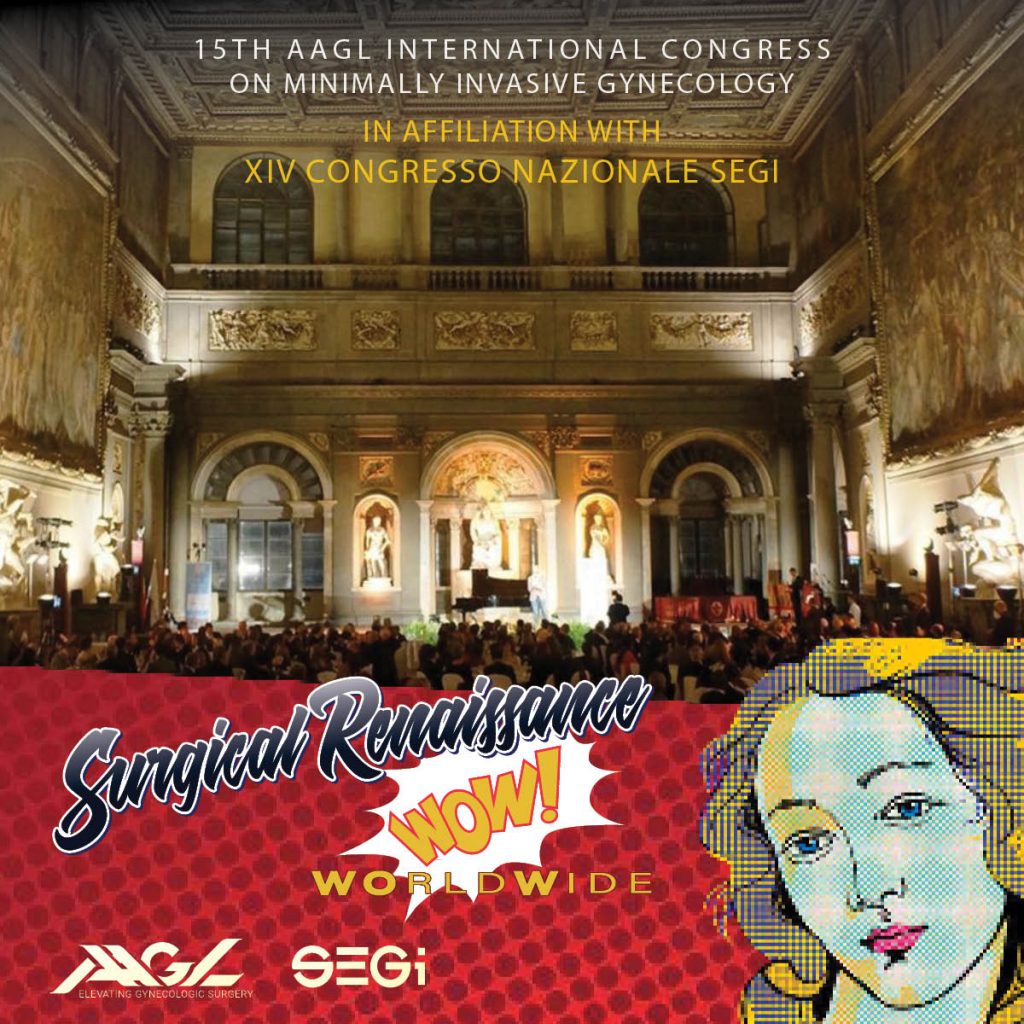 Time is running out to register for the 15th AAGL International Congress on Minimally Invasive Gynecologic Surgery! The "Surgical Renaissance in Minimally Invasive Gynecology Worldwide Congress" is just around the corner on May 8 through May 11, 2019, in Florence, Italy.
Gorgeous, historic Florence is the ideal setting for this global gathering featuring an exceptional program covering the latest in MIGS with outstanding speakers and renowned surgeons from around the world. With emphasis on the most relevant topics and cutting-edge science and innovation, the scientific agenda will highlight the following topics:
Endometriosis
Hysteroscopy
Laser Surgery in Gynecology
Minimally Invasive Surgery for Gynecologic Cancer
Pelvic Floor Surgery
Robotics and Minimally Invasive Surgery
Surgical Anatomy
Vaginal Access in Minimally Invasive Surgery
Leading the many unique learning opportunities will be a keynote dissection honoring the Evolution of Surgical Anatomy broadcast from the very same anatomical theatre said to have been used by the great Leonardo Da Vinci to dissect human bodies in the 15th century. Attendees can look forward to live surgeries, keynote lectures, satellite symposia, and many opportunities for open communication. There are also plenty of robust, pre-Congress Post Graduate courses to look forward to in Siena, Pisa, and Florence on May 7 and 8!
This year's meeting wouldn't be complete without a special Gala celebration. Be prepared to spend an unforgettable evening with delegates, VIPs, and faculty of the 15th AAGL International Congress on MIGS in the glorious Palazzo Vecchio's Salone dei Cinquecento. The event takes place Thursday, May 9, 2019 and tickets are €150 each. The Gala affair includes an exquisite dinner and tours of the Studiolo of Francesco I, Hall of Maps, and Medicis' Secret Passage (see pictures of these stunning locations below). The event also includes an exciting live auction where lucky winning bidders will win the dream opportunity of an Observership and private dinner with one of these world-renowned leaders:
Dr. Leila Adamyan in Moscow, Russia
Dr. Arnold Advincula in New York, New York
Dr. Pere Barri in Barcelona, Spain
Dr. Marcello Ceccaroni in Verona, Italy
Dr. Vito Chiantera in Palermo, Italy
Dr. Jon Einarsson in Boston, Massachusetts
Dr. Ted Lee in Pittsburgh, Pennsylvania
Dr. Javier Magrina in Phoenix, Arizona
Dr. Mario Malzoni in Avellino, Italy
Dr. Marie Fidela Paraiso in Cleveland, Ohio
Dr. Shailesh Puntambekar in Pune, India
Proceeds from the auction will benefit the Santa Maria Nuova Hospital Foundation's mission to restore the DaVinci Anatomical Laboratory—the historical theater where DaVinci himself conducted the first anatomical dissection in the 15th century and where Dr. Ceccaroni will be performing a "Live" Cadaveric Dissection Thursday morning. A special thank you to all the physicians listed for donating their time and expertise to these observerships. Note: Travel and accommodation is the responsibility of the winner.
Don't miss this chance! Register today: https://ssl.bluevents.it/evento.asp?evID=30&IDm=417