FAAGL: Honoring Mentors and More!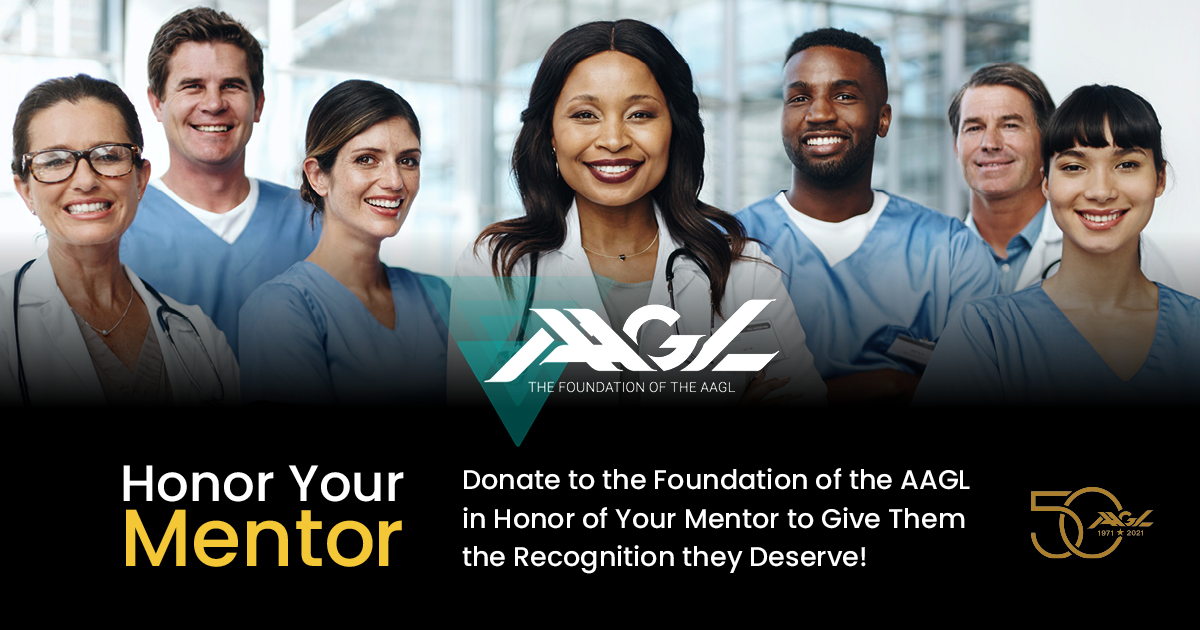 In celebration of AAGL's 50th Global Congress, The Foundation of the AAGL (FAAGL) Board of Directors has designed a new mentor campaign to not only acknowledge and recognize those colleagues, family or friends who have made a meaningful impact on our careers and professional development, but also to give back to the FAAGL to further the mission of the organization.
Three Ways for Mentees to Reward Their Mentors:
Be Committed to Success. One of the best ways to thank your mentor is to be successful.
Positive Communication. If your mentor has made a difference in your life, you simply need to tell them.
Acknowledge Your Mentor to Others.
Donating in honor of or in memory of someone, is a thoughtful way to say thank you. The AAGL has helped thousands of young surgeons learn from mentors and grow into mentors themselves. The FAAGL wants to help you celebrate and thank your mentor when you donate to the FAAGL in their honor. For each donation, we will send an acknowledgment letter to your honoree (or family, if in memoriam), feature a special recognition page on the FAAGL website, feature mentors in an upcoming NewsScope article and give recognition at the 50th Global Congress in Austin, TX.
Your generous contributions will show your gratitude while simultaneously advancing the FAAGL's mission for education, research, technology, and global outreach with the goal of improving women's health. You may also give to honor a non-physician mentor—a professor, parent, colleague, or anyone who helped you become the surgeon you are today.
In addition to nominating your mentor, please consider submitting their name for the John F. Steege Award to be presented at AAGL's 50th Global Congress in Austin, TX, November 14-17, 2021. Award applications and criteria will be announced soon.
On behalf of the FAAGL Board, I would like to encourage you to donate today and thank your mentor! This campaign will run through June 30, 2021.
FAAGL CALENDAR OF EVENTS:
JUNE / JULY 2021 – Applications for Fund for the Future
Applications for the Fund for the Future will open soon! We were thrilled to receive support from Olympus and Intuitive Foundation last year and want to thank these industry partners for supporting this program. Thanks to their generosity, the 2020 Fund for the Future Program was able to support four programs with grants.
JULY 2021 – Noteworthy Award Applications
Applications for the FAAGL Noteworthy Awards and Scholarships (presented at AAGL's 50th Annual Global Congress in November 2021) will be opening soon! In addition to previous years' awards, we are excited to announce two new awards this year:
Leila V. Adayman Award
Barbara S. Levy "AchieveHER" Award NEW in 2021
Franklin D. Loffer Award NEW in 2021
John F. Steege Mentorship Award
Harrith M. Hasson Scholarship
For more information on these awards, please visit the Foundation website: https://foundation.aagl.org
AUGUST 2021 – Karaoke/Talent/Dance Party Fundraiser Sign Up: Sneak Peek at our 70's Dance/Talent Party!
Do you sing or play in a rock band? Well, guess what? The FAAGL will be hosting a karaoke party and would love to invite you to participate and show off your non-surgical talents! Please start thinking about a song you would love to sing and/or an instrument you can play. Watch for announcements in the coming months with more details for registering. This is all in fun and the money raised will continue the great work the FAAGL is doing to support our mission of providing opportunities for education, research, technology, and global outreach with the goal of improving women's health.
Last, if anyone is interested in purchasing the Presidential Suite for your stay at the 50th Global Congress November 14 -17, 2021 in Austin, TX, you can do so through a donation to the FAAGL. The Presidential Suite was donated to the FAAGL by the Marriott Austin (just opened in March 2021)! We will be "auctioning" this suite to the highest bidder. Please submit your "closed bid" to foundation@aagl.org and we will notify the highest bidder. Arrangements for your stay will be coordinated by the FAAGL. Pictures are available, upon request.
As we celebrate the AAGL's 50th anniversary, we are expecting 2021 to the be the most exciting year yet! Stay tuned as more new announcements will be made.