AAGL21 Highlights and Success!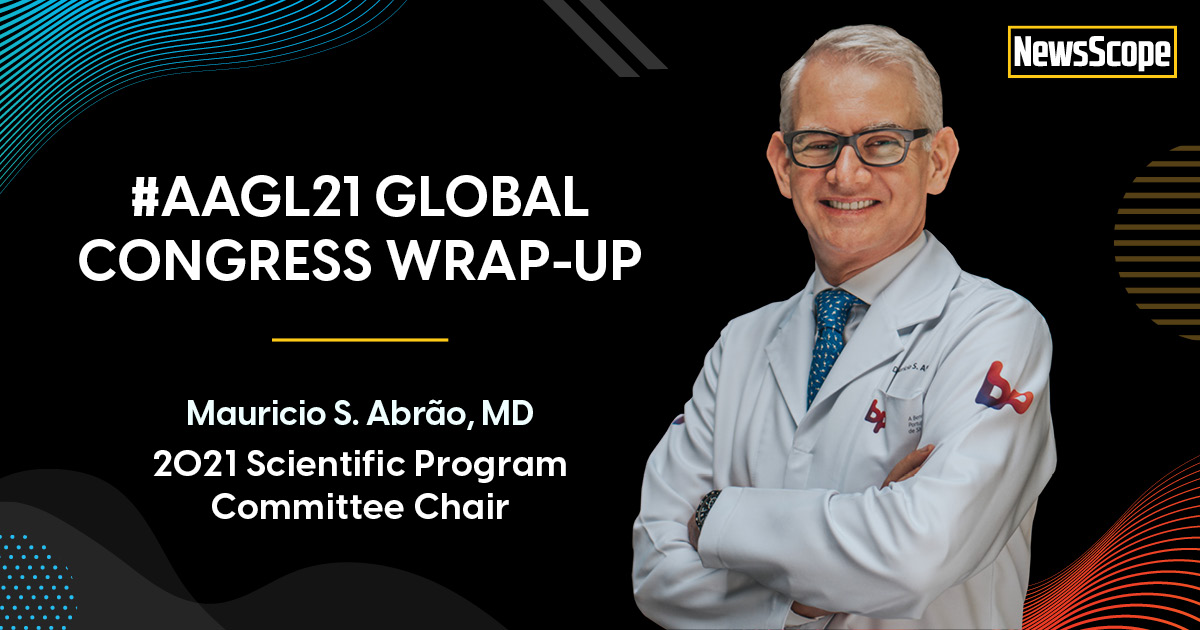 The highly anticipated 2021 AAGL 50th Global Congress was a tremendous success! It is said that absence makes the heart grow fonder and that felt quite true. It was wonderful to see many familiar faces again and learn and grow together. We also celebrate the success of our virtual option which allowed attendees to stream the Congress live from all over the globe. Though our venue struggled with internet capability for some of the event, the patience and flexibility of our members was exemplary.
Through the 20 incredible Postgraduate Courses, 6 Surgical Tutorials, 4 Panels, 3 Debates, 7 General Sessions, 9 Pre-Recorded Surgeries, 3 Live Surgeries, 8 Plenary Sessions, 20 Open Communications Sessions, 250 Video Posters and 7 AAGL Talks, this year's Global Congress provided 31 AMA PRA Category 1 Credits hours and cutting-edge best practices in MIGS for 1752 attendees (1013 in person and 739 virtually) from 63 countries worldwide!
As Scientific Program Chair there were several highlights of this year's event. One of these highlights was the exciting live and pre-recorded surgeries that were included throughout the program. The live cadaveric uterine transplantation performed by Shailesh Puntambekar was an amazing and informative way to show the details of this surgery. I also thoroughly enjoyed the six very contemporary AAGL MED Talks. Each speaker was riveting and engaging while sharing about challenging and disruptive topics.
This year I was proud to take great strides in our journey to improve the treatment of endometriosis. Many of our PG Courses, Open Communications, Panels, Plenary Sessions and Surgical Tutorials focused on this important topic. In addition, during General Session IV Mario Malzoni and Alessandra Di Giovanni shared a reliable model for globally diagnosing and defining details of the treatment of endometriosis, including very refined surgical technics. I was thrilled to share with you all the launch of the new Endometriosis Classification app that will help many patients and colleagues worldwide. Available for both Android and IOS devices, the AAGL 2021 Endometriosis Classification allows surgeons to identify objective intraoperative findings that reliably discriminate surgical complexity levels. The new app, and this user-friendly classification, were developed to simplify endometriosis staging and to help surgeons and patients achieve the best treatment results.
This year we received 587 abstract submissions! Of those abstracts, the best of the best was recognized through Signature Awards presented during the inspiring Foundation of the AAGL Awards Ceremony. During General Session I, we recognized the impact of mentorship by honoring the 2021 John F. Steege Mentorship Award winner, Dr. Marcello Ceccaroni and the 2021 Barbara S. Levy AchieveHER Award winner, Dr. Danielle Luciano.
In addition, we celebrated the future of MIGS at the 2021 FMIGS Graduation where 50 graduates were recognized for their accomplishments. We also enjoyed the engaging Exhibit Hall with 65 companies represented. The 50th anniversary celebrations and the Presidential Gala were spectacular. The gala's band was outstanding, and it was a wonderful evening of fun and fellowship together.
The reach of this meeting lasts long past the final session as meeting attendees continue to access our online content and obtain CME hours. The recorded content of the Global Congress is available through video on demand for all meeting registrants through January 31, 2022. In addition, if you missed our historic Congress, you will be able to register and access all videos on demand starting December 16, 2021. This will allow everyone to complete CME credits, re-watch a favorite session, or catch any of the exceptional scientific programing that you may have missed!
It was an honor to chair the AAGL's 50th Global Congress. I wish to thank the Scientific Program Committee, faculty, presenters, and AAGL staff who gave so much to make this meeting successful. I also thank each of you for attending and actively engaging in this experience.