AAGL 2023 Global Congress: Call for Abstracts Opening Soon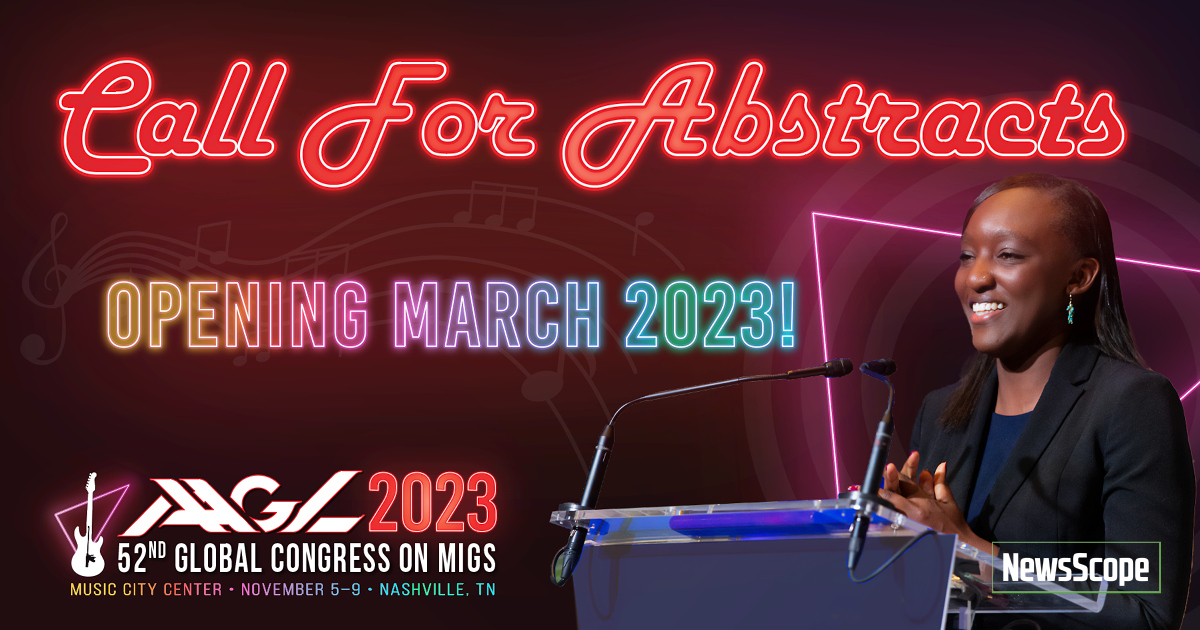 Make plans to be one of the presenters at the year's premier MIGS education and networking event, the 52nd AAGL Global Congress on Minimally Invasive Gynecology! The Scientific Program Committee (SPC) invites you to submit an abstract or video for presentation. This year's Congress will be held November 6-9, 2023, at the famous Music City Center located in the heart of Nashville, Tennessee.
All physicians, engineers, scientists, and allied health professionals dedicated to increasing the efficiency and effectiveness of medical care and research through development and utilization of gynecologic endoscopic instruments, devices, and systems, are encouraged to submit oral or video abstracts. Sharing research in minimally invasive gynecologic techniques and thereby improving health care for women is one of the primary objectives of the Global Congress. This is accomplished through your abstract or video submission and sharing your experiences and outcomes with your peers.
The Call for Abstracts includes written (oral) and video abstracts, as well as scientific posters. The online abstract submission platform opening March 1, allows you to start your abstract, save it, complete it (at a later date, if necessary), and then submit it. After the Call for Abstracts closes, the abstracts and videos are peer reviewed using a standard grading system developed by the AAGL Grading Committee. Acceptance and assignment to a day and time on the Scientific Program will occur the first week of August.
On March 1st, details and submission information will be posted under the "Program" tab on the official Global Congress website. For any abstract related questions, please email: abstracts@aagl.org.
Important Dates:
Call for Abstracts Opens: Wednesday, 3/1
Deadline to Submit without Fee: Friday, 4/15
$65 Fee Applies for Submissions: Sunday 4/16- Sunday 4/30
Deadline to Submit: Sunday, 4/30 at 11:59pm PST
Notifications Sent: Week of August 1