AGES/AAGL Affiliate Meeting Reflection
AGES and AAGL recently co-hosted a meeting in July in the "City of Smiles" – Bangkok. This meeting was themed "The Modern Muse" to reflect the cosmopolitan city the meeting was hosted in. Though originally planned for 2020, the COVID pandemic meant a delay until 2023. I was fortunate as AGES President, to Chair this meeting with AAGL President, Dr. Andrew Sokol.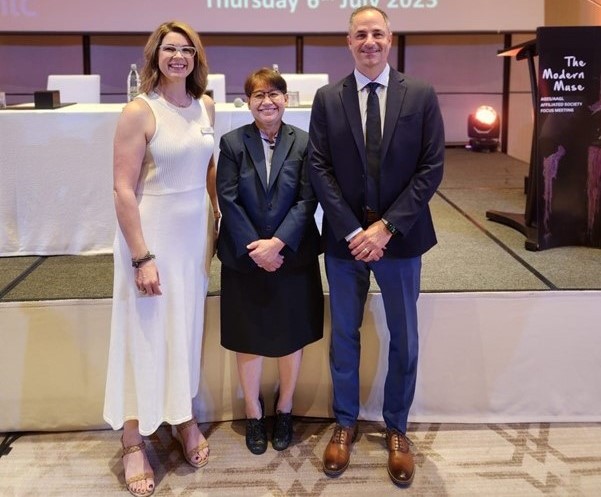 Rachel Green (AGES), Aranya Yantapant (TSGE President), Andrew Sokol (AAGL)
Our faculty was made up of AAGL representatives Dr. Andrew I. Sokol, Prof Sven Becker, and Dr. Shailesh P. Puntambekar, AGES Board members, and representatives for the Thai Society of Gynaecologic Endoscopists (TSGE). The 2-day meeting covered a wide range of topics from surgical management to local and global issues affecting MIG surgeons.
It was an intimate but fun meeting allowing great exposure to the speakers. The panel discussions were lively, and our delegates had opportunities to improve their knowledge. Local faculty provided us with interesting talks on the development of the Thai MIGS program. They have developed a sophisticated program for gynaecological training which has many similarities to ours. The local faculty comprised of Dr. Krasean Panyakhamlerd and Dr. Olarik Musigavong gave us insights into the management of transgender medicine and teenage pregnancy. Both talks were highlights offering some local perspective on these major issues.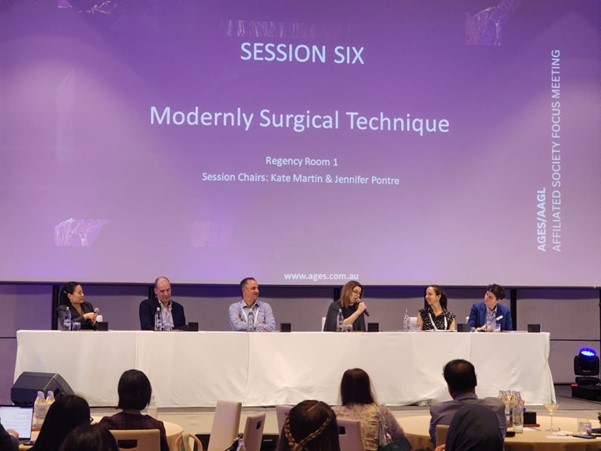 Our social event was a dinner at a local restaurant "Cabbages and Condoms." This is a local institution. Not only does this restaurant serve excellent food but it operates as a "Business for Social Progress." All profits support the Population and Community Development Association (PDA) and has programs in primary education, HIV/AIDS, rural development, environment and water. The name comes from the original concept of a small vegetable stand on the PDA office premises that sold vegetables as well as souvenirs and condoms. The restaurant is now popular with tourists with a gift shop selling some interesting gifts. Instead of after dinner mints, diners are offered condoms!!!
The aim of this meeting was to bring our two societies together to experience shared learning and networking opportunities. I think this aim was well achieved. We look forward to continuing to strengthen our relationship between AGES and AAGL as well as our close neighbouring societies.