Making an Impact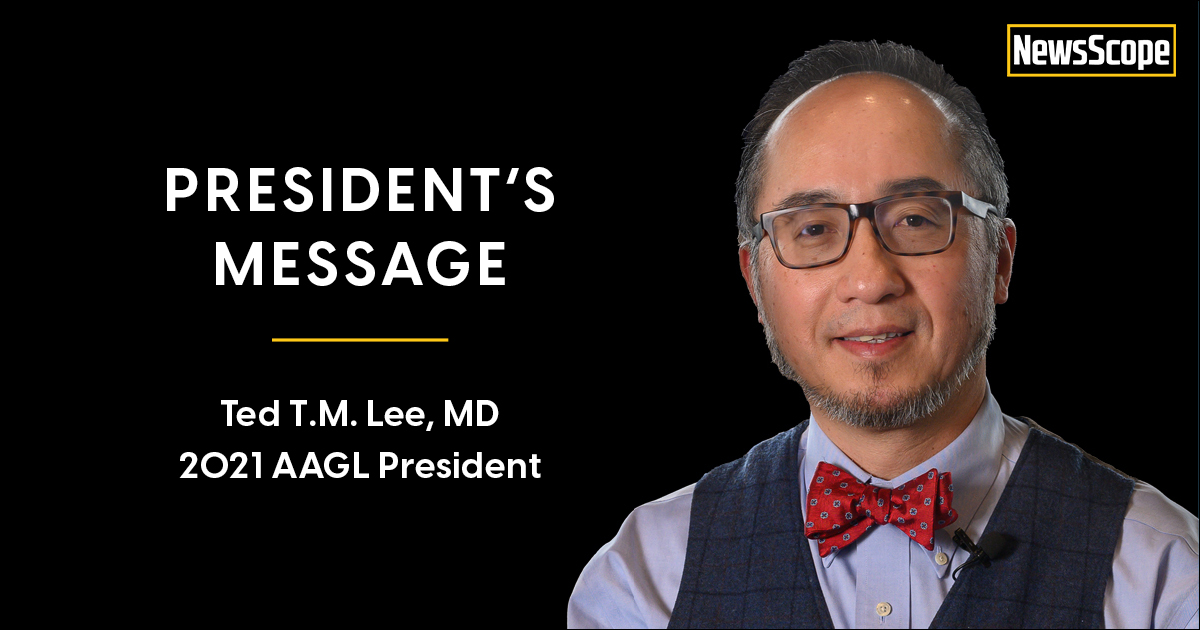 Though we are only midway through this year, the AAGL has already made an impact in 2021 to elevate gynecologic surgery throughout the world.
The first of our international webinar series was a great success! The webinar titled, "Everything You Wanted to Know About MIGS But Were Afraid to Ask," featured several of our gifted Latin American surgeons. It was well attended with over 945 registrants from 44 countries tuning in, including those who watched over Facebook or AAGL TV. We were very pleased with the language translation services utilized in this webinar. Though born out of critical need in 2020, the technology that the AAGL has mastered allows us to truly represent the global expertise within our membership and broaden our training. We are excited to present upcoming international webinars featuring expert surgeons from China, Asia Pacific, and Australia. Announcements for these webinars will be sent in the monthly eblast. Completed webinars can be found on SurgeryU.
In May, the AAGL, along with seven of its sister gynecologic societies, issued a joint statement regarding gynecology social media ontologies. This statement was developed to acknowledge the powerful impact that social media has on the general public's understanding of medicine and to join in our efforts to counter pseudoscientific claims. In addition, the statement determines to collectively standardize the way we communicate among ourselves, patients, advocacy groups, on social media and across the internet through agreed upon hashtags. These hashtags, also known as ontologies, organize posts in social networking analytics. By doing so, we hope to lower barriers of communication between healthcare providers and patient communities and group accurate information to make it easily searchable by interested parties.
I am excited to announce that the AAGL Board of directors has sent out invitations to create an Endometriosis Center Task Force. The seeds for this task force have been planted for some time, including the release of the endometriosis webinar, "Beyond Awareness: The Future of Endometriosis Care" in March 2021. The purpose of the Task Force is to create an Endometriosis Center based on the British Society of Gynecologic Endoscopic Society (BSGE) model but adapted to the US healthcare environment. The Endometriosis Center will have the dual purpose of improving access and assuring quality of care for patients suffering from endometriosis. Our final goal is to develop a comprehensive Endometriosis Center in the United States that will serve as an adaptable model for healthcare systems in other regions of the world.
This year we are celebrating 50 years of AAGL's impact in advancing gynecologic surgery throughout the world. Advances made by AAGL members and the trainings provided by the AAGL have directly influenced our careers today. As part of our 50th Anniversary celebration, we are giving tours of our rich history through webinars, a timeline, and a memory wall. Be sure to watch Drs. CY Liu and Harry Reich's webinar, "Historical Perspectives on Gynecologic Laparoscopy," to learn about how far gynecologic laparoscopy has come in the last five decades. We also look forward to the release of a timeline featuring significant moments in AAGL history. Last, I encourage each of you, whether you have been an AAGL member for one year or 50 years, to submit stories of your own experiences with the AAGL or send us a "Happy Anniversary" message on the AAGL's 50th Anniversary Memory Wall. You will enjoy reminiscing and celebrating with your AAGL colleagues through the memory wall's collection of stories and well wishes.
The 2021 Scientific Planning Committee is finalizing a fantastic program for the 50th Global Congress in Austin, Texas. We anticipate a good turnout but are also planning for strong virtual components for those who are unable to join us in person. Registration will open in early July 2021. Save November 14-17, 2021 on your calendars now!
As we charge ahead into the final half of this year, may we first take pause and reflect. Let us go forward with renewed determination to care well for each other, insight to care well for ourselves and growth from applying the lessons we have learned. We progress together.