An International Meeting of the Minds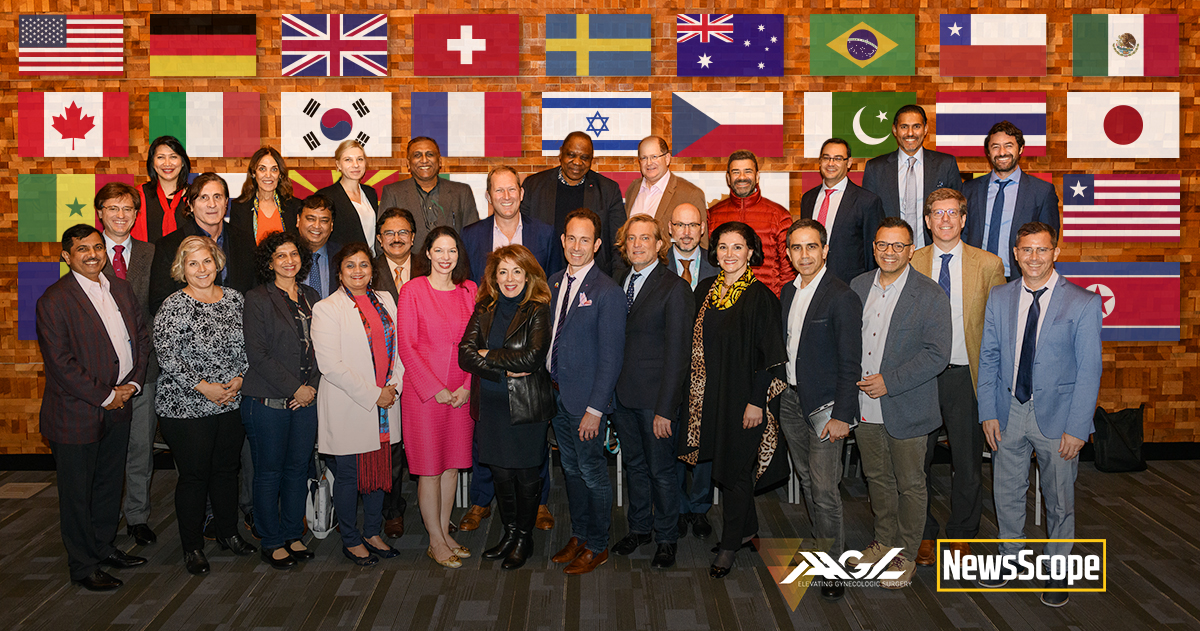 The Affiliated Society Presidents Meeting took place on November 12th during the 2019 Global Congress in Vancouver and representation from these prestigious organizations and countries included Indian Association of Gynaecological Endoscopists (IAGE), Australian Gynaecological Endoscopy and Surgery Society (AGES), British Society for Gynaecological Endoscopy (BSGE), Philippine Society for Gynecologic Endoscopy (PSGE), Canadian Society of Minimally Invasive Gynaecology (CanSAGE), Sociedad Argentina De Cirugia Laparoscopia (SACIL), Sociedad Ecuatoriana De Endoscopia Ginecologica, Turkish Society of Gynecological Endoscopy, African Society for Gynaecological Endoscopy (AFSGE). The International Members Task Force took full advantage of this opportunity to share the vision of increasing AAGL's global presence as the largest international endoscopic society.
The main topic of discussion was the creation of a new Board position of International Secretary. This will be a three-year position offered to previous members of AAGL Board (US or non-US based), and will be an active member of the executive committee. This individual will have the ownership and accountability of increasing AAGL's global presence and will be open for elections in 2020, with a start date of January 2021.
AAGL has been represented and has supported many international events, and has been challenged to increase participation and support additional international events in the future. Committee members and participants also expressed the need to increase communication and involvement among worldwide surgical communities with the goal of bringing resources and training possibilities wherever needed.
Moreover, the AAGL Global Congress will act as the setting to increase international presence. This includes enhanced engagement from international faculty and international open communication sessions and small group education and multilingual postgraduate courses. The Board plans to offer creative solutions to "break barriers" in order to overcome language and economic limitations and AAGL will recognize collaborations endorsed by many of the AAGL affiliated societies. The 2020 Scientific Program Committee is supportive of this initiative.
Other topics of discussion included an expanded international fellowship program, FMIGS-I. During this year's Global Congress, the first generation of international Fellows graduated from Colombia. They were trained in Pereira, Colombia, under the tutelage of Dr. Juan Diego Villegas-Echeverri. Currently, international programs are running (Colombia and Mexico) and more countries are expected to be added in 2020 and beyond.
At the end of the session, attendees were asked to create a list of three projects to be considered a priority for 2020. Affiliated Society Presidents, as well as the members of the International Task Force were asked for input and follow up will commence soon. A communication and dissemination plan will be created by AAGL in order to bring these ideas together and to help fulfill the job description of the International Secretary. Future meetings will take place throughout 2020.
Overall, this AAGL "international meeting of the minds", was a great success and members left feeling excited and energized about AAGL's global future and how we can position the organization as the leading global gynecologic surgery society that constantly attracts, retains and educates – the top industry surgeons of today and tomorrow.