One-on-One with AAGL's Endometriosis SIG Chair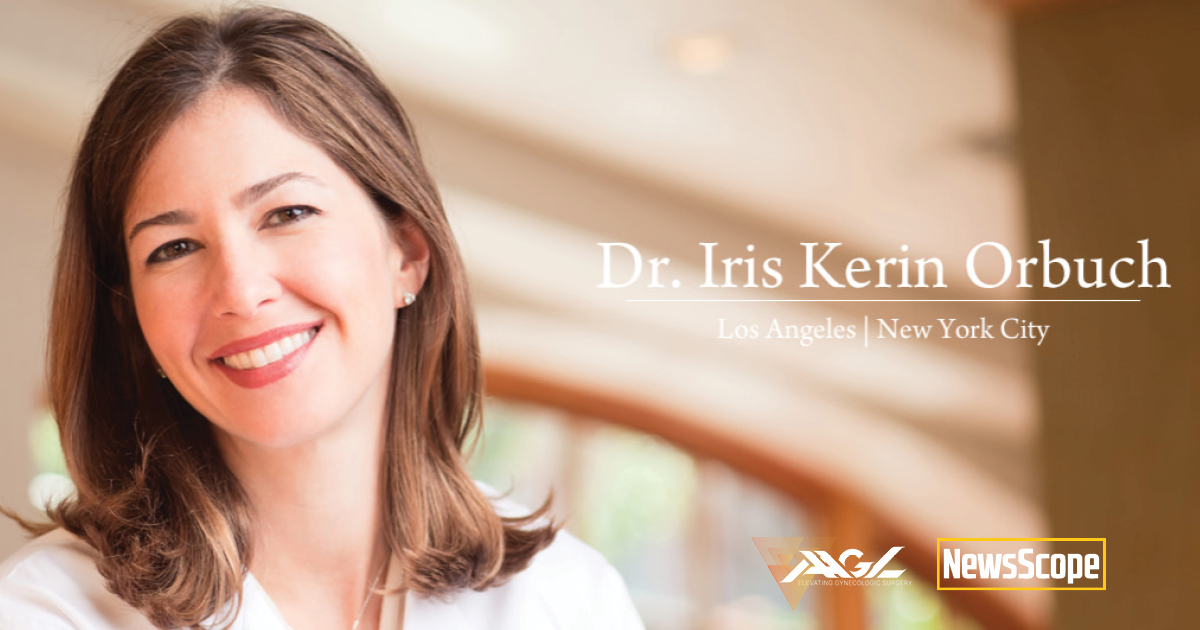 Dr. Iris Orbuch, Chair of AAGL's Endometriosis Special Interest Group (SIG), and Dr. Amy Stein, pelvic pain specialist and physical therapist, partnered on the book "Beating Endo – How to Reclaim Your Life from Endometriosis." We recently interviewed Dr. Orbuch about her book and experience treating endometriosis.
Q: You have been an endometriosis specialist for more than 15 years. What made you decide that you wanted to focus your practice on endometriosis?
I grew up playing tons of video games and playing sports, both of which require hand eye coordination. When I walked in the operating room as a resident, I fell in love with minimally invasive surgery, which requires a mastery of hand eye coordination. I feel so lucky to have had two amazing mentors, Dr C.Y. Liu and Dr Harry Reich, pioneers in the field of endometriosis excision, both of whom taught me not only how to be a great minimally invasive surgeon, but how to be a compassionate physician and a great listener.
Q: How has the treatment of endometriosis changed over the last 5 years?
In my practice, I take a much more holistic "whole body" approach to treating patients with endometriosis. We all know that endometriosis is an inflammatory disease, and with a 10-year average delay in diagnosis, it triggers systemic widespread inflammation. We need to identify and treat all the co-existing conditions that have developed during this delay in diagnosis. To that end, I recommend a whole regimen of treatments including but not limited to: pelvic floor physical therapy, effective pain management(non-opioid) to down regulate the central nervous system, treating GI and Urologic pain generators, mindfulness, meditation, etc.
Q: Are you seeing younger women present with endometriosis and what do you attribute that to?
Yes, it is encouraging to see more teenagers and early 20-year-olds in my practice, which means that the delay in diagnosis from symptom onset to diagnosis is getting shorter. We still have to remember that if I see a 17-year-old in my practice for suspected endometriosis, and she began her menses at age 12, she has already been suffering for five years, probably has chronic pain and probable central sensitization at age 17. We gynecologists must to do a better job at recognizing that 70% of teens with painful periods have endometriosis. We also need to raise awareness amongst pediatricians, family practitioners, gastroenterologists and internists that 54% of teens present with intestinal symptoms and another 52% of teens with endometriosis present with urological symptoms. I believe if we can disseminate these basic facts and raise the suspicion of clinicians on the front lines, then we can start helping these patients far earlier.
Q: Do you find that some women are just not good candidates for excisional surgery and if so, how do you treat them?
I truly do find that most patients are good candidates for excision surgery. The better question is how many other co-existing conditions do these endometriosis patients have. I always evaluate every pelvic pain patient who presents to my office not only for endometriosis, but the multitude other co-existing conditions and pain generators endometriosis patients often have, such as pelvic floor tight muscles, bladder hypersensitivity/interstitial cystitis, central sensitization, hernias, anxiety, and depression. Before I embark on a plan for surgery, even though I'm fairly convinced that a patient has endometriosis, I try and address each of the pain generators that they have. For instance, I will initiate pelvic floor physical therapy, treat their central sensitization, incorporate mindfulness and meditation to down regulate the central nervous system, work with a therapist to address their anxiety and depression and so on, all prior to surgery. Once their sympathetic overdrive starts to cool off, that's the precise time that we schedule a surgery. Because of the average 10-year diagnostic delay from symptom onset to diagnosis, women with endometriosis have a whole host of co-existing conditions set in motion. In order to have the best outcomes, we must treat these co-existing conditions prior to surgery in order to optimize pain relief and minimize the need for multiple surgeries.
Q: What has been the most rewarding experience treating patients with endometriosis?
One of the most rewarding experiences is receiving a birth announcement from a patient who was previously suffering from infertility. There's also nothing better than a handwritten thank you note from a patient thanking me for 'helping them get their life back'. Receiving hugs from them when they return for their postop visit, seeing a glimmer of hope in their eyes, and a smile on their face is the best part of what I do.
Dr. Orbuch's book "Beating Endo – How to Reclaim Your Life from Endometriosis" can be found using the AAGL Foundation Amazon Smile link.