A Historic Move for the AAGL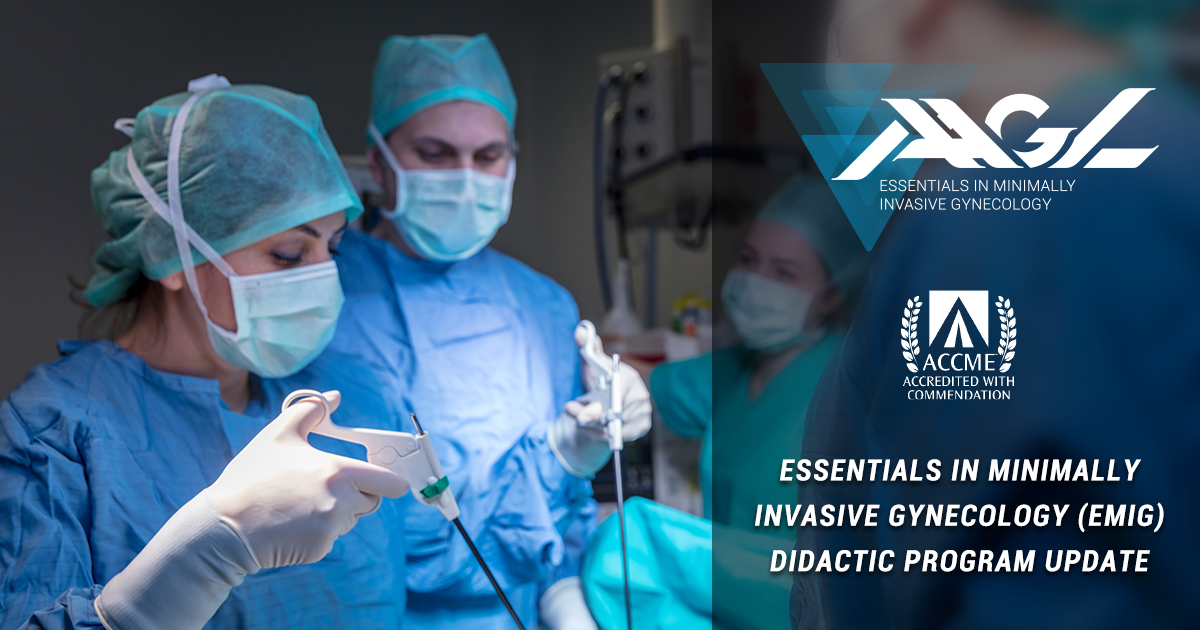 Essentials in Minimally Invasive Gynecology (EMIG) Construct Validation Trial is Published!
We are excited to share the news that AAGL continues work on the Essentials in Minimally Invasive Gynecology (EMIG) platform. As we previously reported, EMIG is comprised of a validated cognitive examination, which is in the midst of a second full beta test, the accompanying web-based didactic component of 80 video modules, accredited for 10 AMA PRA Category 1 Credits, and a manual skills training and testing platform of hysteroscopic and laparoscopic exercises specific to gynecologic surgery.
An important milestone was the completion of the nationwide skills validation trial. The full manuscript of this study, entitled "Essentials in Minimally Invasive Gynecology (EMIG) Manual Skills Construct Validation Trial can be found online ahead of print Obstetrics & Gynecology, the official publication of the American College of Obstetricians and Gynecologists. The manuscript, as authored by Dr. Malcolm G. Munro, et al, outlines the trial consisting of 227 subjects from 13 academic institutions and two centralized sites in the US and Canada. The primary objective of the study was to establish or refute validity for the EMIG Manual Skills Construct by distinguishing novice residents in obstetrics and gynecology (PGY-1) from mid-training residents (PGY-3) during the first 100 days of their training year. Secondary aims included the ability to distinguish "proficient" (ABOG-certified without additional fellowship training) from "expert" practicing surgeons who had completed an accredited two-year fellowship in minimally invasive gynecologic surgery (FMIGS). I am excited to share that study outcomes validated the effectiveness of EMIG and generated an historic leap forward in this groundbreaking training and testing platform. For open access to the full manuscript please visit: https://journals.lww.com/greenjournal/Abstract/9000/Essentials_in_Minimally_Invasive_Gynecology_Manual.97329.aspx
The validation of EMIG skills required collaboration of AAGL, the American College of Obstetricians and Gynecologists (ACOG), and the Council on Resident Education in Obstetrics and Gynecology (CREOG).I want to thank ACOG Immediate Past President and AAGL's FMIGS Past President, Dr. Ted Anderson for his partnership in providing the Simulation Centers. When asked for comment, Dr. Anderson stated: "In addition to basic laparoscopic skills, EMIG assesses cognitive and skills performance in hysteroscopy, which is unique to gynecologic surgery and absent in other surgical skills assessment platforms."
It was also gratifying to have received the support of Dr. Mark B. Woodland, Immediate Past CREOG Chair. Dr. Woodland enthusiastically responded: "As surgical technology evolves it is imperative to have formative evaluation processes and outcome measures for our gynecology surgeons in training. EMIG presents a validated pelvic simulation platform to assess a surgeon's progress and technical competency and has the potential to set a new standard in the education of gynecologists."
In addition to the EMIG skills validation trial, in early April, AAGL released the full EMIG didactic curriculum (at no charge) to Residents, FMIGS Fellows and medical students. The response to the didactic content has been gratifying as over 1,000 have reviewed the modules on SurgeryU. Plans are underway to make EMIG more widely available so please stay tuned!