President's Message – October 2020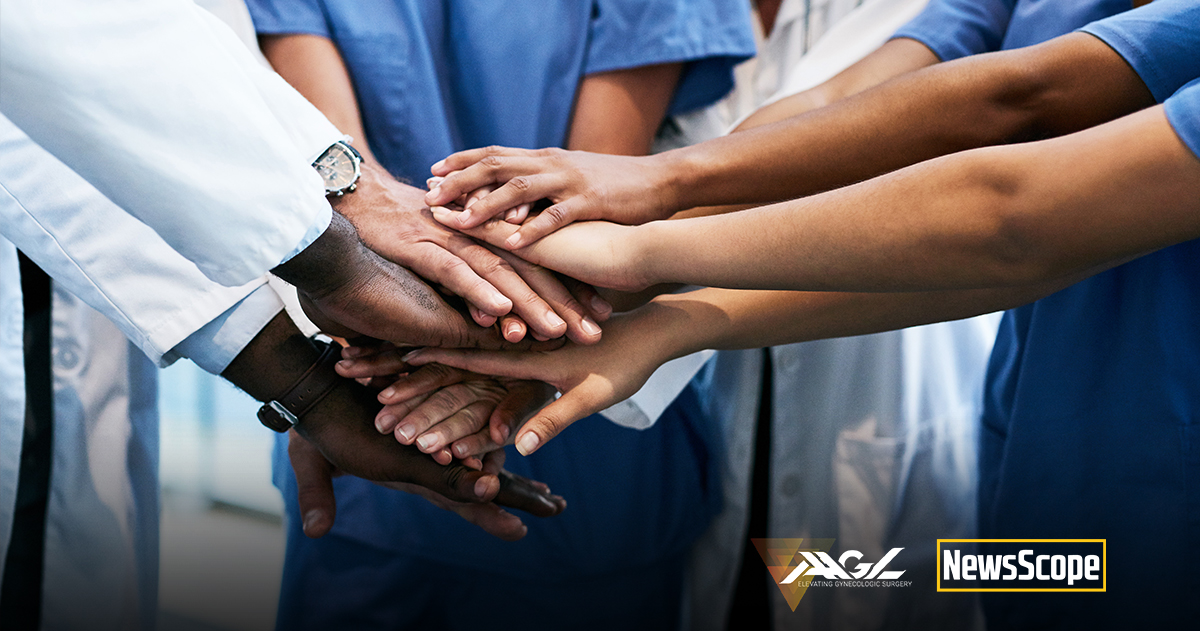 In August 2020, the AAGL, along with nineteen of the leading national professional organizations in the fields of obstetrics and gynecology, issued a joint statement to acknowledge racism within women's health care and committed together to change the culture of medicine; eliminate racism and racial inequities that lead to disparate health outcomes; and promote equity in women's health and health care by outlining seven initial actions. The Joint Statement on Racism was released on August 27, 2020 and after one short month, the AAGL Inclusion and Diversity Committee, along with the Executive Director and AAGL Leadership are proud to report that we have developed action steps and plans in the following five areas:
Collaboration
Our organizations recognize that transformative work is being done within the profession and the broader public health community by committed advocates, activists, scholars, and leaders. We will collaboratively consult, support, and partner with those presently engaged and leading work to achieve racial justice, reproductive justice, and equity in women's health care.
The AAGL believes that collaboration with those presently engaged in the work to achieve racial justice, reproductive justice, and equity in women's health care will produce transformation. We have begun discussions with advocates, scholars and leaders to support and partner with the AAGL and we are continuously looking for these valuable collaborative opportunities to partner with others in making positive changes.
Education
We are committed to active listening and education in obstetrics and gynecology and in the broader women's health community about the profession's history and role in the oppression and mistreatment of Black enslaved women, Black women, and other women of color in the name of scientific advancement. Drawing upon the expertise of scholars, advocates, and activists, curricula will be developed and available to medical and health professional students, residents, faculty, practicing obstetricians, gynecologists, and all health care professionals.
We acknowledge that horrific atrocities were committed through medical experimentation on enslaved black women and we support the recognition of those who suffered. Some of that research is within the very foundations of our education and we collectively grieve such egregious acts.
Recently, JMIG editors extended an invitation for an invited perspective specifically addressing how racism and implicit bias may affect healthcare research. Dr. Dineo Khabele, Chair of Obstetrics and Gynecology at Washington University, has been selected to lead this effort based on her extensive experience publishing in this area. This article will be highlighted on the AAGL's webpage when completed. Dr. Khabele's focus is on education, specifically active listening and education in obstetrics and gynecology. She has also asked co-authors to provide a personal perspective on what they have witnessed over the years on this topic in their practice.
In addition, Dr. Barbara Levy, AAGL's Grievance Chair and Past President, will be serving as an editorial advisor to OBG Management's bi-monthly column on racism in obstetrics and gynecology. Dr. Levy encourages our FMIGS fellows, young alumni and membership's participation and has requested that all interested parties contact her directly.
The Foundation of the AAGL is also committed to racial justice. To put action to our words, the Foundation will be offering a $5,000 research grant dedicated to the study of racism, inclusion, and diversity within MIGS. An announcement will be shared soon for AAGL FMIGS fellows, young alumni and other members to apply.
Scholarship, Research, Publication, Guidance
We will promote the conduct of research, publications, presentations, and other types of programming that incorporate anti-racism and address systemic and institutional racism manifested through disparate outcomes. We will make intentional and concerted efforts to support research that ethically addresses the needs of Black and Indigenous populations and populations of color and to promote the work and scholarship of physicians, clinicians, and public health professionals of color. We are committed to a comprehensive review of scholarship, clinical documents, research, and publications guidelines produced or directed through our organizations to address racism, in particular ensuring that race is not treated as a biological factor.
In addition to the work being done in initiative #2 above, the AAGL released a survey on sexism and discrimination that led to a publication in JMIG and better understanding of the issues at large. There is additional previously unpublished data available from the survey that includes statistics surrounding discrimination from sources other than gender, including race. The AAGL has asked our FMIGS Young Alumni to publish additional data from the original survey, and/or create a new survey to explore this topic further. We ask members expressing an interest to contact the AAGL staff offices to discuss further.
Inclusive Excellence
We will work to achieve greater diversity and inclusion in the leadership of our own organizations at all levels. We will adopt policies and procedures that facilitate these goals and create an equitable and inclusive organizational culture. Within the specialty of obstetrics and gynecology, we will support policies, procedures, and the development of professional cultures where people of color are supported and promoted.
In 2018, before the formation of the joint statement, AAGL laid the foundation for transformation by updating its policies to include an Anti-Harassment Policy stating that there is no tolerance for discrimination, including racism, within the AAGL. "Harassment, discrimination, or creation of a hostile environment based on personal attributes, including but not limited to race, color national origin, sexual orientation, gender identity, religion, age, sex, physical or mental disability, marital status, pregnancy, veteran status, or any other classification protected by law, is inconsistent with the ideals and principles of the AAGL and is prohibited. This policy served as a template for many other medical societies who followed suit. The AAGL then developed an Inclusion and Diversity Policy and launched the Inclusion and Diversity Committee, who remain active today. It also created a Grievance Committee and established a third-party hotline for members to use in confidentially reporting incidents that violate AAGL policies, including policies against racism.
AAGL will continue to monitor policies and procedures that facilitate these goals creating an equitable and inclusive organizational culture.
While the AAGL is made up of members from around the world, the AAGL leadership has recruited board members and staff that represent our membership. More than 50% of AAGL staff self-identify as African American / Black; Asian; Hispanic; Native American / Alaskan Native; Native Hawaiian / Other Pacific Islander. There are also over 50% of the AAGL Board of Directors who identify as underrepresented minorities (URM). While the current level of diversity is positive, we strive to continue to learn more from each other and expand representation of our membership's diversity as we move forward.
Policy and Advocacy
We will collectively advocate for public policies that seek to eliminate racial and other inequities in the delivery of health care and in health outcomes, including policies addressing systemic and institutional inequities outside of health care that lead to poor health outcomes.
The AAGL supports limited legislation through general policy positions/statements, however we are not allowed to do more specific legislative advocacy based on our tax-exempt designation.
Moving forward, AAGL will continue to support limited legislation through general policy positions and statements.
In summary, the AAGL recognizes that transformative work needs to be done within the profession and the broader public health community but recognizes that to achieve this change, the work must start within each of us. We challenge each of you to take the necessary steps to help the AAGL reach these goals. Please don't hesitate to contact Linda Michels., AAGL Executive Director via email at lmichels@aagl.org, if you have any questions or comments.
The AAGL Diversity and Inclusion Committee
Jubilee Brown, MD, Chair and President, AAGL
Shanti Mohling, MD Co-Chair and President, Foundation of the AAGL
Dobie Giles, MD, Committee Member
Barbara Levy, MD, Committee Member
Fariba Mohtashami, MD, Committee Member
Pamela Soliman, MD, Committee Member
Amanda Yunker, MD Committee Member