Coding…Decoded Series: How to Code an Office Visit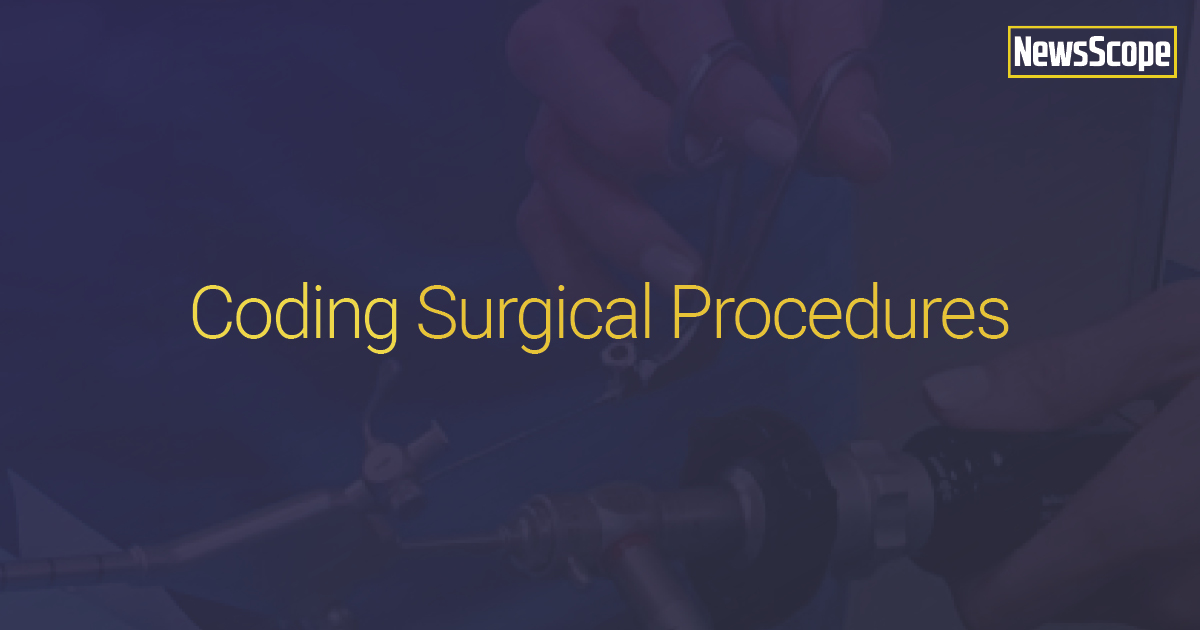 Welcome to part two of three on how to code an office visit. As is true for all surgery specialties, more surgery results in more RVUs. A day in the operating theater will always pay more than a day in the office, but proper billing can net more revenue for those required days in the office.
Last time, we discussed the "Number and Complexity of Problems Addressed at the Encounter" and the four classes. This time, we will discuss the "Amount and/or Complexity of data to be reviewed and analyzed." The complexity of classification of data complexity coding is impressively complex. There are four classes for this element but different names: Minimal (or none), Limited, Moderate, Extensive. While "minimal or none" has no formal definition, anything less than limited would count. The next three classes build on three common "categories".
The common categories are: 1) Tests, documents or independent historian(s); 2) Independent interpretation of tests and 3) Discussion of management or test interpretation. While this seems easy, the application is a bit complicated.
Limited is defined as either an independent historian required for assessment OR any two of the following: reviewing of external notes (defined as someone not in your immediate group—different specialty or same specialty but different office), reviewing of each unique test result or ordering each unique test. The historian does not have to be present but the history must come directly from them, e.g., a phone call. The elements are summative so ordering two unique tests will meet the requirement.
Moderate and Extensive have the same definitions of the three common categories, just moderate requires one and extensive requires two. The first category requires any combination of 3 of the following: review of prior external/unique notes, review the results of each unique test, ordering each unique test and assessment requiring and independent historian. Again, these can be summative so ordering 3 unique tests such as a CBC, prolactin and a TSH would satisfy the requirement for this category. The second category requires an independent interpretation of a test performed by another physician/provider. For example, if you order an ultrasound and your office performs it and you read the ultrasound and complete the ultrasound report, you cannot include the interpretation of your own ultrasound report in the level of E&M service provided. If one of your partners or your radiology department performs the formal read, then you can review the images on the day of service and include that in the total review of data. Finally, the third category requires discussion of management or test interpretation with an external physician.
To clarify this last category further, if you review a patient with your partner to see if they have any management ideas, that does not count, but if you call the general surgeon to discuss repairing the hernia at the time of GYN surgery, that does count. It does not have to be on the date of the patient encounter. It does have to be live and interactive. A resident to faculty or your office staff to the other provider's office staff does not count. Sending notes or messages back and forth in the EMR or via email does not count. Essentially it must be in person, on the phone or video call. Thus, posting on the AAGL listserv is useful, but does not count toward "discussion of management with an external physician".
Next, I want to report on some important side notes clarified by the AMA on March 9, 2021.
The analysis of the test result (not the reviewing) is counted in the encounter it was ordered. If a test is ordered outside of an encounter, then the analysis would counted in the encounter it was analyzed. For example, a patient is seen for heavy bleeding and fatigue. An US is ordered (and counted in that visit as a test ordered) and performed. The patient is called with the results showing a polyp and she continues to complain of fatigue. A CBC is ordered and performed at the time of the non-billed phone call (could do a telehealth visit and with the patient's permission bill for the visit). The patient returns to the office to discuss management of the polyp and the CBC is reviewed and shows anemia. The CBC would be counted in the data for the second visit, not the first.
A unique test is defined by CPT. For example, a CBC with differential does not count as a Hgb, WBC and platelet count; it counts as one test. Similarly, reviewing serial HgbA1C levels do not count as multiple unique test results, but one test result. Refer to your current CPT book to see what labs are included in a code (80047-87999).
Sometimes the appropriate course of action is NOT to order a test. If considered and then ultimately rejected, then it still counts toward the level of service. For example, a patient says that she wants an ultrasound to see if she has PCOS. You note from her history that she has normal, regular menses and no evidence of hirsutism. You discuss this with the patient and ultimately no ultrasound is ordered, the level of service should reflect that an ultrasound was considered, but not ordered. Similarly, if a patient requests a HgbA1C because she had one that was elevated 2 weeks ago and she has been eating healthier lately, your explanation of why it is too early to order another one would count as if you had ordered it for the level of E&M service provided.
The AMA also issued guidance to clarify the complexity of problems addressed. The presenting symptoms may be quite serious and require an intense amount of work to find that the serious diagnoses were not realized. For example, a patient may present with left lower quadrant pain and pregnancy of unknown location and after an extensive work up to find out she has a self-limiting hemorrhagic corpus luteum. Nothing is required further, but it took a bit of effort to figure all of that out.
Dr. Hathaway welcomes your questions and comments. This information is for informational purposes only. Please consult with your billing specialist before applying this coding information to your practice.