FAAGL: Full Steam Ahead!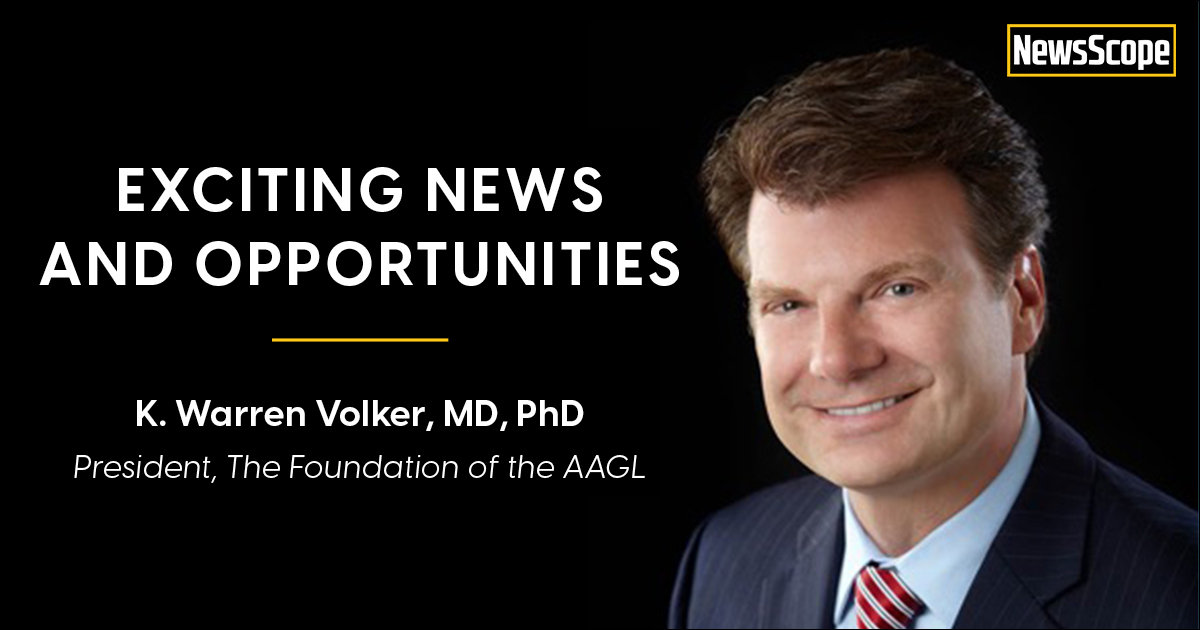 The Foundation of the AAGL (FAAGL) Board of Directors held its first meeting last month. There was a great deal of enthusiasm about the work of the Foundation shared between the new and returning board members. The Foundation has grown this year by increasing the composition of the Board from 9 to 11 voting members. We are fortunate to have such a talented and passionate group of volunteers with diverse backgrounds and experience. Please allow me to introduce our new board members:
New Secretary-Treasurer:
Welcome Chuck Miller, MD, FACOG as the new FAAGL Secretary Treasurer! Chuck served as President of the AAGL in 2007 and has been a prominent donor of the FAAGL for many years. Currently he is a Professor of Obstetrics & Gynecology at Rosalind Franklin University of Medicine and Science in North Chicago, Illinois and Director of Minimally Invasive Gynecologic Surgery at Advocate Lutheran General Hospital in Park Ridge, Illinois. Chuck is also Program Director of the AAGL Fellowship in MIGS at Advocate Lutheran General Hospital and won the John F. Steege Mentorship Award in 2018. He brings with him a great deal of experience, zeal, and perspective to the FAAGL.
Welcome Javier Magrina, MD to the FAAGL Board! Javier is a Professor of Obstetrics and Gynecology at the Mayo Graduate School of Medicine in Phoenix, Arizona. He is also former FMIGS Program Director at Mayo Clinic Arizona. He served as AAGL Board President in 2013, FMIGS Board President in 2017 and has been a mentor to many developing MIGS surgeons. In 2019 he won the prestigious John F. Steege Mentorship Award. He has long been passionate about giving back to the AAGL and demonstrates that through his enthusiasm for furthering the work of the FAAGL.
Welcome Vadim Morozov, MD, FACOG, FACS to the FAAGL Board! Vadim is Program Director of the FMIGS program at MWHC/Georgetown University, Associate Professor in the Department of Obstetrics and Gynecology at Georgetown University School of Medicine and Vice President of Product Development at SurgiGyn Inc, in Baltimore, Maryland. He modeled the FAAGL mission to empower the development of MIGS throughout the world when he took an active role in supporting former FAAGL Harrith Hasson Award winner, Dr. Steve Mutiso's work in Kenya, Africa, including sending him much needed equipment. Dr. Morozov hit the ground running as a new board member and brings many great ideas and experience to the team.
Welcome Lori Warren, MD to the FAAGL Board! Lori is Assistant Clinical Professor of the Department of OB/GYN &Women's Health at the University of Louisville School of Medicine, Co-Director of the FMIGS program at the University of Louisville in Kentucky, Founder of Pass the Pearls, Inc., and holds a private practice in Louisville. Lori is an advocate and educator of MIGS and has been featured on numerous television shows and podcasts. She brings her with her a passion for MIGS and is a great addition to our team!
We are also excited to welcome back Co-Founder of Endo What? and prominent endometriosis advocate, Shannon Cohn, JD, to the FAAGL board to serve for a second term.
The FAAGL Board jumped right into their new roles and started reviewing strategies for success planning the 2021 year! This year you will see more fundraising opportunities not only during Congress but throughout the year. We will continue to plan the great social events you have come to love at the 50th AAGL Annual Congress and introduce a special commemorative 50th Anniversary AAGL branded apparel line available only this year. Pre-Orders will be available as there will be a limited supply on these collector's items!
Applications for the Funds for Future will open earlier this year! The board will be reviewing the Funds for the Future program and updating the application process, which will include a new application specifically focused on international FMIGS sites. We plan to launch the application process, pending approval of grant applications, in June. Awards should be announced in late July/early August. We were thrilled to receive support from Olympus and Intuitive Foundation last year and want to thank these industry partners for supporting this program. Thanks to their generosity, the 2020 Fund for the Future Program was able to support four programs with grants.
The AAGL is seeing great demand and success with the newly launched Essentials in Minimally Invasive Gynecology (EMIG) and have received requests for monetary support from emerging countries and underdeveloped areas. The FAAGL Board of Directors approved funding to support physicians wanting to view the EMIG Didactic but who are unable to afford the cost. We are currently developing an application process and will make an announcement soon to apply for this new funding!
This year, we will be developing an "Honor Your Mentor" campaign leading up to the Steege Award application. Often, we search for ways to pay tribute to colleagues, family, or friends who have made a meaningful impact on our careers and professional development. Tribute gifts, ones made in memory of or in honor of someone, are a thoughtful way to say thank you. The FAAGL has helped thousands of young surgeons learn from mentors and grow into mentors themselves. The FAAGL wants to help you celebrate and thank your mentor when you donate to the FAAGL in their honor. For each donation, we will send an acknowledgment letter to your honoree (or family, if in memoriam), feature a special recognition page on the FAAGL website, feature mentors in the June NewsScope and give recognition at the 50th Global Congress is Austin, TX.
Your generous contribution will show your gratitude while simultaneously advancing the FAAGL's mission for education, research, technology, and global outreach with the goal of improving women's health. You may also give to honor a non-physician mentor—a professor, parent, colleague, or anyone who helped you become the surgeon you are today. Watch for more details when we launch this campaign in May!
In addition to donating to honor your mentor, please consider submitting their name for the John F. Steege Award to be presented at AAGL's 50th Annual Global Congress in Austin, TX, November 14-17, 2021. Award applications and criteria will be announced soon.
In celebration of AAGL's 50th Annual Global Congress on MIGS, we will be introducing the Franklin D. Loffer Endowment Award (established in 2018). Dr. Loffer worked diligently to develop and guide the organizational and medical policies of the AAGL for over 20 years. He has been a mentor and champion to countless AAGL members and has made a tremendous impact on women's health through his contributions to minimally invasive gynecologic surgery.
The Franklin D. Loffer Award will honor Dr. Loffer's leadership by recognizing an up-and-coming Ob/Gyn resident during the General Session on November 15th and providing them with registration to attend the AAGL's 50th Annual Global Congress. Third year residents selected by their chair to receive the AAGL Honorary Resident status, are eligible to apply for this award. An FAAGL committee will review the applications and select a winner. The FAAGL will be releasing the application for this new award within the next few months.
This year, the FAAGL will continue to empower advancement in MIGS by providing Signature Awards to winning manuscripts. When you submit your abstracts, be sure to check the box to apply for these prestigious awards!
Sneak Peek at our 70's Dance/Talent Party! Do you sing, dance, have a rock band, juggle, perform magic or have another hidden talent? Well, guess what? The FAAGL will be hosting a talent show and invites you to participate and show off your non-surgical talents! Please start thinking about your act and watch for announcements in the coming months with more details for registering. This is all in fun and the money raised will continue the great work the FAAGL is doing to support our mission of providing opportunities for education, research, technology and global outreach with the ultimate goal of improving women's health.
Last, if anyone is interested in purchasing the Presidential Suite for your stay at the 50th Annual Global Congress November 14 -17, 2021 in Austin, TX, you can do so through a donation to the FAAGL. The Presidential Suite was donated to the FAAGL by the Marriott Austin (just opened in March 2021!). We will be "auctioning" this suite to the highest bidder. Please submit your "closed bid" to foundation@aagl.org and we will notify the highest bidder. Arrangements for your stay will be coordinated by the FAAGL. Pictures are available, upon request.
As we begin celebrating the AAGL's 50th anniversary, we are expecting 2021 to be the most exciting year yet!
Stay tuned as more new announcements will be made.