A Year of Giving Back!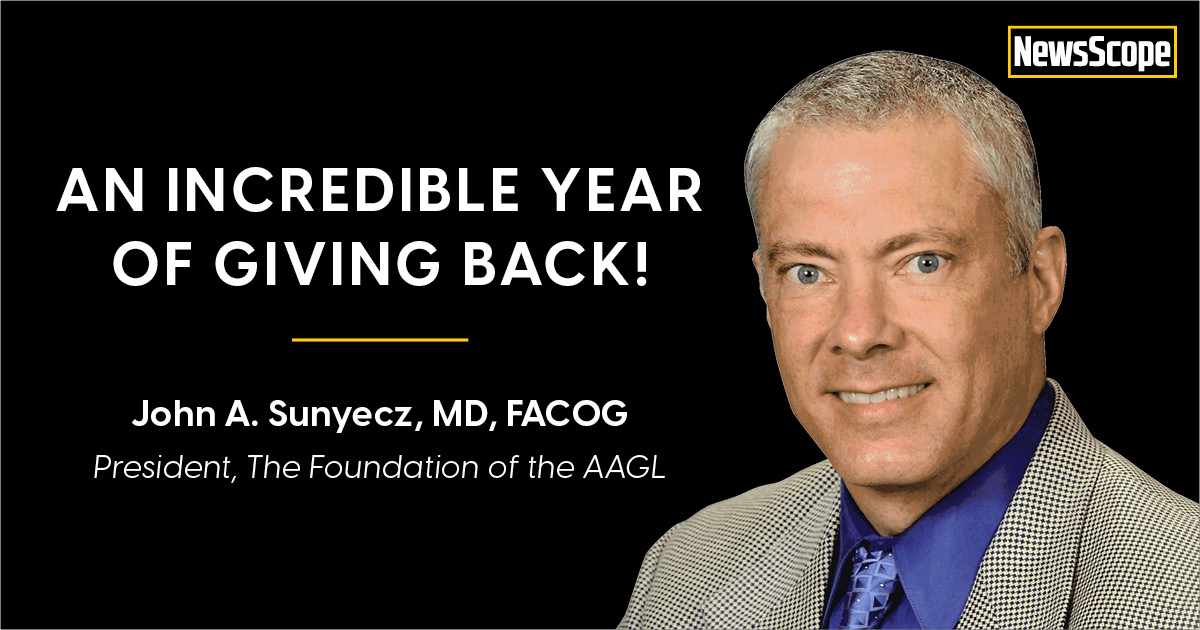 As I reflect on the incredible accomplishments of the Foundation of the AAGL (FAAGL) this year, my heart is heavy over the recent loss of our beloved Foundation President, K. Warren Volker, MD, PhD, FACOG, who helped to make each of these things happen. I share my reflections about the Foundation this year in honor of our dear friend and colleague, to not only recognize the work he did for the Foundation, but also as a thank you for his service as our President.
In Warren's three years on the board, we all experienced his warmth, compassion, humor, and heart for service. Under his leadership, we grew the board from 9 to 11 voting members, secured new funding for endowment awards, significantly increased the grant funding provided for Funds for the Future, launched new fundraisers and finetuned the Foundation's award application process. He has forever made an impact on the Foundation of the AAGL and will be dearly missed.
In 2021, the FAAGL once again secured funding for the Fund for the Future (FFTF) program and awarded four grants to support FMIGS programs. This year, with much thought and discussion, we meticulously updated the FFTF application and grading process, including the critical grading metrics utilized to select the winners of these awards. We were pleased to recognize incredible FMIGS programs with these grants and celebrate all they accomplished with this funding.
We were very excited this year about establishing two new categories of recognition and award at the 50th Global Congress, each funded by new endowments. The Barbara S. Levy, MD, FACOG, FACS AchieveHER Award established in honor of Dr. Levy, was funded thanks to the assistance of Dr. Morozov and the financial support of Medtronic. The Barbara S. Levy MD, FACOG, FACS AchieveHER Award recognizes women leaders in minimally invasive gynecologic surgery who have paved the way for female MIGS surgeons; served in leadership roles; and have been an influential mentor for five or more years. We also provided funding for the new Franklin D. Loffer, MD, FACOG, Exceptional Resident Award honoring Dr. Loffer and recognizing a resident who demonstrates leadership qualities and an exceptional commitment to empowering progress in minimally invasive gynecologic surgery. These new award categories elevate gynecologic surgery by elevating specific types of individuals who are key to the future of our field.
In addition to developing two new awards, the Foundation's fundraising efforts brought in more support for existing awards. This allowed for more award winners to receive scholarships to attend the Global Congress. We also gave considerable thought and effort into updating the Noteworthy Award application process, including the development of a new grading rubric. This streamlined method better supports award nominees, and award committees, for years to come.
In an effort to continuously improve the FAAGL's website and increase our technical reach, Warren introduced a new partnership with OneCause allowing the FAAGL to design an individual website for each of our fundraisers and offer mobile bidding at our events. This is a process we will continue for many years to come.
A highlight this year was the launch of the Foundation's 1st Annual, Music is Medicine, Karaoke Competition and FUNdrasier, held at the 50th Global Congress. The event was a huge success and had over fourteen incredible performances! It was a blast to spend time together and cheer as our colleagues performed. I am sure that we will all fondly cherish the memory of Warren Volker, Lori Warren, Shanti Mohling, Wendy Winer and Linda Michels giving it their all in their Robert Palmer "Addicted to Love" performance and winning for Best Costume. Drs. Vadim Morozov, Suketu Mansuria and their team of surgeons took home the Best Performance Award and brought down the house with their renditions of "I Wanna Dance With Somebody" and "Ice, Ice Baby." They were also successful in raising close to $3,500 in votes for their team. An Honorable mention went to Drs. Kristi Keil and Marie Paraiso for their performance and raising nearly $1,500 in donations. Through your passionate support, this FUNdraiser generated $18,000 for the Foundation and created so many great memories. We are excited to bring it back next year!
I am extremely grateful and honored to be a part of this Foundation Board. I have been inspired by your passion about making a difference in women's health, creativity in fundraising, commitment to growing the Foundation and overall generous hearts. Even as we grieve together, I know that we will honor Warren's memory by carrying on the work that he started. Thank you for all that you have done for the Foundation. I also want to express extra thanks to Dr. Shanti Mohling who the FAAGL Board has approved, and she has graciously agreed, to a second term as the Immediate Past President. Together, and with all of you, our donors and supporters, we will continue to make a difference by empowering progress in MIGS worldwide.