Honoring Dr. K. Warren Volker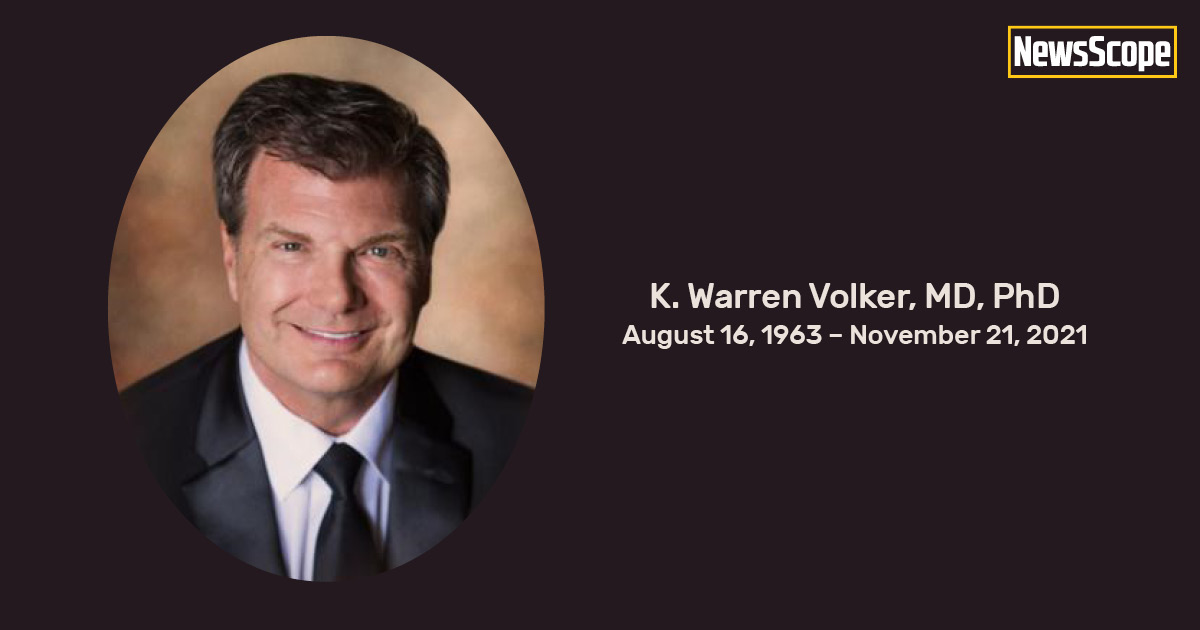 One of the AAGL's respected and beloved members, Foundation of the AAGL President, K. Warren Volker, MD, PhD, FACOG, passed away unexpectedly on November 21, 2021, in Las Vegas, Nevada at the age of 58. He is survived by his wife, Michele, his three children, Adam, Alex, and Alyssa, his granddaughter, Vaile, his mother, Alberta and his five siblings, Renee, Rob, Dawnette, Scott, and Kristina. Our hearts go out to his family, friends, and colleagues over this tremendous loss.
Dr. Volker was a pioneer in minimally invasive surgery, an expert on women's health issues and highly regarded by both his patients and colleagues. He had a distinguished career of 20+ years and held executive leadership positions with Medical Groups, IPA Networks, Hospital MECs, and Academic Institutions across the country. Warren led and served on several hospital and university boards within Nevada. As a forward-thinking leader in healthcare, Warren was recognized in 2021 as one of the Top 100 physicians by U.S. News and World Report.
Dr. Volker served in several roles within the AAGL. Most recently, he served on the Foundation Board of Directors as Secretary/Treasurer in 2019, Vice President in 2020, and President in 2021. His enthusiastic support of the Foundation and heart for its mission were vital in its growth. He also served on the AAGL Committee on Global Reimbursement and Value Based Surgical Practice in 2018-2019.
Dr. Volker founded the AAGL Las Vegas Minimally Invasive Surgery FMIGS program in 2012. He was a valued mentor who graduated ten fellows from his program. As Program Director, he went above and beyond for his fellows including helping two of them create a dual degree program which allowed them to obtain their MBA while also completing their MIGS fellowship. He was known as an innovator, an entrepreneur, and "a renaissance man" who was able to think outside the box. A fellow he mentored shared that Dr. Volker's main motivation was to help and support those around him. He was known as humble, kind, exceptionally talented and considered a great mentor by the many lives he touched.
Warren was passionate about health and fitness, completing a Spartan Trifecta Race and hiking on weekends. He had varied interests and hobbies, from being a car enthusiast to teaching himself to play the guitar and ukulele.
In 2019, after Hurricane Maria devastated Puerto Rico, Dr. Volker and a small team chartered a private plane and flew over to offer medical support. The team set up makeshift medical tents, carried packs on their backs and went door to door helping those in need of medical care. He also participated in medical missions in Honduras and the Dominican Republic. These examples of his heart for philanthropy are great representations of the man that we knew and respected.
Dr. Volker was a beloved husband, father, friend, colleague, philanthropist, advocate for women's health, innovator in minimally invasive gynecological surgery, and a valued member of the AAGL. We will miss his leadership and generous spirit.