Spotlight On: Endometriosis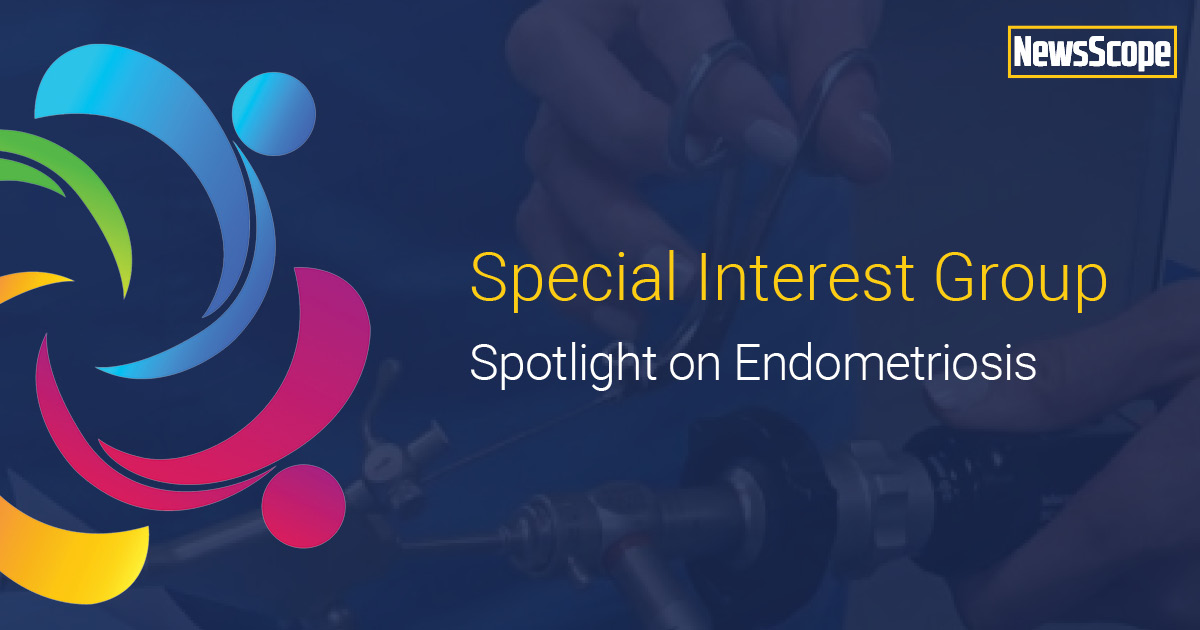 This month pays tribute to Endometriosis awareness month and we are featuring articles and videos from Endometriosis Special Interest Group. SurgeryU features hundreds of high-definition surgical videos from surgeons from around the world. Access to SurgeryU is one of the many benefits included in your AAGL membership. If you would like access to these videos, CME programming, JMIG Journal, and member-only discounts on meetings, join AAGL today. These videos are being made available with public access for a limited time. Click here to join AAGL!
Videos include:
Deep Pararectal Vaginal Rectal Endometriosis by

Jeff Arrington, MD. (Click the text at left to access the video)

ICG Use for Ureteral Identification by Cindy Mosbrucker, MD (Click the text at leaft to access the video).
---
Article: Most Difficult Case Presentation: Infiltrative Endometriosis in the Deep Pelvis by Jeff Arrington, MD
Infiltrative endometriosis in the deep pelvis is difficult to manage surgically. The surgical skills and confidence required are developed through mentorship, fellowship, experience, and even video review. The case presented was chosen based on the principles of pre-operative evaluation and surgical approach used in light of the need for a higher level of care in triage and the evolving focus on neuroawareness and preservation.
This 44-year-old patient initially presented for a second opinion prior to her upcoming surgery. Her complaints were pelvic and low rectal pain. MRI 3 years prior only detected an endometrioma. Colonoscopy was normal 5 months prior to the visit. Her first consultant felt endometriosis may be near the rectum and surgical plan was for robotically assisted treatment with uterosacral ligament excision and presacral neurectomy.
Guided by her symptom history, a physical exam was performed. This included a rectovaginal exam. Immediately a large, firm mass was felt in the right anterolateral rectal wall 4 cm from the anal verge extending into the right, posterior vaginal fornix, and to the levator plate. Speculum exam confirmed the posterior vaginal disease.
Based on the physical exam findings, transvaginal ultrasound was performed which revealed a 5 cm mass in the right rectovaginal and pararectal spaces with rectal depth to the submucosa. The remainder of the pelvis was free of any ultrasound findings suggestive of endometriosis or adhesions.
We next had a frank discussion regarding the location of the disease and her presenting symptoms. We discussed the depth and severity of the endometriosis as well as potential treatment options including careful observation, palliative medical and adjunct therapies, and surgical management with attempt at full or partial excision with or without hysterectomy. We discussed the location and level of the rectal endometriosis and the likely involvement of pelvic nerves that regulate rectal and bladder function, as well as the risks of rectovaginal fistula.
The patient decided to proceed with an endoscopic excision surgery to include separation of the structures in the right pararectal and rectovaginal spaces, full thickness excision of the vagina, low anterior resection with prophylactic ileostomy, and dissection of the right pelvic nerves with possible hypogastric and splanchnic nerve dissection/excision.
The surgery presented briefly shows the following steps after identification of the disease. 1. Mobilization of the ureter followed by isolation of the three main areas of involvement: vagina, rectum and pelvic sidewall using information from the ultrasound and rectal and vaginal probes. 2. Development of the rectovaginal space with excision of the vaginal mass. 3. Further development and isolation of the low rectum with development distal to the mass (2 cm from the anal verge). 4. Identification of the main hypogastric branch leading into the mass and dissection technique focused on blunt dissection with traction and counter traction, when possible, to minimize transection damage to nerves. This lateral dissection was carried to the coccygeus and sacrospinous insertion into the ischial spine. The low anterior resection was completed by a colorectal surgeon and is not the focus of this presentation.
---
Article: Emerging Technology: NIR- ICG Use in Surgery for Endometriosis by Cindy M. Mosbrucker, MD and Maria Victoria Vargas, MD
Indocyanine green (ICG) is a fluorescent dye that glows bright green in light in the near-infrared (NIR) spectrum. ICG is FDA approved for determining cardiac output, hepatic function, liver perfusion, and for ophthalmic angiography. It has been studied off-label as an intra-operative indicator of perfusion with laparoscopic and robotic cameras capable of NIR. ICG has minimal toxicity and few side effects (1).
Though NIR-ICG is used in many facets of surgery, I will focus on uses in endometriosis surgery.
One well known use for ICG is to assess perfusion of an anastomosis after colon resection. A meta-analysis of mainly cancer patients showed a lower anastomotic leak rate with NIR-ICG (3.7% with vs 8.6% without) and a change in the location of the anastomosis in 9.7% with NIR-ICG (2). Two series have reported low leak and complication rates with ICG-NIR in bowel surgery for endometriosis patients (3,4). The technique has been widely adopted by colorectal specialists.
Another angiographic use for ICG-NIR is to visualize the perfusion of the ureters after complex surgery. Studies show improved outcomes with NIR-ICG documented perfusion for ureteroureterostomy, ureteral reimplantations, ureterolysis, transplant, pyeloplasties, and urinary diversions (6). A series of patients who underwent extensive ureterolysis for endometriosis showed that ICG-NIR facilitated selection of patient for prophylactic stent placement when there was a concern for devascularization and "irregular or absent" fluorescence was present with ICG-NIR. No subsequent complications were reported (7).
A newer use of NIR-ICG is the illumination of ureters for intraoperative identification during complex endometriosis surgeries. Immediately prior to commencing laparoscopic entry, 5 French open-ended catheters are inserted 20cm into each ureter cystoscopically. 25mg of ICG is reconstituted in 10cc of saline and 5cc is injected in each ureter (7). Though the half-life is 3-5 minutes when used IV, ICG stains the ureters, rendering them visible for at least 5 hours after injection.
From my experience in a practice primarily focused on endometriosis, I find ureteral angiography to be the most clinically useful. After complex surgeries with extensive ureterolysis there is often concern for devascularization. Endometriosis of the ureteral muscularis is rare but DIE within the adventitial layer containing the vascular supply is common, and dissection between the muscularis and vessels is often required to resect all disease impinging on the ureter. Using the NIR-ICG in this manner is quite helpful to determine whether stenting with or without a fat graft is necessary.
For experienced surgeons, injecting ICG into the ureters for identification facilitates surgery as the ureteral location can be ascertained without taking time to identify vermiculation. For less experienced surgeons the visualization is comforting and potentially aids in the ability to perform sidewall dissections safely, eventually allowing them to complete complex cases without the "training wheels" of the NIR-ICG. I have also personally had good results using NIR-ICG for bowel resections prior to determining the resection margins and applying the staplers.
NIR-ICG is a technology that has many uses in endometriosis surgery. It has the potential to improve outcomes for our patients with minimal risk or increase in surgical time. I encourage those who are newer to retroperitoneal dissections to learn to illuminate the ureters with fluorescence. It likely can decrease morbidity as well as anxiety for the surgeon.
J Thorac Dis.2016 Oct; 8(Suppl 9): S738–S743.
2020; 168: 1128-1137
Fertil Steril.2020; 114: 367-373
J Minim Invasive Gynecol. 2021; 28: 1225-1230;
Surg Technol Int. 2018 Nov 11;33:77-83.
Int Urol Nephrol. 2019 May;51(5):765-771.
J Minim Invasive Gynecol. 2021: 28: 42-49P42
Am J Obstet Gynecol. 2014 Oct;211(4):436.e1-2.