Scientific Programming at AAGL22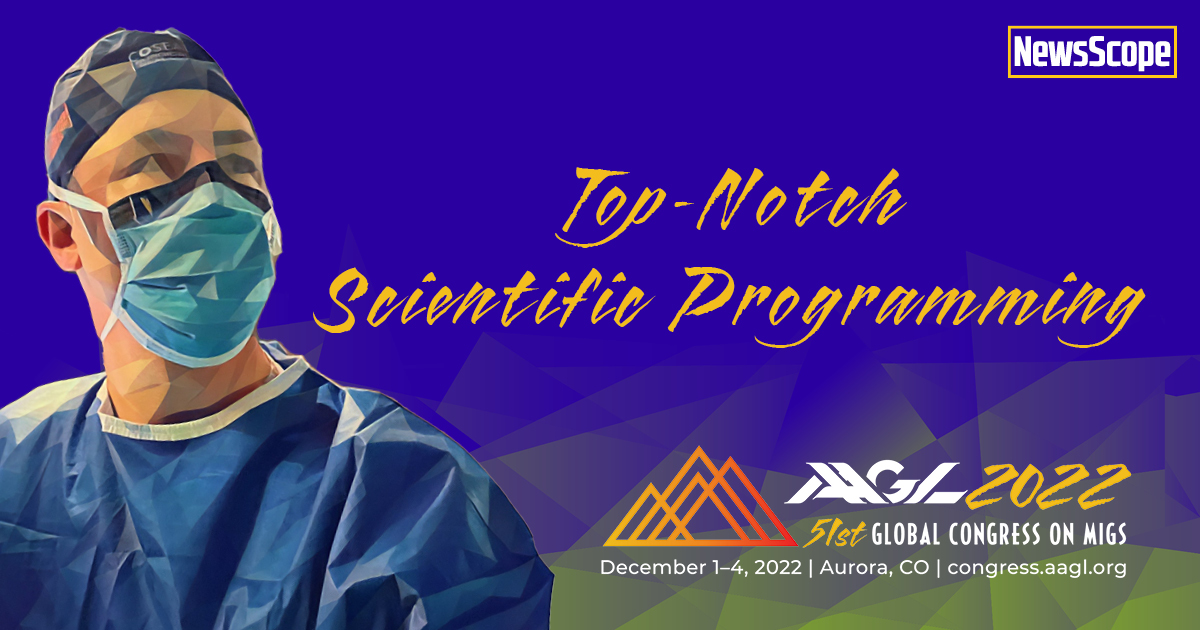 The Scientific Planning Committee (SPC) and I are happy to see many of our colleagues registering to join us in Colorado for the #AAGL22 Global Congress on MIGS in Aurora, Colorado! We have a full program planned at the Gaylord Rockies Resort & Convention Center starting on November 30th with the Fellowship of Minimally Invasive Gynecologic Surgery (FMIGS) Bootcamp for all our fellows.
Thanks to the tireless dedication of the SPC and AAGL staff, this year's Scientific Program is packed with 22 state-of-the-art courses, 5 AAGL MED Talks, 10 Live and Pre-recorded surgeries, 6 Surgical Tutorials, 8 Panels, and 5 General Sessions. In addition, you can look forward to riveting Luncheon Round Table discussions and an innovative Exhibit Hall. Attendees can also earn up to 24.75 CME at this year's meeting!
Thank you to everyone who submitted abstracts for consideration in this year's program. Of the 792 abstracts submitted, 250 oral and video abstracts have been accepted for presentation at this year's Congress! In addition, another 250 will be presented as virtual posters. Award Committees are continuing the meticulous grading process and our Foundation of the AAGL Signature Award Winners will be announced soon!
This month, I'll provide you with more details on the six incredible Surgical Tutorials we have planned! The first Surgical Tutorial, Asherman's Syndrome, will be presented by Jude E. Okohue, Miriam M.F. Hanstede, and James K. Robinson. Asherman's Syndrome is a rare condition in resource-rich countries. Unfortunately, it is common in developing countries, especially those with restrictive abortion laws. This makes hysteroscopic adhesiolysis a common procedure in such environments. This surgical tutorial will showcase numerous videos of challenging cases and will discuss tricks and tips for ensuring a successful outcome when performing Asherman's Syndrome surgery in an outpatient clinic setting.
Next, Magdy P. Milad, Bala Bhagavath, and Conor Harrity will present a Surgical Tutorial on Tubal Disease, the most common cause of infertility worldwide. Due to resource and financial constraints, patients throughout the world may only have access to surgical interventions. This course will review the assessment of tubal anatomy, patency and internal architecture, and explore the surgical approaches to tubal factor infertility from salpingectomy to tubal anastomosis.
In Surgical Tutorial 3, Bowel Endometriosis: State-of-the-Art Surgical Treatment, presented by Helder Ferreira, Mario Malzoni, and Arnaud Wattiez, participants will learn the many facets of care when managing patients with bowel endometriosis. Each expert will share his knowledge and remarkable experience in the advanced surgical approach to such a challenging disease. This surgical tutorial will present tips and tricks and several techniques to prevent complications (denervation, fistula, leakage, and bowel dysfunction) and risk factors in a didactic and interactive way.
In addition, Alternatives to Hysterectomy in the Treatment of Fibroids will be presented in Surgical Tutorial 4 by Sarah L. Rassier Cohen, Minda A. Green, and Bruce B. Lee. This surgical tutorial includes procedural videos detailing less invasive options for individualized treatment of uterine fibroids including tips for patient selection, patient counseling and efficient operative techniques. We will also discuss rationale for avoiding hysterectomy in various patient scenarios and will review medication and radiologic options for treatment of fibroids. This course will conclude with the presentation of complex cases inviting audience feedback on the optimal treatment option.
In Surgical Tutorial 5, we will learn more about Fistula Surgery from Drs. Robert Gutman and Grace Chen. This course will review the management of complex gynecologic fistulae, which are still common in certain areas on the world. Lastly, Surgical Tutorial 6, Laparoscopic Hysterectomy, will be presented by Hye-Chen Hur, Sangeeta Senapati, and Kelly N. Wright. In this tutorial, you will learn to identify complex cases to allow for appropriate preoperative counseling and surgical planning, employ intraoperative strategies to minimize blood loss during complex laparoscopic hysterectomies for large mass size or anatomically challenging fibroids, and integrate tips and tricks to minimize complications.
When your day of learning is over, save room on your calendar to recognize your colleagues and have some fun! Join us in the AAGL after hours lounge, for a drink and some live music, honor our Award Winners at the Foundation Award Ceremony and then cheer on your friends at the Karaoke Party and FUNdraiser. On Saturday night, be sure to grab a ticket for an evening of glamour at the 51st Presidential Gala! This year's gala theme invites you to wear white for an "An Evening of Elegance: A White-Tie Affair."
I am looking forward to reconnecting with you all at this year's Global Congress. For more information or to register, please visit AAGL22 Global Congress – Aurora, CO – Dec 1—4, 2022!