Spotlight On: Endometriosis/Reproductive Surgery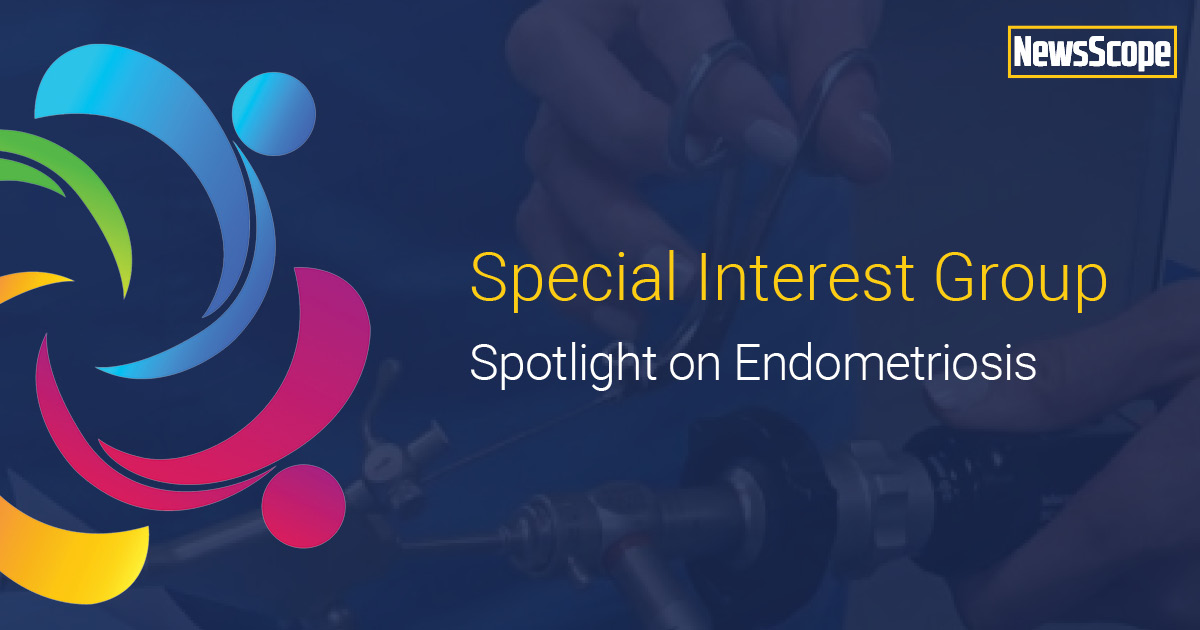 This month we cast a spotlight on articles, SurgeryU videos, and Journal of Minimally Invasive Gynecology (JMIG) article recommendations from the Endometriosis/Reproductive Surgery Special Interest Group (SIG) led by Chair Jeff Arrington, MD.
Access to SurgeryU and JMIG are two of the many benefits included in AAGL membership. The SurgeryU library features high-definition surgical videos by experts from around the world. JMIG presents cutting-edge, peer-reviewed research, clinical opinions, and case report articles by the brightest minds in gynecologic surgery.
SurgeryU video recommendations by our SIGs are available for public access for a limited time. The links to JMIG article recommendations are accessible by AAGL members only. For full access to SurgeryU, JMIG, CME programming, and member-only discounts on meetings, join AAGL today!
---

Video 1: Novel Technique of Pelvic Autonomic Nerve-Sparing with Near-Infrared Fluorescence Technology and ICG during Deep Endometriosis Surgery by Drs. Kiyoshi Kanno, Kiyoshi Aiko, and Masaaki Andou.
We recommend this video because it shows an easily reproducible technique for identifying the hypogastric nerves during pelvic surgery.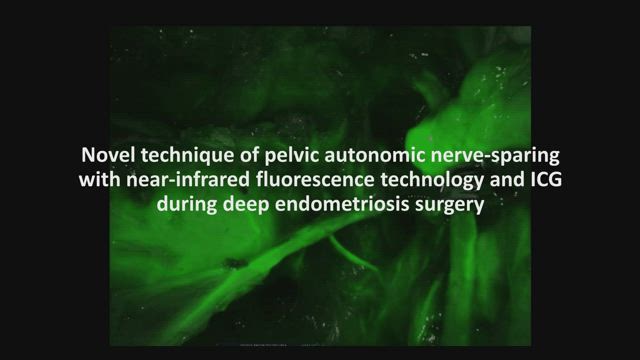 Click Image to View Video
Video 2: Endometriosis – How We Do It: Identification and Dissection of the Sacrospinous Ligament and Lumbosacral Spinal Roots on a Patient with Endometriosis of Pelvic Floor by Drs. Claudio P Crispi, A. Souza, Marco Antonio Xavier, Claudio Crispi, Jr. and Faissal Nemer Hajar.
This video contains elegant dissections of spaces not typically encountered by most gynecologists, even endometriosis specialists. It is a great tutorial on deep pelvic anatomy and the sacral nerve roots.
Click Image to View Video
---

JMIG Article Recommendation #1: Pain and Quality of Life after Laparoscopic Excision of Endometriosis
Rindos, Noah, et al. Journal of Minimally Invasive Gynecology, Volume 27, Issue 7, P1610-1617.E1, November 2020.
This article published by N. Rindos, et al, looks at the success of improvement of pain after excision of endometriosis. It also evaluates the role of hysterectomy in contributing to pain response with a surgical indication of pelvic pain when endometriosis was also found. Contrary to the belief, without evidence, that hysterectomy with or without oophorectomy is "definitive" treatment, this study supports the notion that surgery for endometriosis should focus on the treatment of endometriosis. As with all potential treatment options, uterine preserving surgery should be presented to patients in a true informed consent.
JMIG Article Recommendation #2: Association Between Laparoscopic Appearance of Superficial Endometriosis, Positive Histology, and Systemic Hormone Use
Weng, Chia-Sui, et al. Journal of Minimally Invasive Gynecology, Volume 29, Issue 12, P1339-1343, December 2022.
This article by Chia-Sui Weng, et al, evaluates the appearance of endometriosis lesions under hormone therapy. Although many use hormones to "suppress" endometriosis, suppression is rarely defined. This study shows that hormone use may change the appearance of endometriosis and make them more difficult to recognize with a prevalence of clear, vesicular lesions. Patients who choose surgical management for diagnosis and treatment should be made aware of the possibility of masking lesions while on hormone therapy at the time of surgery. If a patient is willing to accept the risk of surgery with the goal of treatment of endometriosis lesions, it may improve the efficacy of the surgery to remove hormone influence that may change the appearance of the disease.
---

Deeply Infiltrating Endometriosis of the Cervix and Bladder by Dr. Jeff Arrington
A 47-year-old presented on referral for surgical management of deeply infiltrating endometriosis of the cervix and bladder causing bilateral ureteral obstruction with left renal function of 16%. She was initially diagnosed twelve years previously with the known pelvic mass and early signs of left renal compromise. At that surgery, a supracervical hysterectomy was performed due to complexity and a decision was made by the gyn oncologist to not dissect the disease around the left ureter as "there were already signs of kidney damage."
The patient was seen in the office where full thickness invasion into the vaginal epithelium was seen on exam. Pelvic exam revealed the obvious firm mass in the anterior fornix extending to the cervical level. Previous MRI and in-office pelvic ultrasound revealed a 3x3x3 cm mass in the anterior cervix extending to the vaginal and into the trigone of the bladder (Image 1).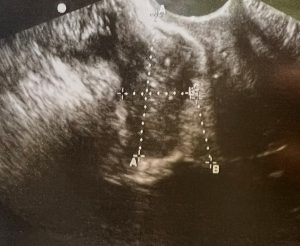 Image 1
After appropriate work up and counseling, the patient chose to proceed with surgical excision of the mass with removal of the cervix and bilateral ureteral reimplantation. The surgery was performed with the help of our urologist.
At surgery, dissection was carried out to isolate both ureters. The left ureter was found to be compromised at the level of the uterosacral ligament with extensive mass compression. I then isolated the anterior, midline disease. Knowing the mass extended from the vaginal epithelium through the bladder urothelium, the mass was entered anterior to the cervix and working in the middle of the mass, the bladder was separated from the cervix and vagina. The cervix was then removed, and the involved vaginal epithelium was excised with closure of the cuff in horizontal fashion due to a likely vertical bladder incision closure.
The case was then turned over to the urologist where the dome of the bladder was entered vertically. The mass in the trigone was obvious. This involved the distal, right ureter and split between the left and right ureters (Images 2-4). After full thickness excision of the trigone mass, the posterior bladder wall was closed vertically and bilateral ureteral reimplantation completed with closure of the bladder dome.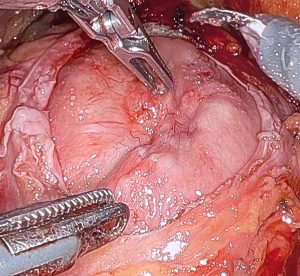 Image 2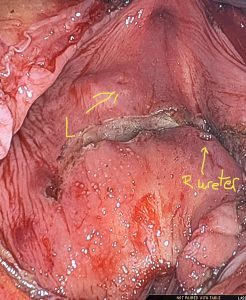 Image 3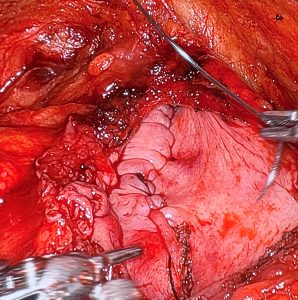 Image 4
In early follow up, the patient has not had any complications and is voiding without any difficulty.
This case not only demonstrates the complexity, but also presents a case where a focus on symptom control also carries risks to the patient. The compromise of the left kidney due to deep endometriosis of the left uterosacral ligament was noted twelve years previously and the patient placed on numerous hormones to control symptoms. This decision made by the provider without fully informing the patient, resulted in significant damage to the kidney and a much more invasive and risky surgery to fully manage the disease and protect the right kidney.
About the Author: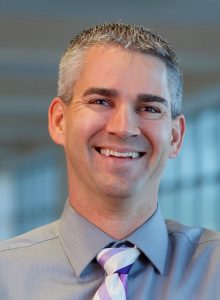 Jeff Arrington, MD, FACOG is the Chair of the AAGL Endometriosis/Reproductive Surgery SIG and Physician and Medical Director of EndoWest in Riverton, Utah, USA.
---

Research Article: Single-cell Transcriptomic Analysis of Endometriosis by M. Victoria Vargas, MD, MSc
In honor of Endometriosis Awareness Month, the Endometriosis SIG is spotlighting a publication by Dr. Kate Lawrenson, the Director of the Lawrenson Lab at Cedar-Sinai. She is a co-senior and corresponding author in the study, Single-cell transcriptomic analysis of endometriosis.
Endometriosis has a devastating impact on our patients. Yet it remains poorly understood because it has been underfunded and understudied. Many basic scientific questions about endometriosis remain unanswered, and there have been few breakthroughs in the diagnosis and management since the initial descriptions of the disease. Studies like the one highlighted here are urgently needed to improve our understanding and to guide us in developing a higher level of care for our patients.
In this study, published in February 2023 in Nature Genetics, Dr. Lawrenson and colleagues profiled messenger RNA from >370 000 cells obtained from 49 specimens. Tissue was collected from 17 patients with and 4 patients without endometriosis. The study generated a cellular atlas of epithelial, stromal, and microenvironmental cell populations in endometriomas (n = 8), peritoneal endometriosis (n = 27), eutopic endometrium (n = 10), uninvolved ovary (n = 4) and endometriosis-free peritoneum (n = 4). Of the peritoneal endometriosis samples, n=11 were deep endometriosis lesions.
The study used Single-cell RNA sequencing to identify the genes transcribed by specific cell types within tissue samples. No prior studies have used single-cell RNA sequencing to generate cellular and molecular profiles of endometriosis lesions.
One notable finding was that endometriosis lesions were enriched with immune cells. Peritoneal endometriosis lesions were enriched with mast cells, and T/natural killer T cells, and endometriomas were enriched with B and plasma cells. These findings suggest that endometriosis lesions interact with the immune system and that the immune response to endometriosis could be a target for future therapies. Potential candidates include immunotherapies that boost the immune response to endometriosis.
Peritoneal endometriosis and endometriomas had significant variation in cellular landscapes and gene expression, adding to the existing research suggesting that endometrioma and peritoneal endometriosis are distinct entities. In contrast, superficial and deep endometriosis lesions had similar cellular landscapes, leading the authors to suggest that they are a continuum of one disease. Though superficial and deep lesions had similar cell profiles, gene expression varied. Epithelial cells and fibroblasts within deep lesions had upregulation of nerve growth factor signaling pathways that promote innervation. Future research directions include evaluating the origins of endometrioma, superficial peritoneal endometriosis, and deep endometriosis lesions. Further work could evaluate whether deep endometriosis lesions are in a continuum with superficial peritoneal lesions and answer questions about their propensity for neurogenesis.
Upregulated genes in endometriosis/endometrioma lesions included cell surface and secreted proteins, which could serve as biomarkers. Clinically, biomarkers for endometriosis could be utilized for initial diagnosis, potentially shortening the delay to clinical/surgical diagnosis. In addition, biomarkers could help detect disease recurrence or remission, and assess the completeness of surgery.
Four endometriosis-negative specimens (based on pathologic review with deep sections) had endometrial-type epithelial cells detected by single-cell RNA sequencing. The authors suggest that these samples contained microscopic endometriosis lesions that evaded comprehensive pathologic examination. Further research is needed to improve recognition of microscopic lesions and to develop approaches that avoid undertreatment of symptomatic patients with microscopic lesions.
The results of this study provide valuable new insights to guide future research. Continued efforts to expand our knowledge about endometriosis are imperative to improving the care we provide to our patients.
Reference
Fonseca MAS, Haro M, Wright KN, Lin X, Abbasi F, Sun J, Hernandez L, Orr NL, Hong J, Choi-Kuaea Y, Maluf HM, Balzer BL, Fishburn A, Hickey R, Cass I, Goodridge HS, Truong M, Wang Y, Pisarska MD, Dinh HQ, El-Naggar A, Huntsman DG, Anglesio MS, Goodman MT, Medeiros F, Siedhoff M, Lawrenson K. Single-cell transcriptomic analysis of endometriosis. Nat Genet. 2023 Feb;55(2):255-267. doi: 10.1038/s41588-022-01254-1. Epub 2023 Jan 9. PMID: 36624343.
About the Author: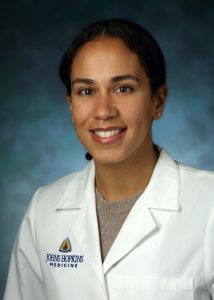 Maria Victoria Vargas, MD, MS, FACOG, is a Board Member of the AAGL Endometriosis/Reproductive Surgery SIG and Assistant Professor of Gynecology and Obstetrics and Director of Minimally Invasive Gynecologic Surgery at Sibley Memorial Hospital/Johns Hopkins Medicine in Washington, D.C., USA.