Spotlight On: Pediatric and Adolescent Gynecology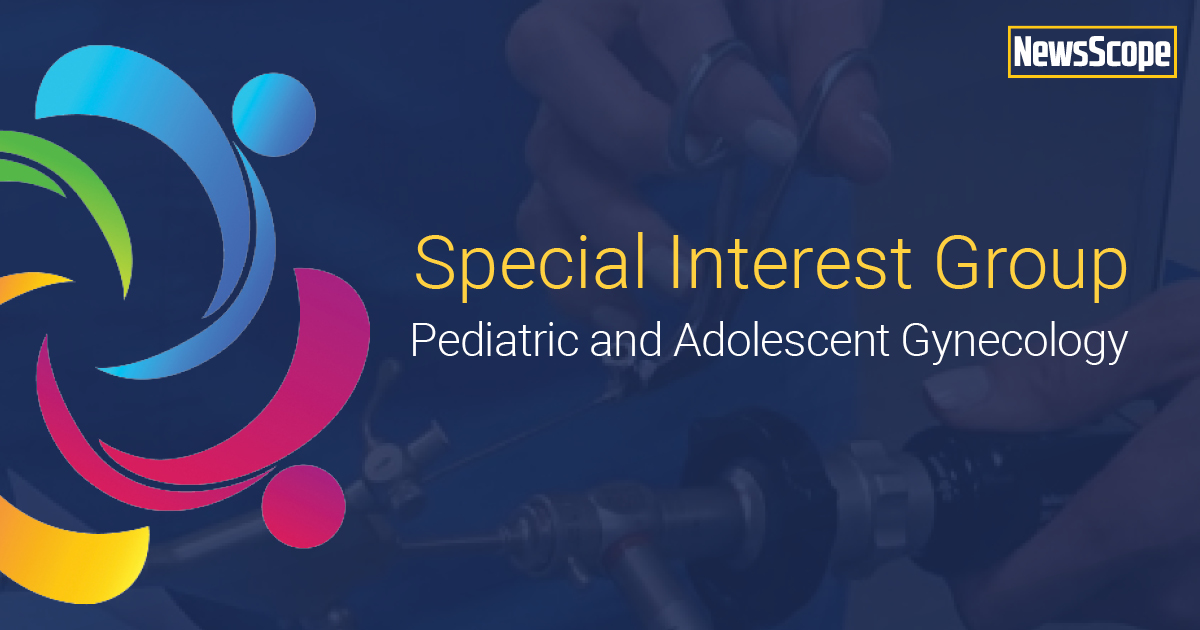 This month we are spotlighting articles, SurgeryU videos, and Journal of Minimally Invasive Gynecology (JMIG) article recommendations from the Pediatric and Adolescent Gynecology Special Interest Group (PAG SIG) led by Kate McCracken, MD, Chair and Krista Childress, MD, Vice-Chair.
Access to SurgeryU and JMIG are two of the many benefits included in AAGL membership. The SurgeryU library features high-definition surgical videos by experts from around the world. JMIG presents cutting-edge, peer-reviewed research, clinical opinion and case report articles by the brightest minds in gynecologic surgery. The PAG SIG SurgeryU video recommendations are available for public access for a limited time. The links to JMIG article recommendations are accessible by AAGL members only. For full access to SurgeryU, JMIG, CME programming, and member-only discounts on meetings, join AAGL today!
---
PAG SIG Video Recommendations
Video 1: Laparoscopy – Creation of a Neovagina: A Modified Davydov Approach by Drs. Ari Sanders, Sari Kives, and Lisa Allen
This video is from the 2019 Global Congress and presents a stepwise approach to the creation of a neovagina through a modified laparoscopic Davydov approach. This is a high-yield video for gynecologists caring for patients with vaginal agenesis.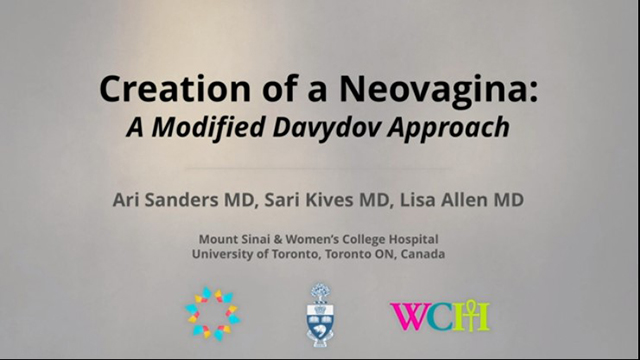 Click Image to View Video
Video 2: Robotic Assisted Resection of a Noncommunicating Rudimentary Uterine Horn with a Broad Connection to the Uterus by Drs. Noam Smorgick, Sawsan As-Sanie, Mark Hoffman, Alexa Kaskowitch, Michael Lanham, and Elisabeth H. Quint
In the case of a functional non-communicating rudimentary horn, surgical intervention may be warranted to relieve the menstrual outflow obstruction. In this video, a large obstructed rudimentary horn was removed in a teen who presented with leg pain at time of menstruation. Robotic assistance was used to facilitate dissection and suturing. Understanding the utility of minimally invasive surgical techniques for management of rudimentary horns in patients with mullerian anomalies is important.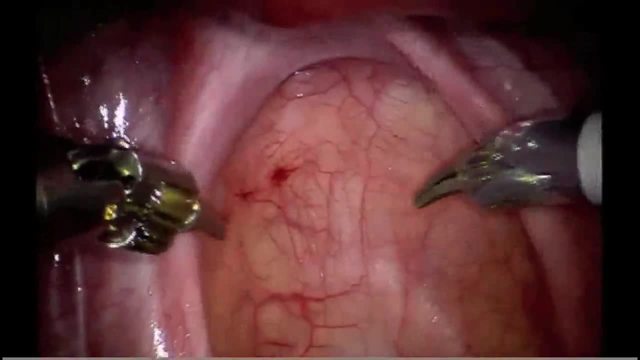 Click to View Video
---
PAG SIG JMIG Article Recommendations
JMIG Article Recommendation #1: Management of Adnexal Torsion in the Pediatric and Adolescent Population at Western Australia's Single Tertiary Children's Hospital over the Last 10 Years: Retrospective Study
Julania, Shital et al. Journal of Minimally Invasive Gynecology, Volume 28, Issue 6, 1183 – 1189
This series demonstrates high rates of ovarian salvage in cases of pediatric and adolescent adnexal torsion. In patients presenting with abdominal pain or abdominal pain with associated nausea/vomiting, there should be a high index of suspicion for adnexal torsion to reduce delay in diagnosis and treatment. Ovarian conservation is the standard of care.
JMIG Article Recommendation #2: Obstructive Reproductive Tract Anomalies: A Review of Surgical Management
Skinner, Bethany et al. Journal of Minimally Invasive Gynecology, Volume 24, Issue 6, 901 – 908
JMIG Article Recommendation #3: Nonobstructive Reproductive Tract Anomalies: A Review of Surgical Management
Skinner, Bethany et al. Journal of Minimally Invasive Gynecology, Volume 24, Issue 6, 909 – 914
The two articles listed above (JMIG article #2 and #3) read together provide an excellent review of reproductive tract anomalies – both obstructive and non-obstructive. Many reproductive tract anomalies present during adolescence – particularly those that cause menstrual outflow obstruction. Gynecologists caring for adolescents must understand how to thoroughly evaluate, accurately diagnose, and effectively manage reproductive tract anomalies to maximize future sexual and reproductive health.
---
Interesting Case Presentation
Distal Vaginal Atresia with Uterine Didelphys and Longitudinal Vaginal Septum Presenting with Spontaneous Perforation by Drs. Georgina F. Amaral, Olivia K. Winfrey and Jennifer E. Dietrich
An 11-year-old female with many medical comorbidities, developmental delay and known vaginal outlet obstruction presented with worsening abdominal pain following 1 month of menstrual suppression. External genital examination revealed estrogenized vaginal mucosa without bulging or blue hue, most consistent with distal vaginal atresia. During admission, spontaneous rupture of atretic vaginal tissue occurred, resulting in partial drainage of hematometrocolpos. Pelvic MRI demonstrated complete duplication of the uterus, cervix, and vagina with residual bilateral hematometrocolpos and distance of 2.3cm from the level of atresia to the perineum.
Prophylactic antibiotics were started, and surgical management was recommended due to risk of ascending infection. Rectal and vaginal dimple examination under anesthesia helped elucidate the location of the atretic vaginal edge with a "silk sign." The 1-2mm microperforation was dilated with release of residual hematometrocolpos. Vaginoscopy was performed and the longitudinal vaginal septum was then visualized.
A foley catheter was first threaded through the perforation and inflated to provide countertraction during resection. Stay sutures were placed to isolate the atretic vaginal tissue circumferentially in order to initiate the bilateral pull-through vaginoplasty. The atretic vagina was then resected with Bovie electrocautery. With atretic tissue excised and both vaginal openings exposed, the vaginal mucosal edges were then anastomosed to the introitus in circumferential fashion using interrupted absorbable sutures.
Examination 2 weeks post-operatively demonstrated well healed tissue with bilateral hemivagina patency.
Summary and conclusion: The incidence of distal vaginal atresia is 1/4000 to 1/10,000 and falls into class I ASRM Mullerian Anomaly Classification. Medical management is an appropriate first step for young or medically complex patients, as repairs may require postoperative vaginal dilation. Spontaneous perforation of distal vaginal atresia is rare with only one case reported in the literature. Timely surgical intervention is important due to the risk of ascending infection.
Surgical considerations include risk of scarring, vaginal stenosis, and need for vaginal dilation. This risk is lower in patients with <3cm distance between the atretic vagina and the introitus. This case presented an additional challenge given the presence of uterine didelphys and longitudinal vaginal septum. Vaginoscopy is a valuable tool as the initial step for surgical planning for understanding anatomy in patients with microperforation in order to help ensure the margins of atretic vagina are identified for successful vaginal pull-through.
References:
Fei YF, Quint EH, Hryhorczuk AL, Winfrey OK, Dendrinos ML. Distal Vaginal Atresia with Spontaneous Perforation: A Case J Pediatr Adolesc Gynecol. 2022 Jun;35(3):383-386. doi: 10.1016/j.jpag.2021.10.018. Epub 2021 Nov 6. PMID: 34752931.
Mansouri R, Dietrich JE. Postoperative Course and Complications after Pull-through Vaginoplasty for Distal Vaginal J Pediatr Adolesc Gynecol. 2015 Dec;28(6):433-6. doi: 10.1016/j.jpag.2014.12.007. Epub 2014 Dec 23. PMID: 26220349.
Pfeifer SM, Attaran M, Goldstein J, Lindheim SR, Petrozza JC, Rackow BW, Siegelman E, Troiano R, Winter T, Zuckerman A, Ramaiah ASRM müllerian anomalies classification 2021. Fertil Steril. 2021 Nov;116(5):1238-1252. doi: 10.1016/j.fertnstert.2021.09.025. PMID: 34756327.
About the Authors:
Georgina F. Amaral, MD, MSL, Olivia K. Winfrey, MD, MPH, FACOG and Jennifer E. Dietrich, MD, MSc, FACOG
Drs. Amaral, Winfrey and Dietrich are members of the AAGL Pediatric and Adolescent Gynecology SIG. Dr. Amaral is a Pediatric and Adolescent Gynecology Fellow at Baylor College of Medicine at Texas Children's Hospital. Dr. Winfrey is an Assistant Professor in the Department of Obstetrics and Gynecology, Division of Pediatric and Adolescent Gynecology at Baylor College of Medicine at Texas Children's Hospital. Dr. Dietrich is a Professor in the Department of Obstetrics and Gynecology and Department of Pediatrics, Chief of the Division and Fellowship Program Director of Pediatric and Adolescent Gynecology at Baylor College of Medicine at Texas Children's Hospital, in Houston, Texas, USA.
---
Technology Article
Percutaneous Instruments: The Next Logical Step in Minimally Invasive Laparoscopy? by John P. Hayden MS, MD
Technological advances in gynecologic surgery strive to minimize surgical trauma while maximizing simplicity and preserving desired outcomes. These goals have led to major innovations like the invention of laparoscopic and robotic assisted surgery. They have also led to countless advancements in surgical techniques and equipment. Percutaneous instruments are one such advancement and stand to improve our efficiency and surgical outcomes.
Current practice in laparoscopic surgery requires placement of trocars typically ranging from 5-15mm in diameter. In general, the smaller and fewer the trocars, the better. Larger trocars are associated with worse post operative pain1–2 and can have worse cosmetic outcomes. The use of larger trocars is associated with higher port-site hernia risk3–5 and often necessitates the additional step of fascial closure. While most >10 mm ports are closed, there is data to suggest that 5mm defects may benefit from facial closure to avoid hernia risk6. This raises the question: if you can avoid using the trocar, but still have another laparoscopic instrument, should you?
Percutaneous instruments are a relatively new development that allows for the elimination of trocars with thin instruments placed directly through the abdominal wall. Several commercial systems exist with instrument diameters between 2 and 3mm. It is reasonable to extrapolate from traditional laparoscopic data that these inherently smaller defects (up to 12x smaller than 5mm trocars7–8) may offer benefits, however data specific to percutaneous instruments is limited.
In the United States, the main available system is manufactured by Teleflex8 and offers a range of single use instruments with four graspers and 4 monopolar tips available. The "MiniLap" devices function similarly to traditional laparoscopic instruments and feature locking mechanisms as well as self-retaining functions. Each instrument features an integrated retractable needle tip for entry through a small cutaneous puncture site typically made with an 11 blade scalpel.
In our practice these instruments have several advantages. The clearest is avoiding trocar placement when simple manipulation is needed such as for ovarian detorsion. This can mean a nearly "incisionless" and faster surgery. In more complex cases such as cystectomy or salpingectomy at least one trocar can be eliminated. In the most demanding surgical scenarios, a percutaneous instrument can still add significant value and efficiency as an additional tool for complex tissue retraction. This can be particularly helpful for uterine manipulation via a suprapubic percutaneous grasper when a uterine manipulator is contraindicated such as in the pediatric patient.
Limitations include the inability to exchange instruments without creating new fascial defects and relatively weaker grasper strength. We have observed more tissue slippage when robust traction is applied compared to traditional instruments. We have also seen that the instruments can bend under significant torque, for example with an obese patient. Despite these limitations, the instruments are typically sufficient and in cases where they are not, it is easy to exchange for a traditional instrument and trocar through an upsized skin incision.
As laparoscopic surgery continues to evolve, we feel that percutaneous instruments will become a more common tool. As their use broadens, refinement of the instruments will continue and additional data on their potential advantages in hernia risk and post operative pain will be delineated.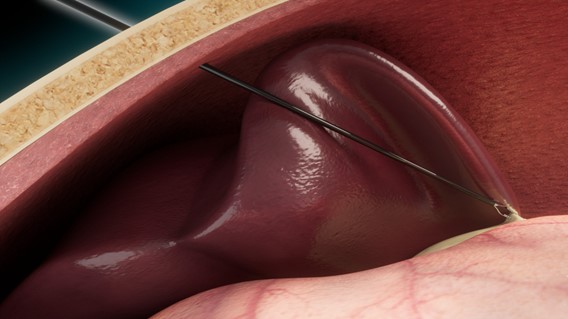 © 2023 Teleflex Incorporated
References:
Kinoshita S, Ohyama T, Kawaguchi C, Ikeda N, Sho M. Significance of umbilical trocar size and intra-abdominal pressure on postoperative pain after transabdominal preperitoneal repair for inguinal hernia. Asian J Endosc Surg. 2021;14(1):63-69. doi:10.1111/ases.12813
McCloy R, Randall D, Schug SA, et al. Is smaller necessarily better? A systematic review comparing the effects of minilaparoscopic and conventional laparoscopic cholecystectomy on patient outcomes. Surg Endosc. 2008;22(12):2541-2553. doi:10.1007/s00464-008-0055-1
Kadar N, Reich H, Liu CY, Manko GF, Gimpelson R. Incisional hernias after major laparoscopic gynecologic procedures. Am J Obstet Gynecol. 1993;168(5):1493-1495. doi:10.1016/s0002-9378(11)90787-x
Lajer H, Widecrantz S, Heisterberg L. Hernias in trocar ports following abdominal laparoscopy. A review. Acta Obstet Gynecol Scand. 1997;76(5):389-393. doi:10.3109/00016349709047816
Montz FJ, Holschneider CH, Munro MG. Incisional hernia following laparoscopy: a survey of the American Association of Gynecologic Laparoscopists. Obstet Gynecol. 1994;84(5):881-884.
Yamamoto M, Minikel L, Zaritsky E. Laparoscopic 5-mm Trocar Site Herniation and Literature Review. JSLS. 2011;15(1):122-126. doi:10.4293/108680811X13022985131697
Can mathematic formulas help us with our patients? | SpringerLink. Accessed February 5, 2023. https://link.springer.com/article/10.1007/s00464-010-1065-3
MiniLap® System | US | Teleflex. Accessed January 27, 2023. https://www.teleflex.com/usa/en/product-areas/surgical/percutaneous-laparoscopy/minilap-system/index.html
About the Author: John P. Hyden, MD, MD

Dr. Hayden is a member of the AAGL Pediatric and Adolescent Gynecology Special Interest Group and a Resident Physician at Stanford Healthcare in Stanford, California.