Spotlight On: Robotics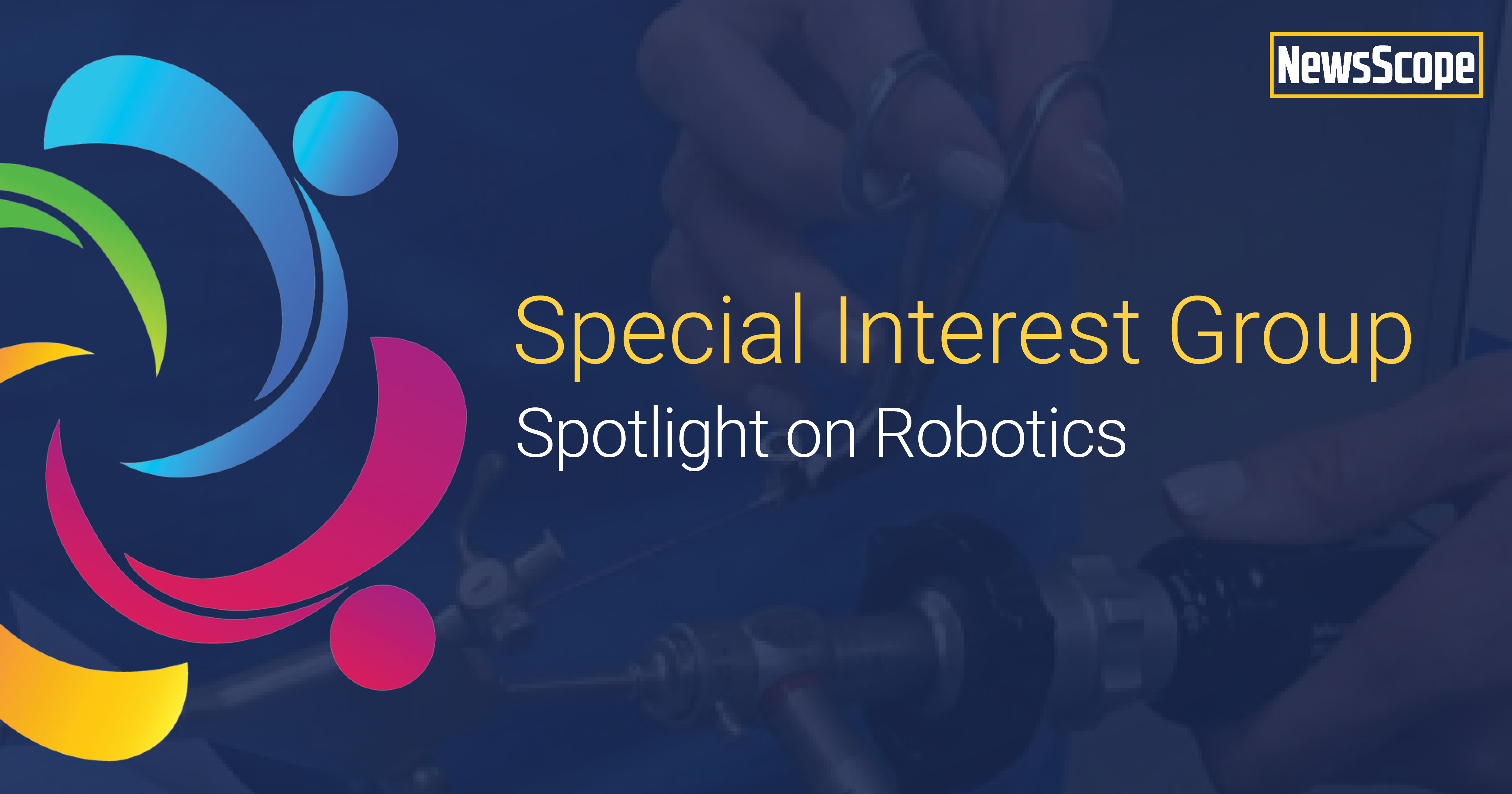 This month we cast a spotlight on articles, SurgeryU videos, and Journal of Minimally Invasive Gynecology (JMIG) article recommendations from the AAGL Robotics Special Interest Group (SIG) led by Chair Peter Lim, MD.
Access to SurgeryU and JMIG are two of the many benefits included in AAGL membership. The SurgeryU library features high-definition surgical videos by experts from around the world. JMIG presents cutting-edge, peer-reviewed research, clinical opinions, and case report articles by the brightest minds in gynecologic surgery.
SurgeryU video recommendations by our SIGs are available for public access for a limited time. The links to JMIG article recommendations are accessible by AAGL members only. For full access to SurgeryU, JMIG, CME programming, and member-only discounts on meetings, join AAGL today!
---

SurgeryU Video Recommendation #1:
Robot Assisted Abdominal Cerclage During Pregnancy by Drs. David Biats, Toni Horton, and Michelle Lende
Dr. Biats and colleagues present robotic placement of an abdominal cerclage in an early 2nd trimester pregnancy. The video highlights use of a 12 mm assist port for use of the laparoscopic fan for uterine manipulation as well as a no needle and limited energy approach to the placement of Mersilene tape.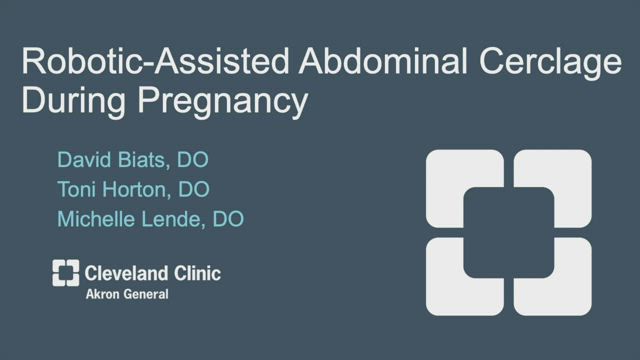 Click Image to View Video
SurgeryU Video Recommendation #2:

Robotic Assisted Laparoscopic Repair of a Large Isthmocele by Dr. A. Karim Nawfal
Dr. Nawfal presents a combined hysteroscopic and robotic approach to surgical management of a cesarean scar defect. The video highlights the need to resect the entire defect and surrounding fibrotic tissue for optimal myometrial bulking/repair.
---

JMIG Article Recommendation #1:
Tips and Tricks for Robotic-Assisted Trans-Broad Ligament Abdominal Cerclage in Pregnant Patients by Zhenkun Guan, BS, Chunghua Zhang, MD, Brooke Thigpen, MD, Sowmya Sunkara, MD and Xiaoming Guan, MD, PhD
This article describes the tips and tricks of performing a complex procedure of abdominal cerclage in pregnancy. This article is recommended because abdominal cerclage in pregnancy procedures is typically performed as an open procedure. This article provides a detailed step-wise approach to a minimally invasive approach.
Journal of Minimally Invasive Gynecology. 30, No 5, 359-360, May 2023. Doi.org/10.1016/j.jmig.2023.02.004
JMIG Article Recommendation #2:
Same-day Discharge after Robotic Hysterectomy for Benign Conditions: Feasibility and Safety by Samer Tannus, MD, Andrea Giannini, MD, Javier F. Magrina, MD, Jacque Crosson, MSN, Heidi Kosiorek, MS, Johnny Yi, MD and Kristina A. Butler, MD, MS
Same-day discharge (SDD) is a major objective in postoperative recovery from minimally invasive surgery. Implementation of Enhanced recovery after surgery (ERAS) protocol is critical in success of SDD objective.
A retrospective study was conducted on 890 patients who underwent robotic hysterectomy for benign conditions. SDD was achieved in 618 (69.4%) while 272 (30.5%) required overnight admission. Multiple preoperative, intraoperative, and postoperative factors were evaluated to predict successful SDD for patients undergoing robotic hysterectomy. Factors that were significant for overnight stay were American Society of Anesthesiologist Score (ASA) 3, Charleston comorbidity index, previous laparotomy, and operative time.
This article is recommended because it identified factors for successful SDD in patients undergoing robotic hysterectomy for benign conditions when Standardized ERAS protocol is implemented.
Journal of Minimally Invasive Gynecology. 30, No 4, 277-283, April 2023, doi.org/10.1016/j.jmig.2022.12.007.

---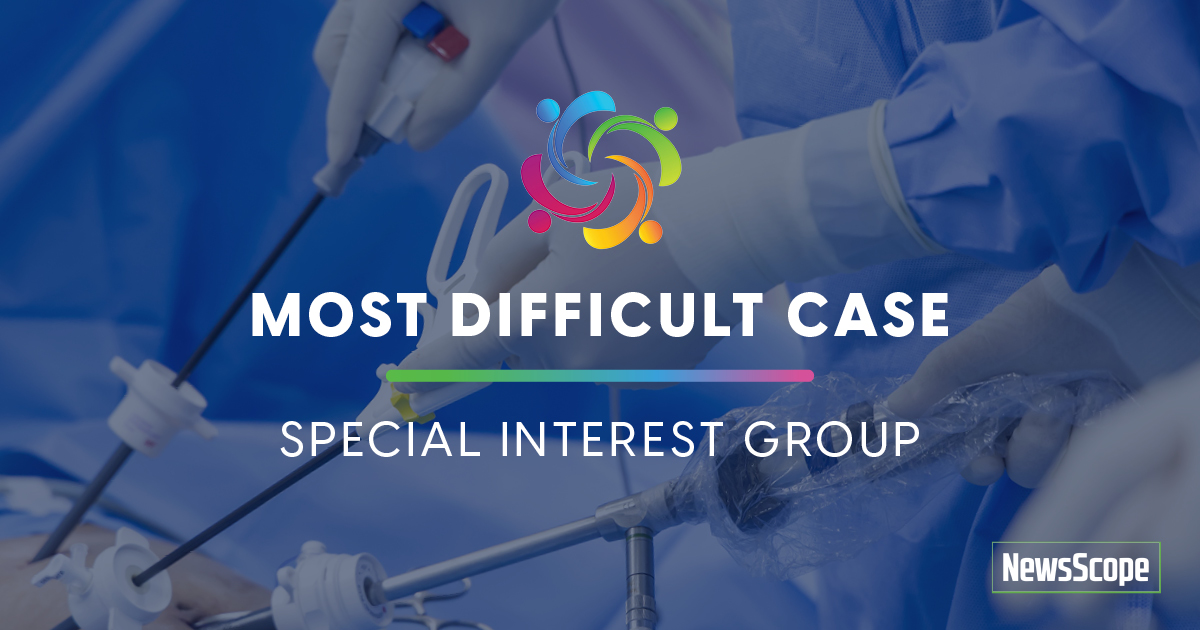 Most Difficult Case: Robotic Assisted Total Laparoscopic Hysterectomy in a Patient with Pelvic Living Donor Renal Transplant by Michael T. Breen, MD
When contemplating which would be my most difficult case, fleeting memories of 5800cc blood loss in residency during an open sacrocolpopexy presacral hemorrhage come to mind as did countless huge uteri with snowman configuration, but one case clearly stood out in my mind for this brief article.
My patient was 46-year-old G3P3 cesarean section x3 12 years post a living donor renal transplant. Long-standing cervical intraepithelial neoplasia had resulted in multiple leep conizations with a recent cold knife conization showing carcinoma in situ and indication for hysterectomy. Allograft kidney was in the left iliac fossa and with her body mass index of 17.3, the kidney was palpable, filling the pelvis. Consultation with a renal transplant urologist was obtained, and imaging demonstrated ureter coursing medially anteriorly toward the neoureterocystotomy site just over the anterior uterus and down the lower segment.
Pre-op discussions on the route of surgery, including open and vaginal were discussed, and after shared decision making arrived at a robotic-assisted total laparoscopic hysterectomy, with both myself and robotic expert renal transplant urologist on a dual console robotic platform. This robotic technology allowed two experts to simultaneously operate in real-time collaboration.
Palmer point insufflation and entry with traditional port placements shifted about 5cm to the right, away from the left kidney, was done (Figure 1). Abdominal pelvic adhesiolysis was accomplished with identification of allograft ureter and meticulous mobilization and identification of neoureterocystotomy site. The periureteral peritoneum was thick and cohesive and slow deliberate ureterolysis was needed. Careful mobilization of the bladder and delineation of bladder flap and dissection below the KOH cup was done.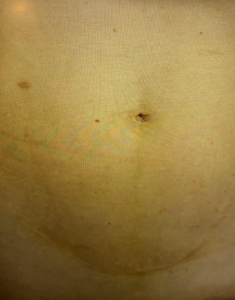 Figure 1: Post operative view of abdomen with left donor recipient scar visible. Note robotic incisions are shifted to the right uniformly to reduce risks to pelvic renal allograft.
Transplanted kidneys are placed in the retroperitoneum with ureter being implanted into the extraperitoneal aspect of the bladder. The ensuing peritoneal fibrosis and adhesion are unique to these cases, increasing intra-operative complexity (Figure 2).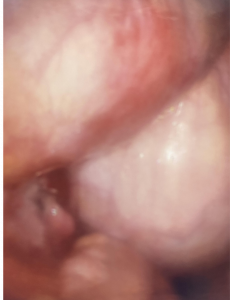 Figure 2: Large renal transplant upper left, over uterus lower right.
Hysterectomy proper was uneventful with minimal blood loss and multilayer closure of vagina with 0 polyglactin 910 suture in interrupted fashion. Care had been taken not to devascularize the transplant ureter and while consideration was given to a preoperative ureteral catheter, the urologist had preferred not to risk ureteral injury with known abnormal angulation of the ureter presumed. (ICG and firefly technology were not available at that time) (Figure 3). Care was taken intraoperatively to maintain adequate renal perfusion to the allograft kidney with euvolemia.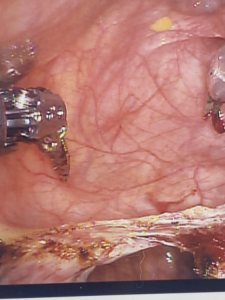 Figure 3: Allograft ureter visible below left instrument
anterior to open cuff.
I think as smoothly as this case went; the highest satisfaction was the normal ureteral jet on her post-procedure cystoscopy. This patient had an uneventful recovery with no change in renal function, pathology showed residual cervical intraepithelial neoplasia, high grade with clear margins and multiple uterine fibroids.
The most difficult cases we do are those that take us to the edge of our comfort zone and push us to the edge of our surgical expertise. Not only getting pre-operative consultation but having consultant scrubbed or on console participating is much superior to getting "management advice" or having your consultant "loosely available".
About the Author:
Michael T. Breen, MD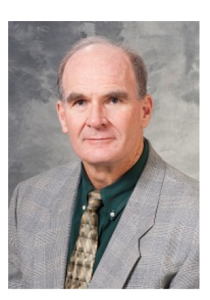 Dr. Breen is a Board Member of the AAGL Robotics SIG, Associate Professor at UT Dell School of Medicine, Director of Robotics and Minimally Invasive Surgery, Associate Program Director, and Associate Chair of Clinical Integration and Operations at Dell Medical School, The University of Texas in Austin, Texas.
---

Technology Review: The Role of Big Data in Robotic Surgery and My Intuitive App
by Dr. Erica Stockwell
Advancements in technology and data analytics have brought about significant changes in the field of healthcare. In robotic surgery, the integration of big data and innovative applications like the My Intuitive app has the potential to revolutionize surgical outcomes and patient care. My Intuitive provides physicians and care teams access to the digital side of Intuitive's ecosystem, including learning plans, system usage and profile data.
Data is an objective measure of progress. Big data analytics plays a crucial role in gynecologic surgery by leveraging large volumes of data to derive valuable insights. Through the collection and analysis of surgical metrics, big data analytics can identify trends, patterns, and best practices. These insights enable surgeons to make evidence-based decisions, optimize surgical techniques and improve patient outcomes.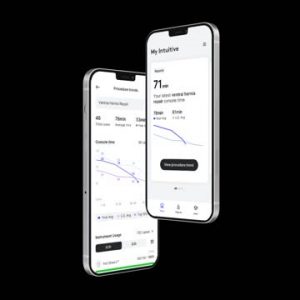 The My Intuitive app allows surgeons to track their console times, view their case mix, monitor their instrument use, and review detailed insights in the case timeline view. Additionally, surgeons can use the My Intuitive app to access technical and clinical videos in Intuitive Learning. Every case performed on a da Vinci system automatically captures metrics that can be used to guide surgical approach. These metrics include total and average console times, comparison to US case averages, and instrument usage compared to other US surgeons. With the Timeline function, surgeons can postoperatively view instrument choreography. This can be particularly impactful to a post-op case review when paired with a surgical recording of the case. Instrument Choreography tracks instrument changes, the surgeon in control and instrument activity times.
Surgeons are like high performance athletes in that they strive to continually improve their skills. Now with data at the palm of their hands, they can maximize efficiency and improve key components and overall performance. Data can also be collected and aggregated to bring to administration to advocate for a surgeon's practice and OR time.
In my practice, I have logged over 500 cases on the My Intuitive app. I utilize this data to track my personal trends in console time to better assist in surgery scheduling. I assess my instrument usage to better optimize my surgical tray and decrease instrument exchange, thereby decreasing overall cost per case. I have used the concise metrics to back my request for further robotic block time with my hospital administration. Lastly, I compare my console time with the top 10% average to set benchmarks for myself to continually improve my skills and efficiency.
The combination of big data analytics and the My Intuitive app can also contribute to ongoing research and innovation in robotic surgery. Researchers can leverage the app's data to conduct retrospective studies, identify novel surgical approaches, and evaluate surgical outcomes. The ability to analyze large datasets efficiently and rapidly accelerates medical research, leading to advancements in surgical techniques, device development, and patient care protocols.
While the integration of big data analytics and the My Intuitive app offers tremendous potential, it is important to address certain considerations. Safeguarding patient privacy and maintaining data security are paramount. Strict data protection measures must be in place to ensure the confidentiality and integrity of patient information. Additionally, the app should always be used as a supportive tool, complementing the expertise and clinical judgment of gynecologic surgeons.
In conclusion, the integration of big data analytics and the My Intuitive app in robotic surgery holds immense promise for advancing surgical performance. These technologies empower surgeons with evidence-based insights, enhance engagement, and contribute to ongoing research. The future of surgery is undoubtedly data-driven, with big data playing a central role in improving patient outcomes and shaping the landscape of healthcare. As big data analytics continue to evolve and apps like My Intuitive become more sophisticated, we can expect further advancements in robotic surgery, ultimately leading to improved surgical outcomes and enhanced patient experiences.
About the Author:
Erica Stockwell, DO, MBA, FACOG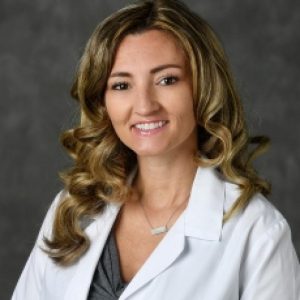 Dr. Stockwell is Vice-Chair of the AAGL Robotics SIG and a Gynecologic Surgeon at AdventHealth in Celebration, Florida.