SurgeryU: Virtual Learning in the Era of COVID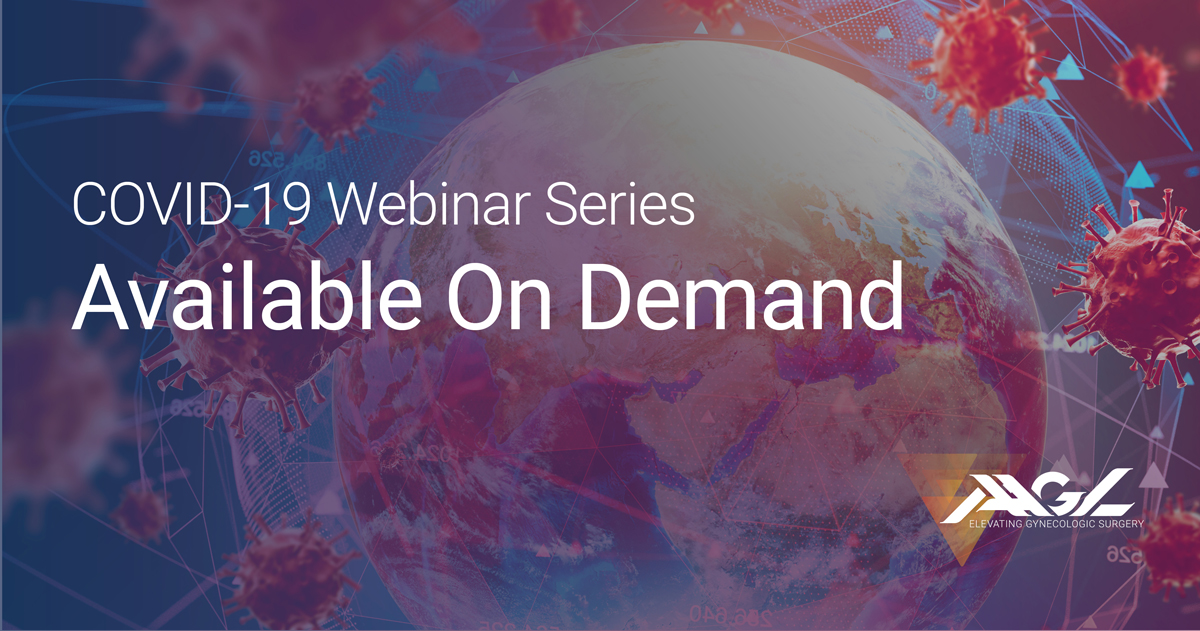 As COVID-19 spreads across the globe, SurgeryU's Editorial Board and staff hope all of our members and their family are safe and healthy.
This pandemic has taken us completely by surprise and has affected all aspects of our life. As physicians, many of us are on the front lines dealing with this devastating disease. COVID-19 is a disease that most of us had never heard of just a few months ago, and as gynecologists, respiratory illnesses are something we last dealt with in medical school. The disease has forced us to adapt and provide care in foreign and uncomfortable settings.
AAGL and SurgeryU understand the needs of our members and realizes that our worldwide reach is our strength. As a society, we have always shared knowledge and learned from our varied members, and this pandemic is no different. To help our members understand the scope of the disease and how our colleagues around the world are dealing with COVID-19, SurgeryU hosted a webinar on March 20th entitled "COVID-19: Learning from Colleagues and Friends on the Front Lines." It was moderated by our President, Dr. Jubilee Brown, and Medical Director, Dr. Linda Bradley. The webinar brought together an international cast, including: Dr. Marcello Ceccaroni (Italy), Dr. Pere Barri (Spain), Dr. Emilie Faller and Dr. Geoffroy Canlorbe (France), Dr. Xiaoming Gong (China), Dr. Xiaoming Guan (USA/China), Dr. Joong Sub Choi (Korea), Dr. Barbara Goff (USA), Dr. Katie Passaretti (USA), and Dr. Derek Raghavan (USA). The webinar was an example of world-wide collaboration at its finest and included the latest information on the epidemiology and clinical characteristics of COVID-19, suggestions for how to run clinic and operating rooms, how to triage cases, testing for COVID-19, patient management, how to handle staffing and limited personal protective resources, and infection control and prevention. It also included a Q&A session. To view the recorded webinar, click here. Access to all COVID-19 webinars is open to all!
As a follow up, a second webinar was hosted on April 2, 2020, entitled "Keeping Patients and Surgeons Safe." This webinar was hosted by Drs. Sarah Cohen and Amanda Nickels Fader. This webinar explored the impact of COVID-19 on our surgical settings, methods to mitigate risks, and how to nimbly adapt perioperative care during this crisis. To view the recorded webinar, click here.
We will continue to provide our membership with resources and educational content as it becomes available, and our hearts and gratitude go out to those on the frontlines.
On another note, I wanted to remind our membership that they can now upload videos for possible inclusion in SurgeryU. Under the "My SurgeryU" heading is a link to upload videos. Please review the Guidelines and Grading Criteria (at the top of the Video Upload Form) prior to sending in your video. All submissions will be reviewed and graded by the Editorial Board. Though we would love to publish all submissions, in order to maintain the integrity of SurgeryU, the Editorial Board will be selective in their acceptance of videos for inclusion.
I look forward to all the amazing videos by our membership!