The AAGL Foundation Honors the Best at #AAGL20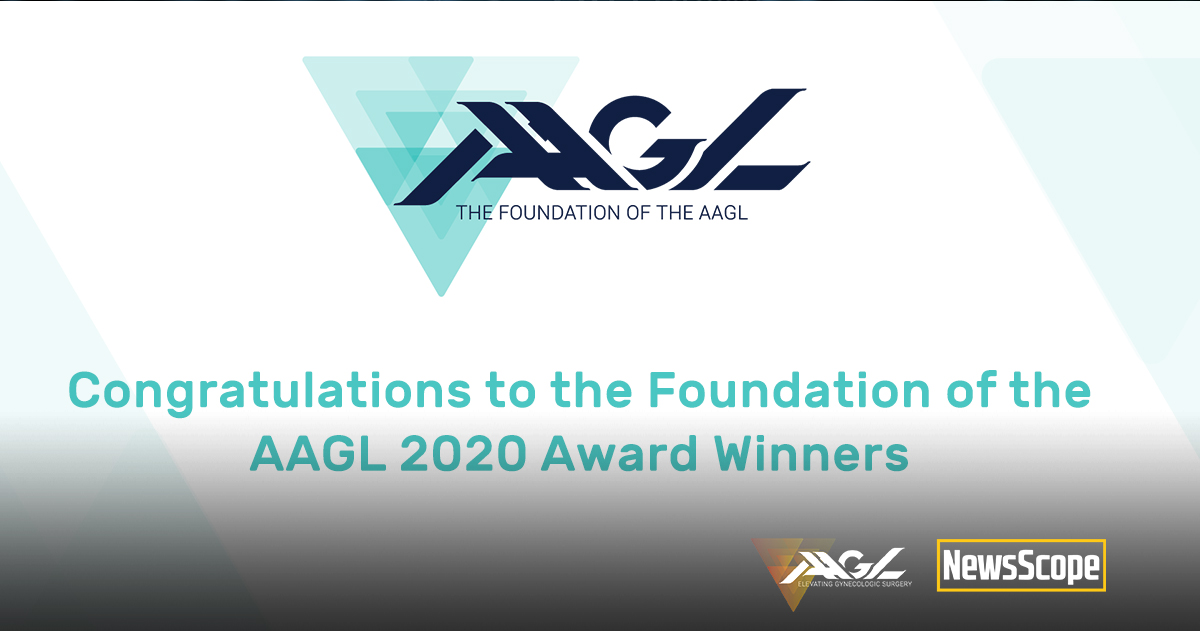 The Foundation of the AAGL is excited to join you all at the AAGL's 49th Virtual Global Congress on November 6-14, 2020. Be sure to visit the Foundation of the AAGL booth in the virtual exhibit hall to learn more about the Foundation and scope out our online branded apparel gifts that you can receive for donating. This year we have a fun new signature sweatshirt you will definitely want to check out!
We look forward to recognizing our 2020 Foundation of the AAGL Award Winners at the Awards Ceremonies held November 6th and 7th, during General Session I (Noteworthy Award) and General Session II (Signature Awards). Thank you to each of you who submitted work for review. You made for a highly competitive process! We'd also like to thank the independent award committees and committee chairs for their meticulous grading process and commitment to honoring those whose work is truly the "best of the best."
The Noteworthy and Signature Awards process empowers progress in minimally invasive gynecologic surgery and improves the health of women worldwide. We are very proud of each of you and applaud your contributions to our field.
Our sincerest CONGRATULATIONS to the 2020 Foundation of the AAGL Noteworthy and Signature Award Winners! Click here to view the listing and photos.
Noteworthy Award Winner
John F. Steege Award – Outstanding Mentorship
Keith Isaacson, MD
MIGS Center
Newton, Massachusetts
Signature Award Winners
Jordan M. Phillips Endowment – Best Research Paper on MIGS
Yana B. Aznaurova, MD
Department of Reproductive Medicine and Surgery
A.I. Evdokimov Moscow State Medical & Dental University
Moscow, Russian Federation
Jay M. Cooper Award – Best Paper on MIGS by a Current or Graduated FMIGS Fellow
Ann Peters, MD, MS
Obstetrics, Gynecology and Reproductive Sciences
Magee-Womens Hospital of UPMC
Pittsburgh, Pennsylvania
Jerome J. Hoffman Award – Best Paper Submitted by a Resident or Fellow
Ritchie Mae M. Delara, MD
Department of Medical and Surgical Gynecology
Mayo Clinic
Phoenix, Arizona
Daniel F. Kott – Best Paper on New Instrumentation or Technology on MIGS
Emily Lin, MD
Northwestern University Feinberg School of Medicine
Chicago, Illinois
Kurt Semm Award – Best Paper on Laparoscopic Surgeries
Giorgio Bogani, MD, PhD
Fondazione IRCCS Istituto Tumori Milano
Milano, Italy
Golden Hysteroscope Award – Best Paper on Hysteroscopy
Luiz Gustavo Oliveira Brito, MD, MSc, PhD
Obstetrics and Gynecology
University of Campinas
Campinas, Brazil
Golden Laparoscope Award – Best Surgical Video on MIGS
Shailesh P. Puntambekar, MD
Galaxy Care Hospital
Pune, India
IRCAD – Award Best Research in Education and Innovative Ideas in Teaching
Dong Bach Nguyen, MD
Department of Obstetrics, Gynecology, and Newborn Care
The Ottawa Hospital
Ottawa, Ontario, Canada
Robert B. Hunt Award- Best Paper Published in JMIG September 2019 to August 2020
Massimo Luerti, MD
Department of Gynecology
Istituto Clinico Città Studi
Milan, Italy
JMIG Editor's VIDEO Award Winner (non-Foundation Award)
JMIG Editor Award – Best Video Published in JMIG
Bourdel Nicolas, MD, PhD
Professeur des universités – Praticien Hospitalier
CHU Estaing Clermont-Ferrand
Service de Chirurgie Gynécologique
Clermont Ferrand