Robotics SIG Video Spotlight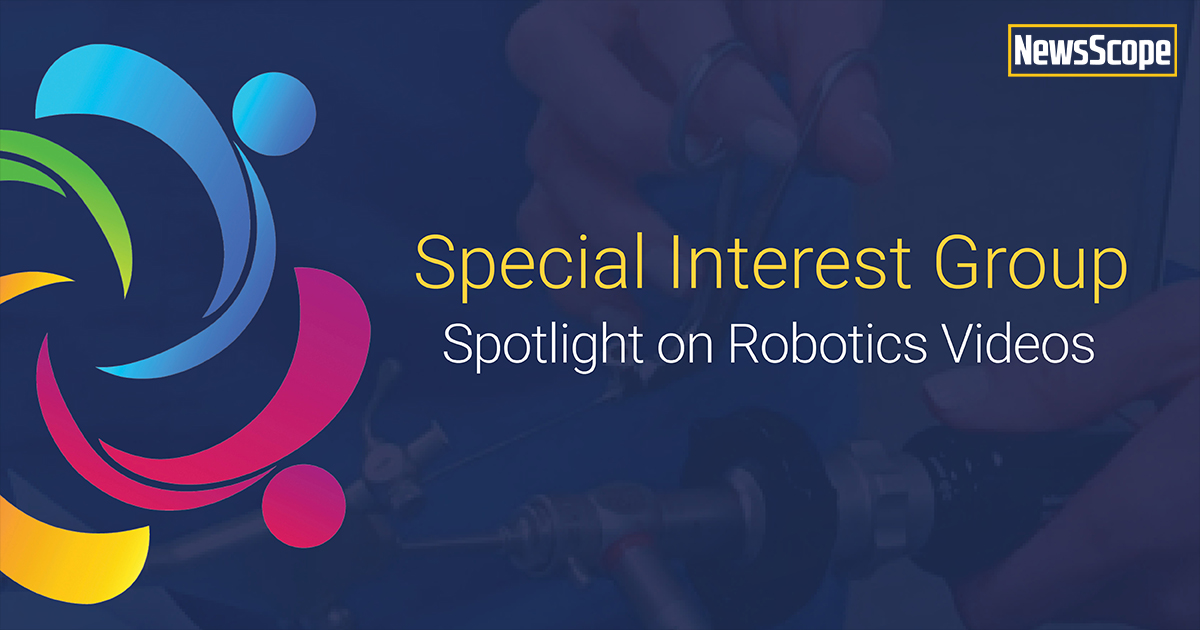 The Robotics Special Interest Group has selected two videos from our massive SurgeryU library that SIG members felt were worth sharing. SurgeryU features hundreds of high-definition surgical videos from surgeons from around the world. Access to SurgeryU is one of the many benefits included in your AAGL membership. If you would like access to these videos, CME programming, JMIG Journal, and member-only discounts on meetings, join AAGL today. These videos are being made available with public access for a limited time. Click here to join AAGL!
Video Spotlight #1: Deep Infiltrating Endometriosis and Infertility

There is a "Catch 22" in performing minimally invasive gynecologic surgery for the treatment of infertility, in which treatment of pelvic pathology by means of surgery may cause a reduction in reproductive performance. There are some techniques that are more optimal in the risk-to-benefit ratio for enhancing reproductive outcomes in both hysteroscopic and laparoscopic approaches. However, in other situations – such as bowel resection for deeply infiltrative endometriosis (DIE) or excision of an ovarian endometrioma – there can be a negative impact on overall chances of future pregnancy. Abdominal approaches may be associated with more adhesions, making it less advisable if fertility is a concern.
DIE is commonly treated with operative laparoscopy, though studies have shown that only one in 12 have benefited for stage I and II disease. No decisive recommendations at this time exist for stage III or IV endometriosis. Of note, this data applies to fertility, as excision is effective for endometriosis-related pelvic pain. There are many cofounders for restoring fertility, such as baseline fertility status, pregnancy rate without surgery, dropouts, sexual function, coexisting adenomyosis, etc. In patients with rectovaginal endometriosis, the pregnancy rate after 24 months for surgical versus expectant management was statistically insignificant. Similar pregnancy rates were found in a study involving infertile women with endometriomas. However, a faster time to pregnancy was noted in complete excision versus residual endometriosis.
In the surgical treatment of DIE, postoperative complications must be considered. With colorectal involvement, 8-12% of patients experienced major complications, including ureter lesions and leakage. With such complications, there exists a threat to ovarian function as well. Fortunately, there is seemingly no increase in future pregnancy complications (miscarriage, prematurity, or hypertension). Although pregnant patients that underwent DIE surgery excision are six times more likely to have placenta previa, this is likely secondary to coexisting adenomyosis.
For those that have difficulties with spontaneous pregnancy, in vitro fertilization (IVF) is an option. However, the process of IVF can cause the progression of DIE with ovarian stimulation. This is more problematic in regards to advancing disease in its relation to recurrent pelvic pain and occlusive disease with colorectal involvement. Dyspareunia can be a barrier to pregnancy, with decreased sexual function directly proportional to worsening endometriosis. If a patient is going to pursue IVF, this is a factor with the level of surgical aggression to manage endometriosis, as it can be expected to worsen if given large amounts of estrogen for egg retrievals, as an example.
Endometriomas are another special consideration. If malignancy is suspected, pain is present, or the size of the endometrioma is greater than four centimeters, removal is recommended with egg/embryo freezing. In IVF patients, endometriomas greater than three centimeters should be excised. Otherwise, endometrioma excision can worsen ovarian reserve by removing healthy ovarian cortex, thermal damage, or local inflammation. Conservative management is not without risks, such as progressive decline in ovarian reserve and difficult egg retrieval.
References:
Reference: SurgeryU – Deep Infiltrating Endometriosis and Infertility (Charles E Miller, MD) Technology Overview – CO2 Laser Excision in Gynecologic Surgery
Technology Overview – CO2 Laser Excision in Gynecologic Surgery
Carbon dioxide (CO2) laser excision has been used in gynecologic procedures routinely, from the treatment of Bartholin gland cysts to imperforate hymenal excisions to even assisting genital mutilation and rejuvenation in more recent years. In laparoscopic surgery, it particularly has a growing appearance with excision of endometriosis.
The precise nature of this laser is achieved with a small focal point with a parallel beam, which avoids unintended widespread thermal spread laterally. In addition, CO2 beams are completely absorbed in soft tissue 0.1 mm underneath the site of impact, preventing unintended deep thermal spread. This is contrasted with the 2 to 22 mm thermal spread seen in bipolar electrosurgery. Comparatively, both laparoscopic electrosurgery and laser excision surgery have similar anesthesia requirements, postoperative complications and pain complaints, and pregnancy rates after endometriosis excision.
Depending on surgeon experience, CO2 laser excision can be a faster procedure. However, operating room and staff limitations play a role in the prevalence of laser use. A factor to consider when using laser excision is the necessity of high flow insufflation – up to 30 L/min – not only as a limitation of the operating equipment, but as a limitation of the patient's ability to tolerate this level of pneumoperitoneum.
CO2 laser excision is not a substitution for electrosurgery or other laparoscopic techniques, but rather a complement. In cases that require dissection of pelvic structures, such as the ureter or dense adhesions, one may prefer to use electrosurgery that is incorporated into laparoscopic scissors, for instance. As for laser safety, the skin and retina are particularly sensitive to laser damage. The light emission from CO2 lasers is typically in the mid-infrared range of 10,600 mm wavelength, requiring eye protection with goggles for both the patient and operating staff. Overall, knowing the benefits and limitations of laser excision can provide the gynecologic surgeon another surgical option for their patients.
References:
Effectiveness of the ultrasonic coagulating shears, LigaSure vessel sealer, and surgical clip application in biliary surgery: a comparative analysis (B D Matthews, et al.).
Lateral temperature spread of monopolar, bipolar and ultrasonic instruments for robot-assisted laparoscopic surgery. (Hefermehl LJ, et al.).
Reproductive outcome after treatment of mild endometriosis with laparoscopic excision and electrocoagulation (T Tulandi, S al-Took).
Surgical treatment of endometriosis via laser laparoscopy (Camran Nezhat, M.D., et al.).
Video Spotlight #2: Laparoscopic Approach and Surgical Tactic for Deep Endometriosis
Endometriosis affects approximately 6-10% of reproductive age women and up to 40% of affected women may experience deep endometriosis.1 Deep endometriosis is a common cause of pelvic pain and infertility and may involve all the organs of the pelvis, including bowel, bladder, and ureters. Studies have proven that more extensive resection of endometriosis correlates with how much improved complaints are postoperatively.2,4 In fact, patients who underwent radical excision of endometriosis showed significant improvements with pelvic pain, dyschezia, dyspareunia, dysmenorrhea, as well as improvement with bowel and/or bladder function, and an increase in fertility.2,3
Most surgeons agree that severe deep endometriosis requires complete resection of all implants for sufficient treatment. This may entail superficial excision of serosal endometriosis, ovarian cystectomy, and sometimes even bowel resection may be necessary for symptomatic relief. Complete radical laparoscopic excision of endometriotic implants is admittedly technically demanding and the surgeon who plans to perform this type of laparoscopic excision should be able to or have access to experts capable of laparoscopic partial or segmental bowel resection.2
As part of this review, a technical approach to laparoscopic excision of profound endometriosis involving intestinal invasion will be presented in three practical steps. First, bilateral ureteral dissection is performed by opening the peritoneum and utilizing traction and countertraction movements. Typically, dissection is performed using scissors, bipolar device, or ultrasonic scalpel to minimize the index of thermal injury. During this step resection of lesions obstructing the ureters may be performed.
Next, is the dissection of the uterosacral ligaments and any endometriotic lesions found on these ligaments.1,3 A rectal probe may be inserted to facilitate separation of the uterosacral ligaments from the rectum, careful to avoid desiccation or deep resection near the rectum. Deep resection may be performed with care to not jeopardize the underlying hypogastric plexus, which is an important part of the autonomic nervous system. Injuries to this plexus may cause micturition dysfunction, such as urinary retention.
Lastly, the rectovaginal septum is dissected by starting at the pararectal space bilaterally and using traction and countertraction to separate the rectum from the vaginal wall. Again, a rectal probe can be used to better demarcate the rectovaginal septum. And finally, the surgeon may proceed with rectosigmoidectomy, if necessary, for complete endometriosis resection. These three practical steps can enable new surgeons to practice this procedure and perform it safely in order to achieve radical resection of endometriosis.1
References:
Caroline EB Jorge, MD, et al. Laparoscopic Approach and Surgical Tactic for Deep Endometriosis. Surgery U. Published on Nov 16, 2015
J. Keckstein & H. Wiesinger. Deep endometriosis, including intestinal involvement – the interdisciplinary approach, Minimally Invasive Therapy & Allied Technologies 2005; 14:3, 160-166.
Camran Nezhat et al. Urinary tract endometriosis treated by laparoscopy. Fertility and Sterility 1996; Volume 66, Issue 6, Pages 920-924.
Hans J Duepree, et al. Laparoscopic resection of deep pelvic endometriosis with rectosigmoid involvement. Journal of the American College of Surgeons 2002; Volume 195, Issue 6, Pages 754-758.