Difficult Case Review: Gastric-type Adenocarcinoma of the Cervix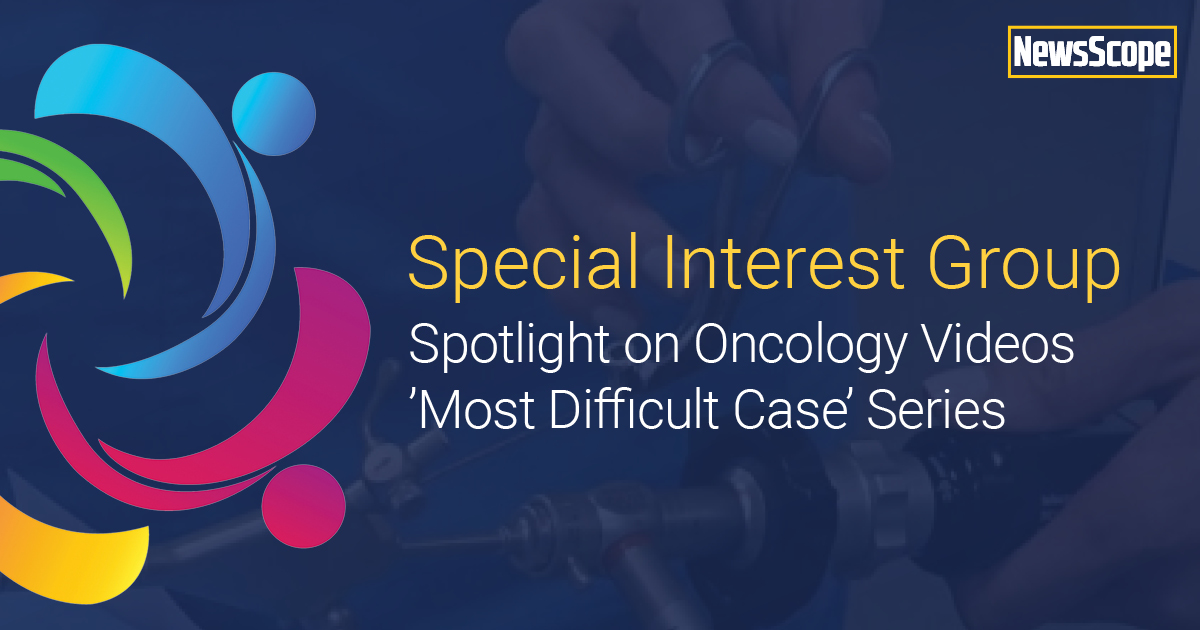 Articles featured in this month's issue were submitted from Oncology SIG. The most difficult/or unusual case presented here to deal with Gastric-type Adenocarcinoma of the Cervix . Thank you to all the AAGL SIG chairs, vice-chairs, and members – for the informative articles and for supporting this popular series and special thanks to the Oncology SIG for the submission!
---
We present the case of a 34-year-old who was initially diagnosed with 2018 FIGO stage IB3 (>4cm) gastric-type adenocarcinoma of the cervix and treated with definitive chemoradiation. She was found to have an isolated enlarging soft tissue lesion in the left internal iliac region leading to hydronephrosis 19 months after completion of upfront therapy. (Image 1)
Gastric-type adenocarcinoma of the cervix is a rare subtype of cervical cancer.(1) It is not HPV associated and has a worse outcome compared to other histologies. (1) 5-year disease-specific survival (DSS) has been reported to be around 40% for gastric-type as compared to 90% for the usual adenocarcinomas of the cervix. (2) Primary treatment decisions are based on the same criteria as used for other types of cervical cancer. However, recurrence is common and systemic therapies remain limited. Surgical resection is often the best option for women with locally recurrent disease who have already received radiation therapy. Radiation therapy alters local anatomy and leads to fibrosis creating an extremely challenging resection. These resections are traditionally performed via laparotomy as they are felt to be too challenging for a minimally invasive (MIS) approach.
She elected to undergo resection after proper counselling and discussion of all possible options and risks of surgery. A MIS approach was considered using the robotic platform. A standard 5-trocar pelvic setup was utilized and the procedure was done using the Xi platform. The tumor was encasing the ureter and densely adhered to the left internal iliac artery. (Image 2) There was significant radiation related fibrosis. Careful dissection was undertaken using combination of sharp, blunt, monopolar and bipolar energy. The internal iliac artery was sealed and transected using the robotic vessel sealer. Care was taken to obtain a negative clinical margin. The ureter was cut proximal to the mass and clipped. The ureter was also then clipped and cut distal to mass. The mass was completely resected en bloc along with the internal iliac artery and the ureter. The mass was placed into a retrieval bag and kept in abdomen until time for retrieval at the end of the procedure. Surgical clips were then placed in the surgical resection bed in case postoperative radiation were to be needed based on pathologic margin status. (Image 3) A tip when performing such complex resections is to introduce a gauze into the abdomen to help with clearing up of the surgical dissection sites.
The proximal ureter was then mobilized from the retroperitoneum. The bladder was mobilized in its entirety circumferentially. The bladder was hitched to the left Psoas muscle using 2-0 PDS barbed sutured. The bladder was backfilled with saline and a cystotomy was performed in bladder dome where the ureter would reach without tension. The ureter was spatulated and a ureteroneocystotomy was performed using 4-0 vicryl sutures interrupted. A 26 cm 8.5 Fr double-J ureteral stent was placed retrograde to renal pelvis and then anterograde into bladder prior to placing final anastomotic sutures. The completed ureteroneocystotomy is shown in Image 4. A Reliavac drain was placed in pelvis to monitor for possible urinary leak. Foley catheter was left in bladder. The total operative time was 306 minutes and she was discharged to home on postoperative day (POD) 2. The pelvic drain was removed on POD 6. A cystogram confirmed no leak and the Foley catheter was removed on POD 17. A CT-urogram revealed no anastomotic leak and the ureteral stent was removed 6 weeks postoperatively. No complication occurred.
References:
Talia KL, McCluggage WG. The developing spectrum of gastric-type cervical glandular lesions. Pathology 2018;50:122-133.
Karamurzin YS, Kiyokawa T, Parkash V, et al. Gastric-type endocervical adenocarcinoma: an aggressive tumor with unusual metastatic patterns and poor prognosis. Am J Surg Pathol 2015;39:1449-1457.
Image 1: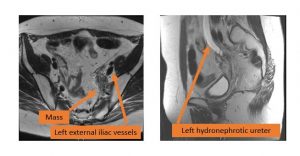 Image 2: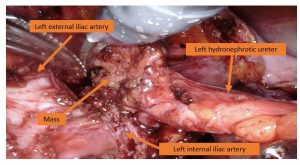 Image 3: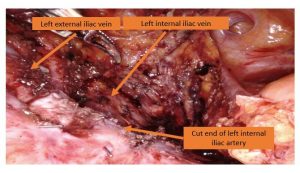 Image 4: