Strategic Partnerships to Advance MIGS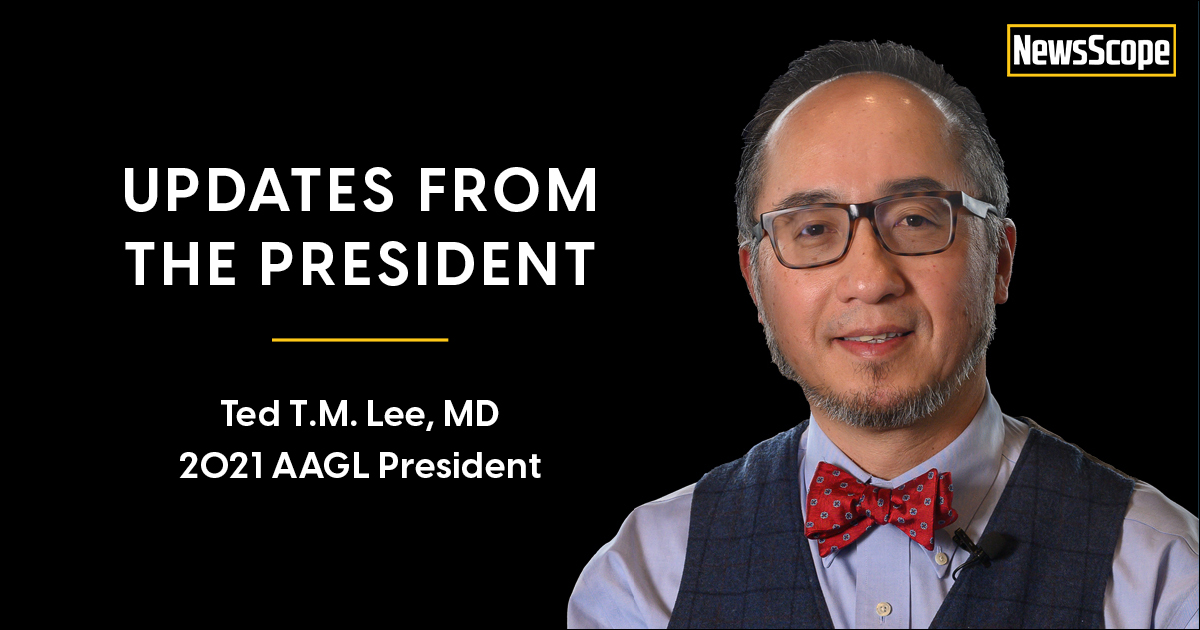 In the last two months, the AAGL has had several opportunities to empower progress in minimally invasive surgery (MIGS). Our actions taken on multiple fronts, live our mission, develop the AAGL of the future, and advance women's healthcare worldwide.
Last issue, I shared that the AAGL Board had agreed, in collaboration with the SurgeryU Editorial Board, to enlarge the scope and diversity of topics on SurgeryU by adding a member from each SIG to the Editorial Board. I am pleased to report that we received 70 enthusiastic applications and have appointed the following representatives from each SIG to the Board: William Kondo (Endometriosis), Miriam Hanstede (Hysteroscopy), Javier Magrina (Oncology), Smitha Vilasagar (Pelvic Pain), Jamal Mourad (Robotics), Lauren Siff (Urogyn), and Jeffrey Woo (Fellow/Resident). A SIG representative will also soon be chosen to join the Editorial Board from the Fibroid and the new Pediatric and Adolescent Gynecology SIGS. The expanded SurgeryU Editorial Board will hold their first meeting during the 50th Global Congress in November. We look forward to the new content these collaborations will bring to SurgeryU!
Earlier this month, the AAGL joined with the American Urogynecological Society (AUGS), the Society of Gynecologic Surgeons (SGS), and the Society of Urodynamics, Female Pelvic Medicine and Urogenital Reconstruction (SUFU) in submitting an amicus curiae brief regarding the CA Department of Justice's January 2021 decision against Johnson & Johnson (Ethicon, Inc)'s mesh devices used to treat stress urinary incontinence (SUI) and pelvic organ prolapse (POP). Our collective professional opinion submitted in this statement indicates that this verdict restricts the use of synthetic polypropylene mesh suburethral slings and thereby negatively impacts the health of women who will now be limited in their treatment options. The amicus curiae brief outlines the trial's absence of professional input by surgical specialists who utilize and understand the use of surgical mesh and the treatment of SUI and PLO. It further addresses specific points of contention with arguments made during the trial and concludes with a request to overturn the decision of the court. We will provide updates on the outcome of this amicus curiae brief as they develop.
In step with our mission to elevate gynecologic surgery worldwide, the AAGL and the Indian Association of Gynaecological Endoscopy (IAGE) have agreed to develop Centers of Surgical Educational Excellence in Minimally Invasive Gynecology (CSEEMIG) in India. These centers will provide continuing education in MIGS through predetermined curricula, guidelines for examination, and certification in advanced gynecologic surgery. Each approved center will teach a minimum of four courses focused on these topics: General Gynecological procedures like Ovarian Drilling, Cystectomy and Oophorectomies, Total Laparoscopic Hysterectomy, Myomectomies, Hysteroscopy (Diagnostics & Therapeutic), Gynecologic Oncology Procedures, Endometrial Cancer & Para Aortic Nodal Dissection and Endometriosis. According to the Memorandum of Understanding between the AAGL and IAGE, approved centers must meet predetermined criteria including type of center, number of gynecological endoscopy beds dedicated to the program, medical equipment available for training, and experience of the faculty. The development of these new centers of education will elevate minimally invasive gynecologic surgery and the health of the women of India!
The AAGL has the responsibility and mission to advocate for women's rights, and specifically for women's health care rights. In response to the State of Texas' Senate Bill 8, we composed a statement expressing our opposition to this bill as it abolishes women's autonomy, devalues the sanctity of the physician-patient relationship, and ignores evidence-based medicine. Additionally, we investigated the option of moving our annual conference to another state. Unfortunately, because of the years of planning, and financial commitments and contracts that go into each annual meeting, it is impossible to relocate our 50th Global Congress on such short notice. Though we wish to make a bold statement to the state of Texas, we will prioritize improving women's health by learning as much as we can together at our Global Congress.
I am extremely proud to be a part of this great association. The expansion of an AAGL Board, advocating for women's rights and for a medical device, and signing a MOU may seem like small steps, but they will expand in impact exponentially. We have thrown our small pebbles into the pond, and in the years to come we will watch the positive ripple effect on the health of women throughout the world.