EMIG: A New Standard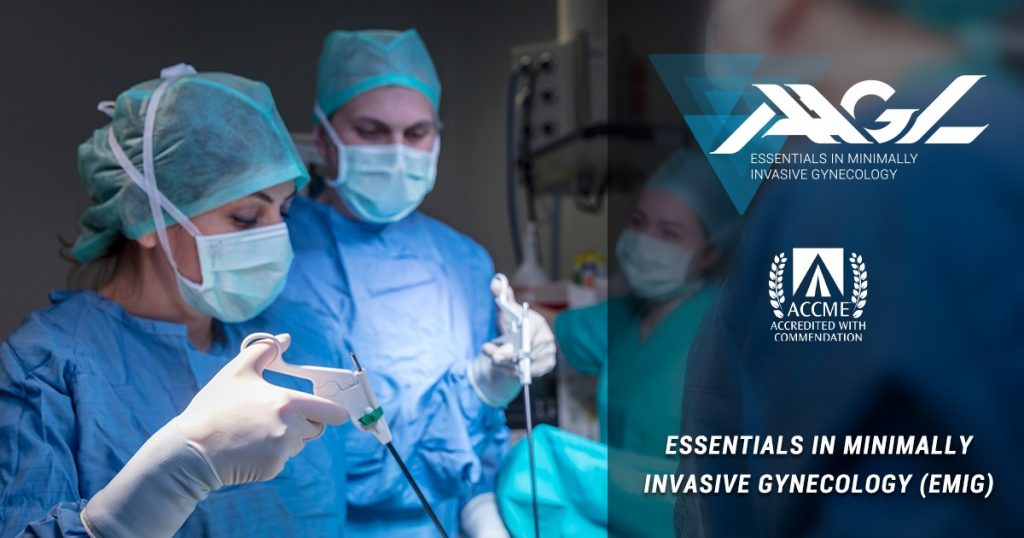 The EMIG Steering Committee has had quite a busy year putting the final touches on the EMIG program. As you recall, Essentials in Minimally Invasive Gynecology (EMIG) is a comprehensive program designed by experts in the field over the past 5 years for the standardized education and assessment of MIGS knowledge and skills. The program encompasses 3 main components, EMIG Didactics, EMIG Cognitive, and EMIG Manual Skills. In addition, we strongly believe in the power of research in advancing and strengthening the program, and we have formalized this process under the leadership of experts in the field.
1, EMIG Didactics: This online program boasts more than 80 narrated lectures that span the gamut of evidence-based knowledge in minimally invasive gynecologic surgery, such as pelvic anatomy, electrosurgery, patient positioning, trocar placement, principles of laparoscopic and hysteroscopic surgery, complications, pre- and post-op care, among many other topics. The lectures are regularly updated with recent literature. Stay tuned: new modules are being developed on approaches to hysterectomy and on office procedures. The EMIG Didactics program has been extremely well received, with almost 500 registrants, including 60 new members joining the AAGL. We have received excellent feedback from candidates using the material to prepare for standardized exams in our field.
2. EMIG Cognitive: An extensive MIGS-specific cognitive exam has been developed and ratified in an iterative fashion by subject matter experts. The exam has been validated and standard setting has been completed using state-of-the-art psychometric expertise. Two forms of the exam are now ready; cut scores and pass rates have been set. The question bank will be updated and expanded regularly as we move forward. The EMIG Didactic exam is now ready to be administered using remote proctoring over a virtual platform.
3. EMIG Manual Skills: The initial exam will consist of 5 laparoscopic tasks to be performed in a proprietary LaparoBowl (patent pending) to simulate operating in the female pelvis. We plan to incorporate hysteroscopic skills testing in the near future. A large number of subject matter experts have persevered to render the skills assessment to be objective, reproducible, reliable and pertinent to our trainees. Extensive psychometric analyses and expertise were employed to ensure the process is methodical and captures the important attributes in this assessment. Standard setting and cut scores have been completed during the AAGL 50th Annual Congress in Austin, TX and EMIG Manual Skills is now ready to be administered. Along with EMIG Didactics, we plan to offer the Manual Skills Assessment virtually with remote proctoring, thus facilitating scheduling, and eliminating the need for travel and time away from work, naturally minimizing cost and the impact on productivity and patient care. The exams are videotaped and uploaded to the cloud, and scored by experienced personnel. The rollout of EMIG will be made possible through collaboration with our industry partners, national organizations and stakeholders. This will start with Pilot testing in 30 sites in collaboration with the Council on Resident Education in Obstetrics & Gynecology (CREOG).
4, EMIG Research subcommittee has been re-structured with a standardized process for the expert review of research protocols, with feedback to the authors to strengthen and streamline the evidence supporting EMIG. The committee is inviting proposals for EMIG research.
We also plan to make EMIG available for our international partners and organizations seeking a standardized, well-developed program for EMIG education, simulation, and evaluation.
This tremendous progress could not have been possible without the dedication, tireless efforts and hours volunteered by an army of subject matter experts, AAGL members and the AAGL staff. A special Thank You to my Co-Chair, Dr. Barbara Levy. A huge shout out to each one of you! With your heartfelt enthusiasm and belief in the mission, EMIG is finally ready for Take Off!