ABOG Approves EMIG Didactic Training and Testing Program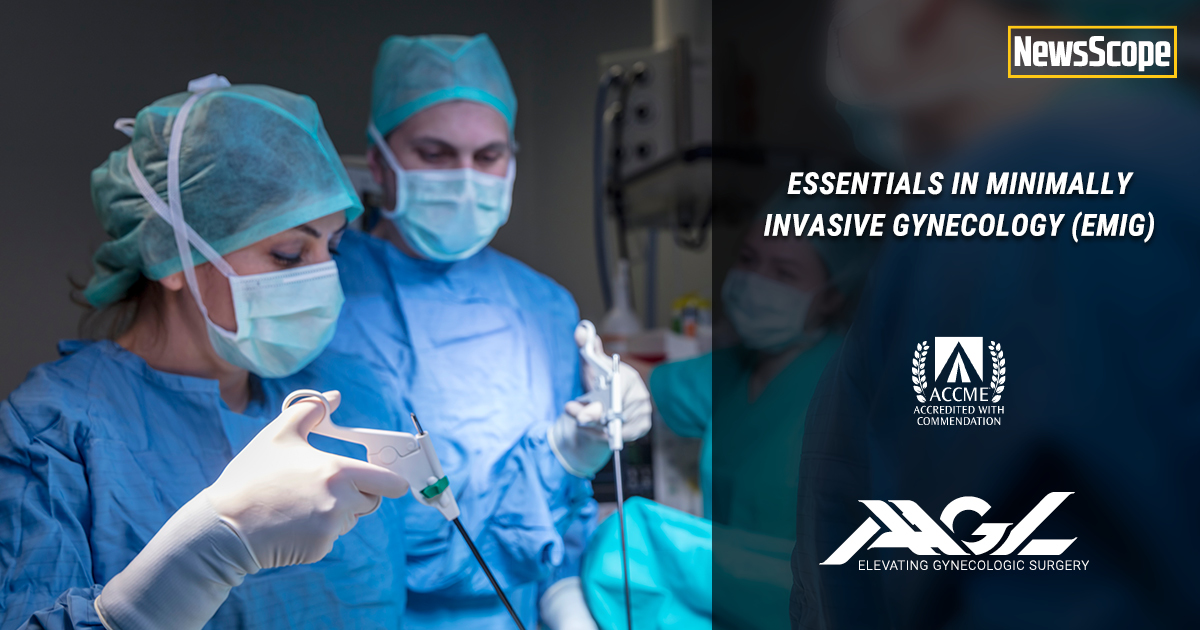 Nine years ago, the AAGL set an ambitious goal to create a training and testing program for minimally invasive gynecologic surgery (MIGS) specific board certification as an alternative to the current Fundamentals of Laparoscopic Surgery (FLS) examination. Thanks to a tremendous amount of work and collaboration, dedication by nine AAGL Board of Directors, countless AAGL staff hours, and a determined, relentless, EMIG Steering Committee, the Essentials in Minimally Invasive Gynecology (EMIG) Training and Testing Program was developed, validated, and this month, approved for use by the American Board of Obstetrics & Gynecology (ABOG).
What a tremendous, historic moment for the AAGL and for the future of MIGS! We give our heartfelt thanks to the 63 individuals who devoted themselves to each of the committees that were necessary to develop the didactic, cognitive and skills necessary for this training and testing program. When the final email was sent notifying all those who worked on EMIG that we had gained ABOG acceptance, your celebratory responses captured the magnitude of this achievement. Lastly, we would like to take a moment to thank our current Steering Committee Chair, Dr. Nash Moawad, and Co-Chair, Dr. Barbara Levy, who had the vision and tenacity to see this through. We are ecstatic to have achieved this monumental milestone that will hereafter so positively impact women's healthcare, and we thank each one of you for contribution.
Developed and funded by the AAGL, EMIG is comprised of a validated cognitive examination, an accompanying web-based didactic component accredited by the Accreditation Council for Continuing Medical Education (ACCME) for 10.5 AMA PRA Category 1 credits, and a manual skills training and testing platform of laparoscopic exercises specific to gynecologic surgery. EMIG establishes standard didactic information and manual skills serving as a curriculum to guide gynecologic residents, fellows and practicing surgeons in the performance of basic and advanced endoscopic surgery. Mastery of the didactic curriculum and achievement of endoscopic skills will prepare gynecologic residents and surgeons to perform endoscopic procedures with greater skill, safety, and efficiency, and improved complication rates.
Executive Director of ABOG, Dr. George Wendel, shared his enthusiasm about ABOG's approval of EMIG as an alternative option to FLS, "We are happy to expand opportunities and options to help educate and test our residents and we are pleased that EMIG is specialty-specific and quite innovative." In addition, Dr. Wendel, shared that the AAGL's "dedication to this program and focus on content and rigor have been inspiring."
According to the EMIG Steering Committee Chair, Nash Moawad, MD, "EMIG is the culmination of nine years of dedication by a team of expert educators so committed to advancing MIGS that they were driven to create this exceptional training and standardized testing platform. While the FLS will still have its place, EMIG addresses the specific complexities of minimally invasive gynecologic surgery and will now be the standard for qualifying MIGS surgeons."
"One of the many benefits of EMIG," says EMIG Steering Committee Co-Chair, Barbara S. Levy, MD, "is that it is a virtual platform. All exams may be scheduled and proctored remotely at the trainee's convenience and location. This allows for equitable access to testing without the need and expense of travel, while also reducing the burden for CREOG sites."
EMIG will now be offered as an alternative option to FLS for the same price, and without any additional capital cost to the CREOG programs.
The AAGL will manufacture and donate one laparobowl to every residency program in the US, along with the initial consumables for practice. The EMIG platform uses a special pelvis-shaped bowl (a laparobowl) to simulate gynecologic laparoscopic surgery. The laparobowl will fit in the pelvic trainers each site has already been using for laparoscopic training. AAGL's laparobowls will arrive at CREOG sites this summer for training purposes. It is anticipated that testing will begin in the fourth quarter of 2022 once programs and residents have prepared for the new test.
We are all very proud of this momentous achievement and eager to share this exciting news with the OBGYN residency community and AAGL membership. The process of deploying EMIG will be evolving over the next few months, and you will be hearing more updates as they come. Stay tuned and proudly spread the word of this incredible achievement!