The Excellence in MIGS Award Season Has Begun!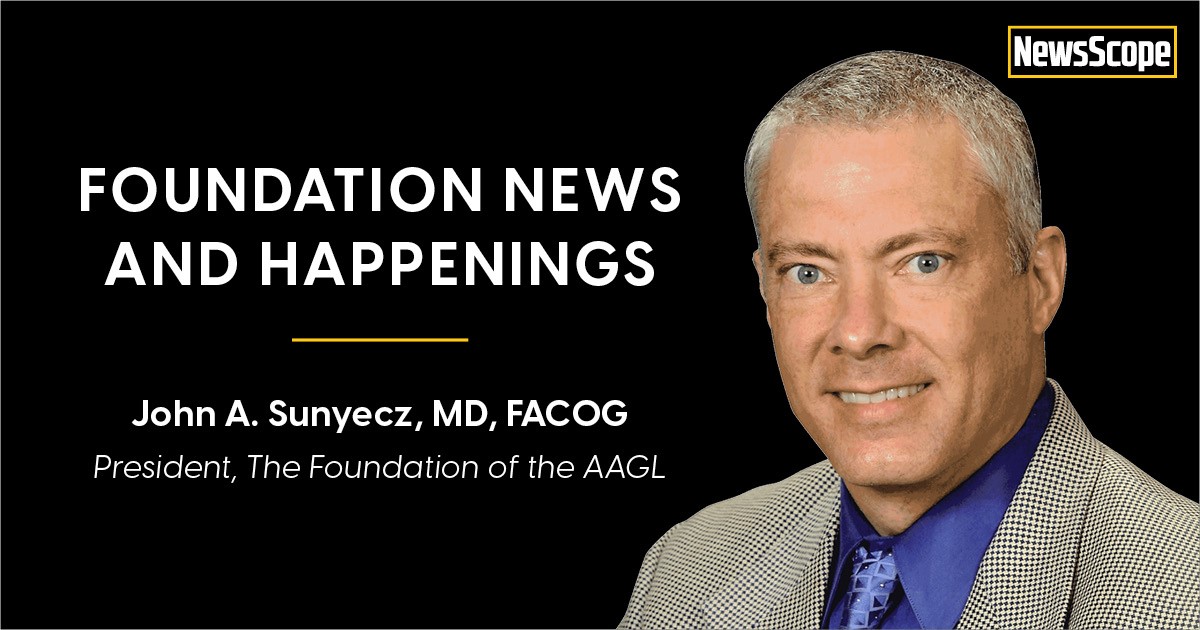 Happy Spring! As we proceed from the dark days of winter and enter the spring season of new growth and opportunity, I would like to take time to share information about our awards and the opportunity each provides. We are extremely proud of these awards, the people they honor, and the distinguished winners.
The Foundation of the AAGL will be honoring award winners at the 51st AAGL Global Congress in Aurora, Colorado, December 1-4, 2022. Many of you have already submitted your abstracts and applied for a Signature Achievement Award. Announcements of the Signature and Noteworthy Award winners will be made in late September.
The Following FAAGL Noteworthy Awards Applications are Now Open!
Emerging Countries Scholarship – Harrith M. Hasson Award
Apply
Established in 2013 by Dr. Hasson's family, the Harrith M. Hasson, MD, Emerging Countries Scholarship Award recognizes a deserving physician from a developing economy who is empowering progress in minimally invasive gynecology within their community.
AchieveHER Award – Barbara S. Levy, MD, FACOG, FACS Award
Apply
The Barbara S. Levy, MD, FACOG, FACS AchieveHER Award recognizes women leaders in minimally invasive gynecologic surgery (MIGS) who like Dr. Levy, have paved the way for female MIGS surgeons; served in leadership roles; and have been an influential mentor for five or more years. Qualified candidates must be 5-15 years out of fellowship training.
Exceptional Resident Award – Franklin D. Loffer, MD, FACOG Award
Apply
Established in 2018, the Franklin D. Loffer, MD, FACOG, Exceptional Resident Award recognizes a resident who demonstrates leadership qualities and an exceptional commitment to empowering progress in minimally invasive gynecologic surgery. Third year residents selected by their chair to receive the AAGL Honorary resident status, are eligible to apply for this award.
Excellence in Diversity and Inclusion in MIGS Award – MedStar NCAPS Award – NEW
Apply
The MedStar NCAPS Excellence in Diversity and Inclusion in MIGS Award recognizes a top scoring manuscript presenting research on diversity and inclusion.
Excellence in Mentorship – John F. Steege, MD Award
Apply
The John F. Steege, MD, Mentorship Award, established in 2015, recognizes outstanding AAGL members who have provided at least ten years of support and mentorship to future generations of minimally invasive gynecologic surgeons.
These endowment funded Noteworthy Awards are a great opportunity to recognize excellence in MIGS and honor current leaders for their skill, dedication, and achievement. Last year's Foundation Awards highlighted the difference our award winners are making not only in their communities, but in the world. We encourage you to consider nominating a candidate for one of these awards by submitting an application. Please watch for more award application announcements coming soon!
The FAAGL awards would not be possible without your generous donations. The Foundation Board of Directors and I are passionate about the work we are doing to provide opportunities for MIGS education, mentorship, global outreach and awareness with the goal of improving women's health. To support the Foundation of the AAGL and these awards, please visit our website. If you have any questions, please contact clovret@aagl.org.
Together, and with all of you, our donors, and supporters, we will continue to make a difference by empowering progress in MIGS worldwide.