FAAGL: Mid-Year Review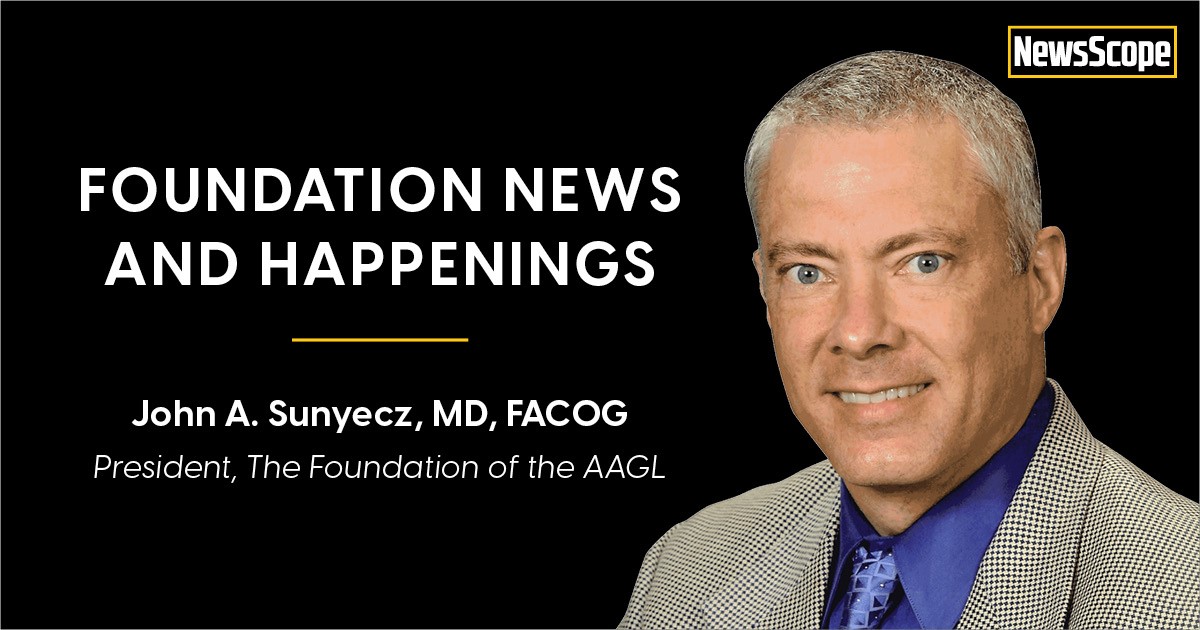 The Foundation of the AAGL (FAAGL) Board of Directors has some exciting news to share with you! We recently met to further shape the Foundation's Strategic Plan, create a clear summary of our Mission, Vision, and Four Pillars and provide you, our donors, with more information about the difference your donations make! There was a great deal of enthusiasm about the work of the Foundation shared between the new and returning board members. We are fortunate to have such a talented and passionate group of volunteers with diverse backgrounds and experience.
Strategic Plan – Four Pillars
Our Foundation Board of Directors are passionate and driven to grow the impact of the Foundation. We are reaching more donors and accomplishing more than ever before. As a result, we have seen an increase in funding of endowments which created new awards this year. We also have provided more funding to our FMIGS fellowship programs and several scholarships for physicians from underdeveloped countries, and physicians in training, to attend Congress.
You can now designate your support to go to one of the pillars of the Foundation of the AAGL. To learn more about the ways that your giving is used to support the mission of the Foundation, view this summary of our four pillars. In addition, please check out our new video prepared by our Foundation Board members, past award winners and an AAGL MIGS patient providing information of how your donations help fund our mission.
We are truly grateful not only for our donors, but for our dedicated and talented board members who volunteer their time to make this all happen!
Fund for the Future
The Foundation was successful in its efforts to secure funding for the Fund for the Future (FFTF) 2022 – 2023 FMIGS Programs. Last year, we meticulously updated the FFTF application and grading process, including the critical grading metrics utilized to select the winners of these awards. We want to thank Olympus for supporting this program. Thanks to their generosity, we were able to support the following four programs with grants this year:
Banner University – Program Director: Jamal Mourad, MD
Clinica de prado/Clinica comfailiar Algia – Program Director: Juan Diego Villegas, MD
Hospital beneficencia Portuguesa de Sao Paulo – Program Director: Mauricio Simoes Abrao, MD
University of North Carolina, Chapel Hill – Program Director: Erin Carey, MD
Noteworthy Award Applications
Noteworthy Award and Scholarship applications are closing soon! We are excited to announce two new Foundation of the AAGL awards this year: the Medstar/NCAPS Diversity and Inclusion Award and the Charles Koh Suturing Competition Award! All award application due dates have been extended to August 30, 2022. Submit your application or nominate your mentor or colleagues for one of these incredible awards:
For more information on these awards, here is a short video message explaining the awards and application process (for all awards except Charles Koh Suturing). You may also visit FAAGL Endowments and Awards page for information on all Foundation of the AAGL Awards.
Karaoke Party
The Foundation of the AAGL will be hosting our 2nd Annual Karaoke FUNdraiser and Party this year at the AAGL Global Congress in Aurora, Colorado. We invite you to participate and show off your non-surgical talents! Please start thinking about who you would like to perform with and a song you would love to sing. Watch for announcements in the coming months with more details about registering. This is all for fun and the money raised will continue the great work of the FAAGL!
If you are considering giving to the Foundation of the AAGL and have any questions about donating, establishing an endowment, making a bequest, or other planned giving, please contact clovret@aagl.org for more information. We are extremely proud of the work we have accomplished so far this year and are excited to see what the future holds!
Together, and with all of you, our donors and supporters, we will continue to make a difference by empowering progress in MIGS worldwide.