Insights on AAGL's Workshop on MIGS and Laparoscopic Hysterectomy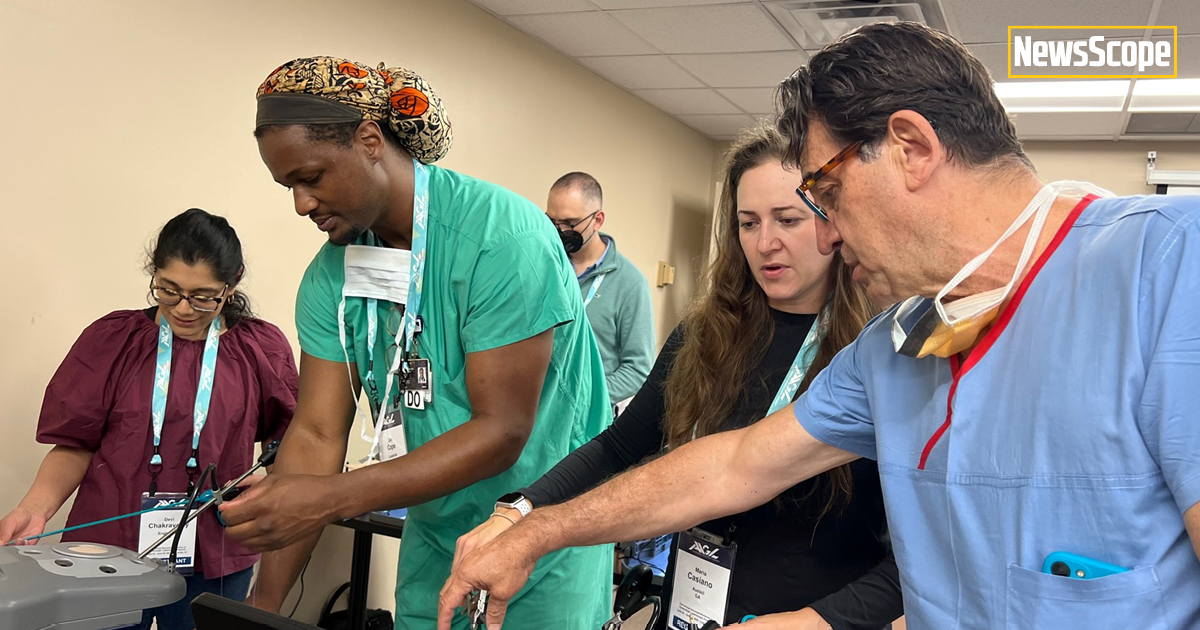 For the last 25 years, the Annual Workshop on MIGS and Laparoscopic Hysterectomy has provided exceptional training for more than a thousand physicians from all over the world. After a two-year hiatus due to the pandemic, the 23rd annual workshop resumed in Louisville in May 2022. Leading the course for 25 years, is one of AAGL's finest, Resad Paya Pasic, MD, PhD (2009 AAGL President and 2020 AAGL Honorary Chair).
"This year's event was a tremendous success with each attendee walking out with a true skill set," said AAGL Executive Director, Linda Michels. To learn more about this high impact AAGL training we sought out Dr. Pasic for an overview of the 23rd Annual Workshop on MIGS and Laparoscopic Hysterectomy and its 25 years of development. We also took the opportunity to get to know Dr. Pasic better and share his inspiring story with the rest of our membership.

What inspired the 1st Annual Workshop on MIGS and Laparoscopic Hysterectomy? RP: University of Louisville had one of the first fresh tissue labs in the country and Dr. Mack Wolfe suggested that I start teaching our residents laparoscopic surgery on human cadavers some 28 years ago. I would bring the laparoscopic equipment from the hospital's OR to the lab and perform dissections with residents. It turned out that I was among first in the world to start doing laparoscopy on cadavers. At that time, we learned that Dr. Bob Rogers, independently of us, was doing the same thing in Reading, PA. It was Dr. Ron Levine's idea, 25 years ago, to join forces and propose to Dr. Jordan Phillips, and the AAGL board, the creation of an AAGL cadaver course on MIGS and Laparoscopic Hysterectomy. So, I was lucky to be affiliated with very innovative people and great minds. I was Ron Levine's assistant who worked hard to help him put the workshop in place and after he retired, I kept going.
How have these workshops evolved over the years? RP: The sole purpose of this workshop from the very beginning was to teach doctors retroperitoneal anatomy and dissection techniques. The majority of gynecologist are familiar with uterine and ovarian anatomy, but they feel uncomfortable to venture into the retroperitoneal space where all important structures such as ureters, arteries, veins, and nerves are located. Our goal was to make them familiar with retro-peritoneal anatomy. If they know anatomy, they become better and safer surgeons. Over time we have evolved and have been teaching pelvic floor anatomy, laparoscopic suturing, and hysterectomy techniques.
What is your role at the workshop? RP: My role is in planning, which involves coordinating with the Department of Anatomy to make sure we have lecture rooms, cadavers, and lab space available. I coordinate dates with AAGL and once the board approves the course, Linda Bell from AAGL contacts industry to make sure we have all necessary laparoscopic equipment that is then shipped to Louisville. I also make sure we have all medical supplies such as gowns, gloves, masks, and small instruments that we provide from the University of Louisville. I decide on topics and invited faculty and oversee the entire operation to make sure everything runs on time. I also do all the quick fixes in case something goes wrong. It is a quite a complicated endeavor and requires a lot of planning with School of Medicine, AAGL and Industry. Just imagine running 12 operating rooms at the same time and everything must be smooth! My goal is to provide to the attendees a unique, high-quality learning experience and, judging from the course evaluations, we do deliver every year.
What happens during the workshops? RP: On the first day of the workshop, we have lectures by the experts that cover all aspects of minimally invasive surgery, from anatomy, laparoscopic suturing, electro surgery to hysterectomy, endometriosis, and complications of laparoscopic surgery. We also have suturing dry lab practice under the guidance of experts. Second day in the cadaver lab, the goal is to teach dissection technique, pelvic anatomy and make participants feel comfortable in the retro-peritoneal space.
Who attends the Workshop? RP: We did not offer this workshop in last two years because of the Covid-19 pandemic. But over the past 25 years, we have had over one thousand physicians from 42 countries attending this workshop. We have all profiles, from OB/Gyn residents, novice surgeons, to very established surgeons that want to practice retroperitoneal anatomy and expand their skills. We have had participants that have attended this workshop several times. This year was special since the Mayor of Louisville presented me with a Proclamation that thanked me on behalf of the city of Louisville for bringing all these visitors and doctors from all over the world to Louisville and for promoting our city and the University of Louisville. Over the 25 years, we have generated over 4,000 hotel lodgings to local hotels and businesses, and it was very nice that the city has recognized this fact.
Tell us about the 23rd Annual Workshop on MIGS and Laparoscopic Hysterectomy. RP: This year we had 12 stations with 3 participants per station and two observers, for a total of 38 participants. Most of the participants were from the US, but we had several from Canada, two from Belgium and one from Ecuador as well. In addition, we had a total of 13 faculty, one faculty per station. We taught retro-peritoneal anatomy, laparoscopic suturing, hysterectomy, pelvic floor surgery, closure of the vaginal cuff, bowel, and bladder repairs. I am proud to acknowledge that most of the faculty members at this workshop, were my former fellows. Putting on a course like this requires huge resources and major expenditures. We would not be able to do it without generous help from our industry partners. The faculty do not get any honorarium and they teach in their free personal time. The actual cost of the course is much higher than AAGL charges for it.
What were a few things you liked about this year's workshop? RP: First, we have great faculty that give excellent lectures and are very dedicated teachers. Second, we have a very good balance between theoretical lectures and practical exercises. Third, this is the only course, to my knowledge, that offers 3 participants per each station which allows surgeons to spend more time operating. The participants rotate every 20 minutes as surgeon, first, and second assistant. Dr. Ronald Levine, who is the oldest living AAGL president, came to greet the participants and gave a short lecture about the history of medicine and the University of Louisville. Also, I am grateful for all faculty who were teaching at this course and our industry partners who supported it.
What drives you to keep providing this course each year? RP: It is the direct feedback that we get from participants during each course that keeps me going and the realization that those people will become safer and better surgeons, which will have great repercussions for women's health.
Please tell us about yourself and your journey to becoming a MIG surgeon: RP: I completed my medical school and residency at the University of Sarajevo and worked at this modern, brand-new University of Sarajevo women's hospital. My chairman was a gifted surgeon who learned laparoscopy from Dr. Kurt Semm in Germany. He would perform diagnostic laparoscopies, and we residents would line up and wait our turn to peak down the scope. In those days there were no cameras. I remember vividly, the first time I looked through the scope into the abdominal cavity and the pelvis, I was totally mesmerized and totally blown away. I have that moment permanently engraved in my memory. Our chairman was not interested in teaching anybody and no one else was allowed to do laparoscopy. In April of 1987, I came to the US to work on my PhD research. I then joined the department of Obstetrics and Gynecology at the University of Louisville, and I was assigned to outpatient surgery to perform laparoscopy. There I worked with another brilliant surgeon, Dr. Mack Wolfe, who taught me the basics of laparoscopy. After two years in Louisville, I returned to Sarajevo and worked hard to solicit donations and purchase a laparoscopic tower for the hospital and started performing laparoscopic surgery. My joy did not last long since the Bosnian war started in 1992. My hospital was bombed and destroyed, and I ended up in Louisville as a refugee. I am currently Professor of OB/GYN and MIGS Fellowship Director at the University of Louisville. I am passionate about teaching, and I am trying to share my experience with colleagues to improve women's health. I get very excited when I recognize surgical talent and someone's desire to learn.
Do you have any hobbies? RP: I grew up in Sarajevo, place of 1984 Winter Olympics, and started skiing from early childhood. Being close to the Adriatic coast I fell in love with free diving, spear fishing and scuba diving and those are the sports that I still practice. But my favorite is playing tennis and I try to play at least three times per week. Both my wife and I love to travel, entertain and to hang out with friends.
What do you want folks to know about you? RP: I have had a very interesting life full of ups and downs. My wife, Djenita, and I came to US as refugees of the Bosnian war with one suitcase and our 5-year-old daughter, Emma, in tow. We restarted our lives from scratch and worked hard to achieve professional success. Life taught me to be fearless, but humble, and compassionate toward others less fortunate. I am immensely enjoying my work and would not trade places with anyone.
Who have been the important mentors in your life? RP: There are many people that I owe gratitude for where I am now. My father was a Professor at the School of Medicine in Sarajevo. He inspired me to build the foundation for my academic achievements and a desire to transfer knowledge. My family, and especially my wife, was supportive in all my endeavors. Dr. Walter Wolfe was my mentor in Louisville who taught me laparoscopic surgery. Dr. Ronald Levine introduced me to Dr. Jordan Philips and AAGL where I met many of the pioneers of laparoscopy such as, Harry Reich, C.Y. Liu, the Nezhat brothers, Kurt Semm, Lilo Mettler and many others who inspired me.
Do you have any words of advice for new MIG surgeons? RP: I have a feeling that many young people are impatient and are not willing to put long hours into their training. We live in an instant gratification society, and everyone wants everything right away. For instance, they would rather stick to the 3-million-dollar robot, than put time and effort to learn laparoscopic suturing. So, my advice is hard work and patience! Hard work eventually always pays off.
How did you become involved in AAGL? RP: Dr. Ron Levine introduced me to AAGL. I met Jordan Phillips in 1991 in Dubrovnik, Croatia, and attended my first AAGL meeting in 1994. I have never missed a meeting since. AAGL is a great place to learn new things and techniques and to connect with colleagues. I am grateful that AAGL has enabled me to meet many great surgeons and create many long-lasting friendships.
Workshop Observations by the AAGL Executive Director, Linda Michels: I'd like to thank Dr. Paya Pasic and his team for such an inspiring and intimate event. Paya is a fantastic and enthusiastic teacher and mentor and so very inclusive in his approach to teaching. The workshop started with a richly historic presentation from the esteemed, Dr. Ronald L. Levine, former AAGL President. It was rewarding to see the full circle of mentorship as Alumni from the FMIGS program served as faculty for this intensive workshop. There was such dedication evidenced in this course and each attendee walked out motivated to apply their new skills. This course embodied the mission of the AAGL and we look forward to offering it again, next summer!