2023 Advanced Robotics Workshop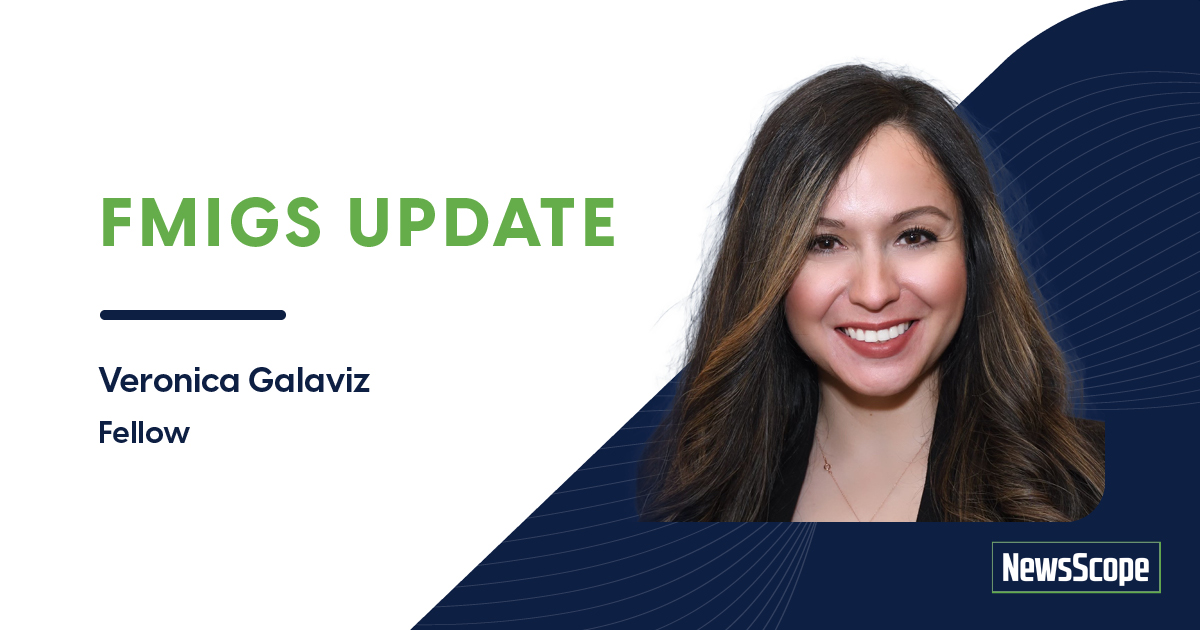 The 2023 Advanced Robotics Workshop was an absolute success! This event was hosted by Intuitive Surgical Inc. for current 2nd and 3rd year FMIGS Fellows on April 17th, 2023, in Peachtree Corners, Georgia. We started out the day with lectures on surgical setup and the use of robotic instruments. Then we discussed tips and tricks that help in the performance of robotic-assisted laparoscopic myomectomy, excision of advanced endometriosis, and robotic-assisted laparoscopic hysterectomy for large uteri.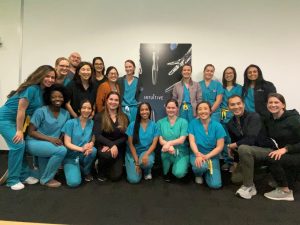 Our superb faculty mentors included Drs. Arnold Advincula, Jin Hee Jeannie Kim and Nita Desai. We were grateful for the time and effort they committed to our learning and the many insightful tips they shared with us.
Following the lecture sessions, we were led to a state-of-the-art simulation lab where fellows were grouped into pairs and put to work! Utilizing our very own Da Vinci Xi Surgical System, we had the opportunity to operate on cadavers. This was an amazing opportunity to practice the skills we've learned as Fellows and to work on the techniques we learned earlier in the morning.
The first lab assignment focused on myometrial repair and efficient use of the 4th robotic arm. This was challenging, as we didn't have the benefit of a uterine manipulator being in place. The second lab assignment focused on retroperitoneal dissection. During this time, fellows focused on navigating the pelvis by entering the paravesical and pararectal, as well as the rectovaginal and retro-rectal spaces. It was great to assist one another while exploring the deep anatomy of the pelvis and to receive expert guidance from our faculty preceptors. Intuitive representatives were also quite helpful throughout the lab, demonstrating extra tips and troubleshooting solutions.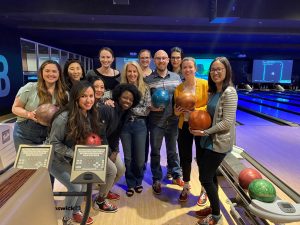 After a fun day filled with classroom learning and simulation practice, AAGL hosted an event for the fellows. This was a great chance to socialize amongst our peers and enjoy an evening of bowling, food, drinks, and dessert. With how busy fellowship is and how dispersed our programs are across the country, this provided an opportunity for Fellows to mingle and catch up. We all had a blast!
It is noteworthy to mention that this is the first year Intuitive Surgical Inc. has offered the Intuitive Academy to all AAGL FMIGS fellows. Those who have trained on the Da Vinci platform during fellowship and attended the workshop can earn an equivalency certificate and receive complimentary access to advanced course material for the first year they are in practice. For all first-year and upcoming fellows, Intuitive Surgical Inc. will be dedicating additional time and resources to support FMIGS Fellows throughout their training.
We would like to thank Intuitive Surgical Inc. and AAGL for organizing the event. We also want to express our deepest appreciation for the incredible preceptors who joined us in Georgia and shared so much of their knowledge and expertise with us. We are grateful that FMIGS Fellows are being supported in this way to ensure that we gain expert knowledge and training as we embark on our careers as MIGS surgeons.