Congratulations 2023 Honorary Chair!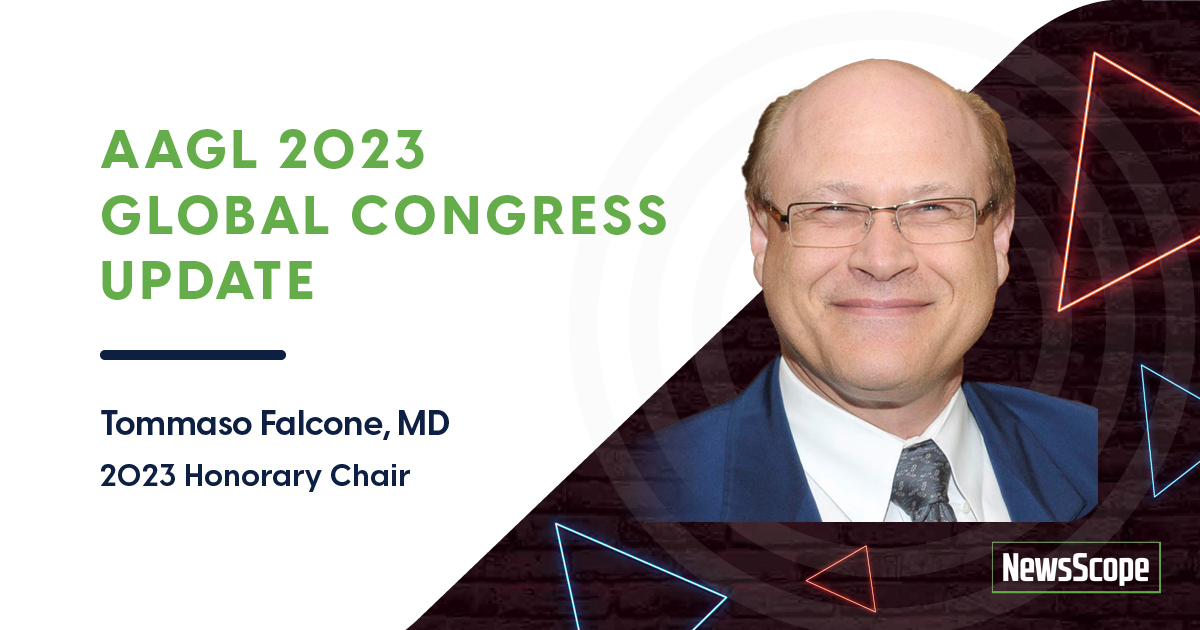 The AAGL is pleased to announce that Dr. Tommaso Falcone has been selected as the 2023 Honorary Chair for his exemplary service to the AAGL and outstanding contributions in the field of Minimally Invasive Gynecologic Surgery (MIGS).
The child of Italian immigrants, Dr. Falcone was the first in his family to attend college. In 1981, he obtained his medical degree from McGill University School of Medicine in Montreal, Quebec, Canada. While at McGill, he went on to complete a residency in obstetrics and gynecology and a fellowship in reproductive endocrinology.
When asked about his journey into MIGS he shared, "when I finished training at McGill University in 1990, Minimally Invasive Surgery was taking off and I had the opportunity to participate in exploring the new field with other pioneers. Like most of us of that era, we were heavily criticized but I was lucky to have mentors that encouraged me to get more involved. Out of my many mentors, three stand out the most: Dr. Togas Tulandi who taught me to persevere to achieve my goals, Dr. Brian Little who taught me academic medicine, and Dr. Mark Boyd who taught anatomy as the fundamental basis of surgery."
For over 34 years, Dr. Falcone has trained and mentored more than 50 clinical and research fellows. His passion for educating the next generation of MIG surgeons is also apparent through his ongoing professorships in Obstetrics and Gynecology which he has held at multiple institutions since 1989. These include tenure at McGill University, Ohio State University, and Case Western Reserve University in Cleveland, Ohio, where he was appointed in coordination with the opening of the Cleveland Clinic Medical School. In 2004, his designation was updated to Professor of Obstetrics, Gynecology and Reproductive Biology at Case Western Reserve University, a professorship he still holds today.
Throughout his academic work, Dr. Falcone also served as Staff Gynecologist at the Cleveland Clinic Foundation, a position he has continued to the present. He was appointed Chairman of the Department of Subspeciality in Obstetrics and Gynecology from 2001-2018 and Chair of the Obstetrics, Gynecology and Women's Health Institute from 2008-2018. While he was Chair of the Women's Health Institute, it was ranked in the top five hospitals by US News & World Report over a ten-year period. In addition, Dr. Falcone made a national impact as the Chair of the Obstetrics and Gynecology Devices Panel for the US Food and Drug Administration (FDA) from 2010-2018.
In 2018, Dr. Falcone became the Chief of Staff and Chief Academic Officer at the Cleveland Clinic in London. There he designed the hospital's clinical programs, recruited clinical leaders, added 350 new doctors, developed the hospital's professional culture, and implemented all lines of service. In September 2021, he supervised the opening of the first clinic and helped launch the opening of the hospital in April of 2022. Now as Interim Chief Executive Officer of the Cleveland Clinic London, the hospital is thriving and fully operational. Dr. Falcone feels fortunate to be a global physician with certification as a gynecologist in Canada, the USA, and United Kingdom (honorary).
An AAGL member since 1996, Dr. Falcone has made many valuable contributions to our membership and to the field of MIGS. "I am part of the AAGL because of our shared values and because our society is at the forefront of promoting innovative approaches for the patient." Dr. Falcone has volunteered seven times as director of a postgraduate course. He has also served on various AAGL committees.
While those acts of service in the AAGL were valuable, Dr. Falcone is best known for his highly impactful role on the Journal of Minimally Invasive Gynecology (JMIG) Editorial Advisory Board from 2009-2012 and then as Editor-in-Chief from 2013-2022. In his tenure as Editor-in-Chief, Dr. Falcone introduced the inclusion of citable video manuscripts into the Journal. He also advanced communication of breaking developments in MIGS by increasing publication from a bi-monthly, hardcopy format to a monthly, ecofriendly, digital publication. In addition, he developed a formal policy for handling ethical concerns by creating a Journal Ethics Committee and appointing a Deputy Editor for research integrity. He also led JMIG's evolution to better representation of our global membership and walked JMIG into the modern age by establishing a Social Media Editor and Social Media Scholars. Through all these upgrades, JMIG's impact factor still grew each year, from 1.5 in 2013 to now 4.3, solidifying JMIG as the authoritative source of the latest cutting-edge developments in MIGS.
Dr. Falcone is passionate about evidence-based medicine, innovation and placing the patient at the center of all decisions. He feels "fortunate to have been part of the team that performed the first robotic gynecologic surgery in the world and the first uterus transplant in North America."
With his extraordinary clinical and academic impact on MIGS and commendable service to the AAGL, Dr. Falcone is well deserving of this esteemed recognition. Please join us in congratulating our 2023 Honorary Chair, Dr. Tommaso Falcone!