Professor Jacques Rioux – A Pioneer in Gynecologic Laparoscopy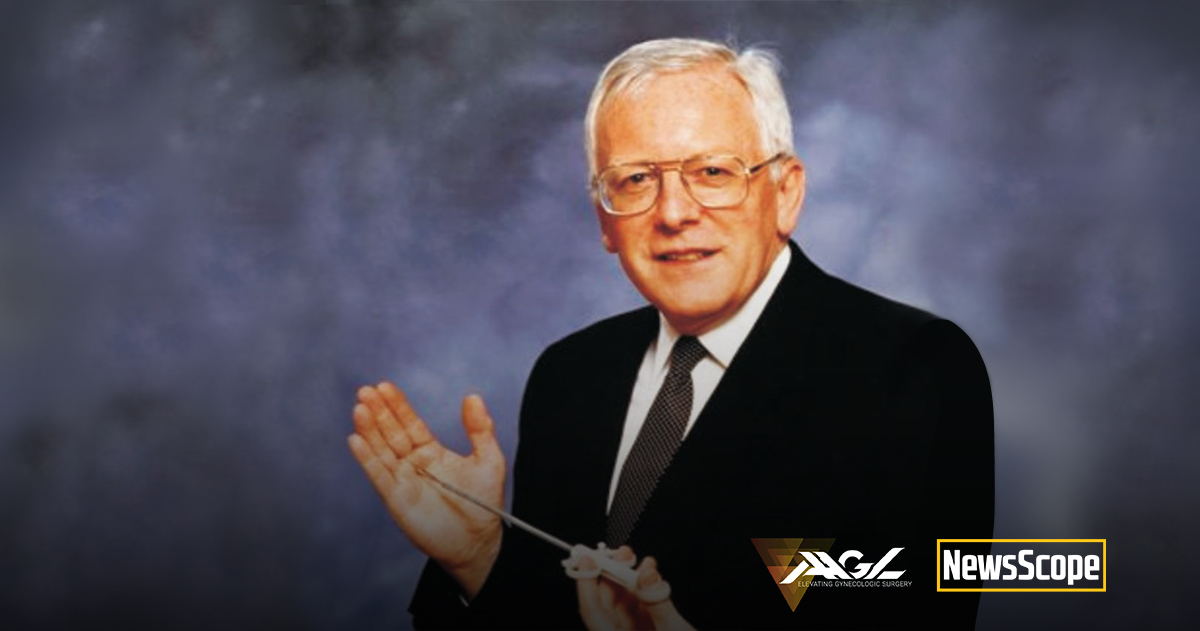 On January 4, 2020, the AAGL Community lost a valued colleague and beloved friend, Jacques Rioux. Dr. Rioux passed away in Quebec surrounded by his family at the age of 84.
Dr. Rioux, was a pioneer, prominent leader and visionary for advancement in women's health. He was one of the four founding members of the AAGL and served as the 3rd AAGL President in 1978. When honored for his tremendous contribution to the AAGL at the 47th Global Congress in 2018, Dr. Rioux humbly and proudly acknowledged that what started as a "spark of an idea for a society committed to women's health," was now an global association of thousands of dedicated and like-minded physician members.
Dr. Rioux received his medical training at Faculty of Medicine at Laval University in 1960 and served residency at John Hopkins Medical Institution, Union Memorial Hospital and the Hospital for the Women of Maryland. In 1967-1968, he studied in Paris with Dr. Raoul Palmer who was developing gynecologic endoscopy techniques. Full of passion for this new technique, Dr. Rioux returned to John Hopkins in May 1968 with instrumentation necessary to perform laparoscopy in tow. With his professors and former resident colleagues watching, he demonstrated the first laparoscopies ever performed at John Hopkins.
Dr. Rioux began his 32-year career in teaching, research and clinical work as a professor in the Department of Obstetrics and Gynecology at Laval University in Quebec. Here he continued to perform laparoscopies, train others on procedure and operative techniques and founded the Department of Gynecology-Reproduction. He greatly impacted the health care of generations of women by pioneering the first presentations and workshops on gynecological laparoscopy and opening the first in-vitro fertilization clinic in Canada.
In 1972, Dr. Rioux made a major contribution for improved safety in laparoscopic surgery when he introduced bipolar energy instrumentation. Dr. Rioux published hundreds of books and scientific articles on infertility, sterilization, laparoscopy, ovarian biopsy, the use of electric current in endoscopy and taught in more than 20 countries. He received many awards for excellence in teaching, contributions to the field of reproduction and for his distinguished leadership and service to improving women's health.
In addition to his many accomplishments he will be remembered for his self-effacing sense of humor and his friendship with all he met. He will be missed but not forgotten.
To make a donation to the Foundation of the AAGL in honor of Dr. Rioux, please click here: https://foundation.aagl.org/donate/. If you have any questions, please contact Kathy McMahon via email to kmcmahon@aagl.org.