2020 Global Congress Scientific Program Chair – Ted T.M. Lee on this Year's Meeting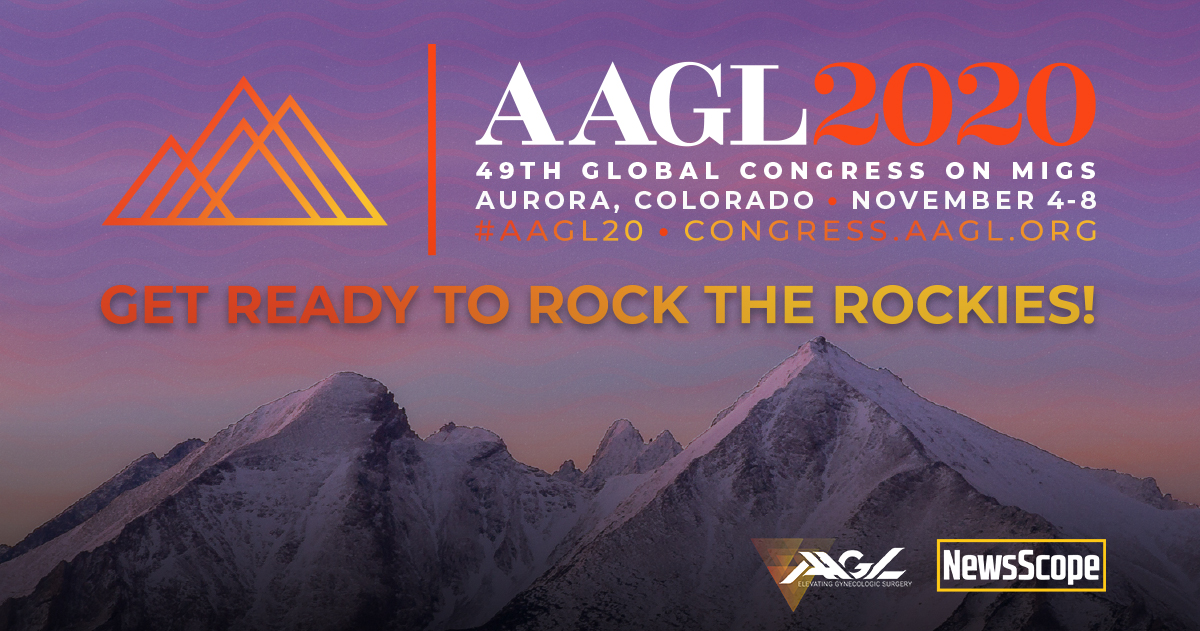 Welcome to the 49th AAGL Global Congress on Minimally Invasive Gynecologic Surgery (MIGS) taking place November 4-8 at the brand new Gaylord Rockies Hotel and Convention Center! We are excited to host the Congress in beautiful Denver (Aurora) Colorado – home to some of America's most beautiful and rugged mountain ranges. Colorado alone boasts over 15 separate mountain ranges and has 54 "fourteener" peaks which tower above 14,000 feet. What a perfect setting for this year's meeting with the theme "Breaking Barriers: Reach the Peak of Your Surgical Performance." The global congress has been designed around this concept and we have a fantastic set of speakers and surgeons who have traveled from around the world to be here to share their journeys as they pushed their surgical envelope.
If this is your first, or your 49th AAGL Global Congress, I feel confident that there will be something for you at this meeting. Much as the area is surrounded by these majestic snowcapped mountains, each of us also has obstacles that we are working to overcome. Getting around, over or through these barriers, many of which are self-imposed, is what enables us to reach the next level as physicians and surgeons. Each of our journeys will look a little bit different, but all of us can learn from the mentors who can serve as our champions to help us reach our potential.
Improving surgical performance is accomplished through hard work and dedication. Meeting the right person at the right time, casual comments and pointers from our peers and mentors can become pivotal in the trajectory of our surgical performance/career. For me, one of those experiences occurred many years ago while watching Arnaud Wattiez suture the sigmoid colon out of the surgical field during live surgery. This simple technique provided a solution that allowed me to take my skill set to the next level. During this meeting, I would encourage you to look for those opportunities to help you scale to the peak of your surgical performance.
One of the significant challenges to reaching your potential is to know where you are right now and what lies ahead. For too long, we have long relied on the "see one, do one, teach one" approach to surgical education. But what if there is a better way, a novel approach? What if we can emulate the scientific methodology used on the training of elite athletes to allow surgeons to reach their peak surgical performance?
Dr. Carla Pugh, a professor of surgery at the Stanford school of medicine, is studying that very question through the Surgical Metrics Project. She is the first surgeon in the United States to obtain a PhD in Education. Her goal is to use technology to change the face of medical and surgical education. Her research involves the use of simulation and advanced engineering technologies to develop new approaches for assessing and defining competency in surgical skills. Her groundbreaking research collects the data produced by surgeons that encompass not only their hand movements but also what they say and EEG activity as they operate. Hopefully, down the road, this will lead to better educational techniques and patient outcomes. We are excited to hear more about her research during her keynote address.
We're working hard to provide the best in continuing professional development at this year's meeting, and it starts with YOU! ​​Participants, physicians, past submitters, members, interested​​ in sharing your relevant research, and presenting their abstract at the meeting, are invited to submit an abstract. Abstracts will be open for submission on February 25th on the Global Congress microsite at congress.aagl.org/callforabstracts. Be sure to stay up to date and follow AAGL on Twitter, Instagram, LinkedIn, and Facebook and use the #AAGL20 to share your excitement about this year's 49th Global Congress on Minimally Invasive Gynecologic Surgery!