Ripple Effects of Generosity within the Foundation of the AAGL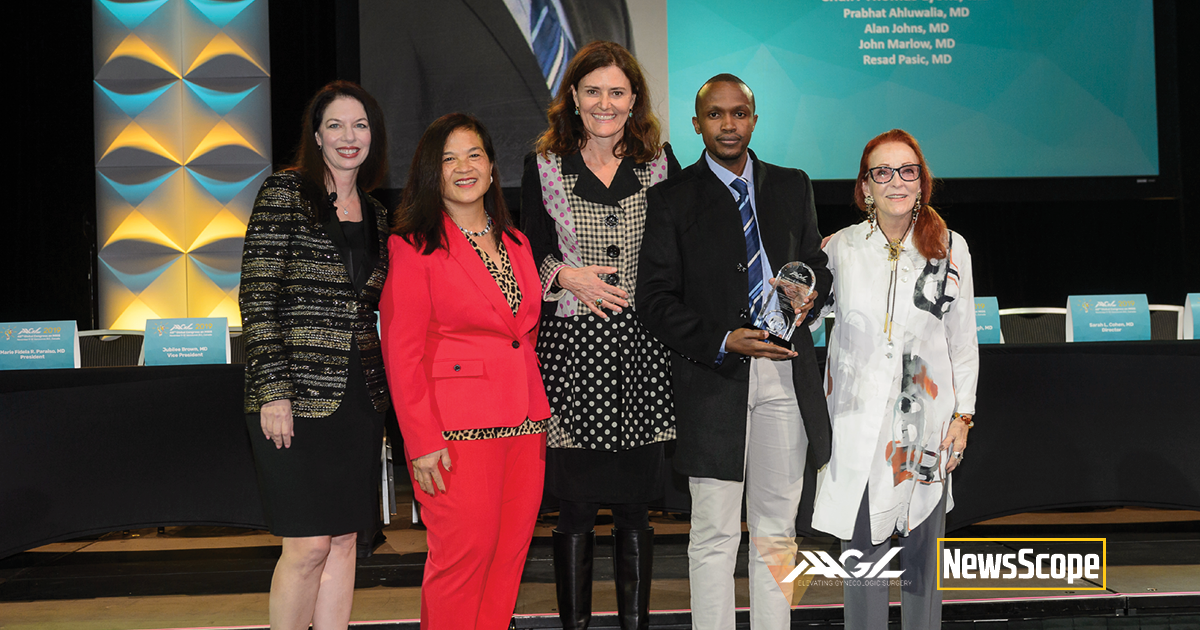 The Harrith Hasson Endowment was generously established by Ms. Sharon Sharrett-Hasson in honor of her late husband's legacy of leadership within the AAGL. Each year, The Foundation of the AAGL awards a scholarship, funded by this Endowment, to provide a deserving physician from a developing economy the means to attend the annual AAGL Global Congress on Minimally Invasive Gynecology.
In 2019, Dr. Steve Mutiso, a surgeon and professor from Aga Kahn University in Nairobi, Kenya, shared with our award committee about his passion for MIGS and limited healthcare for women in his country. "I dream of a day where the most disadvantaged member of society would be able to access a laparoscopy to treat her debilitating endometriosis. This, in my opinion, would be the true test of an equitable reproductive health coverage in our region." Dr. Mutiso was granted the prestigious Harrith Hasson Noteworthy Signature Award and received a scholarship to attend the 2019 Annual Congress in Vancouver. Through Congress he received advanced MIGS training that he then took back to instruct others and advance MIGS in his country. During his award acceptance speech, Dr. Mutiso inspired us with his heart to expand MIGS in Kenya. His passion caught the attention of Dr. Vadim Morozov, Associate Professor of Obstetrics and Gynecology at Georgetown University School of Medicine and Director of the AAGL Fellowship in Minimally Invasive Gynecologic Surgery at MedStar Washington Hospital Center, who then offered to mentor and provide practical guidance as Dr. Mutiso strives to reach his goals.
Together they are now working to advance MIGS in Kenya by laying the foundation to establish an International Training Center. Guided by Dr. Morozov, Dr. Mutiso is implementing a curriculum of didactic topics in the Aga Kahn University yearly lecture series for residents. They are currently seeking support for laparoscopic trainers to set up a basic training lab, along with skills workshops and mentoring of faculty.
We are cheering you on Dr. Mutiso and Dr. Morozov! And we celebrate your vision and legacy, Ms. Sharon Sharrrett-Hasson. It is this kind of generosity that is at the heart of The Foundation. Our goal is to empower progress in MIGS by facilitating outreach and mentorship opportunities. To further encourage philanthropic partnerships, we wanted to highlight compassionate acts of progress in MIGS and the ripple effects created by gestures of great generosity.
If you are interested in providing support to the Foundation of the AAGL, please contact Kathy McMahon at kmcmahon@aagl.org.