Difficult Case Review: Post-Morcellation Parasitic Leiomyomatosis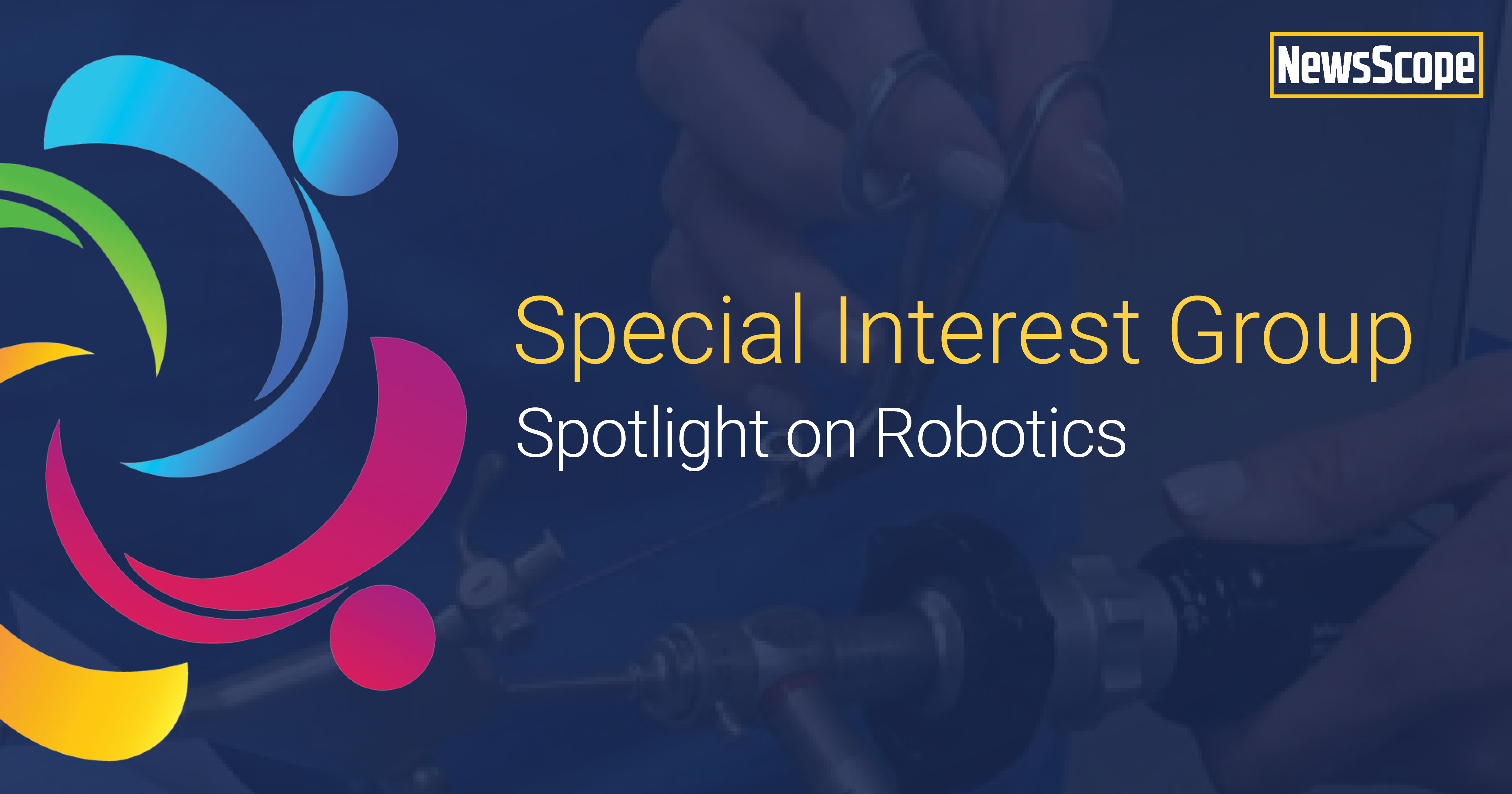 Articles featured in this month's issue were submitted from one of AAGL's largest special interest groups (SIG) – Robotics. The most difficult/or unusual case presented here to deal with Post-Morcellation Parasitic Leiomyomatosis. Thank you to all the AAGL SIG chairs, vice-chairs, and members – for the informative articles and for supporting this popular series!
---
We present a case of a 43-year-old with a seven-centimeter ectopic fibroid arising from a transplanted pelvic kidney (Image 1,2,3,4).
Fibroids are smooth muscle tumors commonly occurring in the muscular wall of the uterus. Fibroids are an extremely common medical condition affecting 20-80% of women by the age of 50. Fibroids are the most common indication for hysterectomy. Most fibroids are benign and small and do not require intervention. However symptomatic fibroids can cause myriad symptoms including menorrhagia, dysmenorrhea, pelvic pain, dyspareunia, pelvic pressure, back pain, urinary urgency, and constipation.
Many women seek surgical intervention for severe fibroid symptoms when medical treatment options have failed. Historically patients would require a total abdominal hysterectomy, however modern surgical remedies include numerous minimally invasive treatment options. When fertility preservation is desired, laparoscopic or robotic myomectomy have a very favorable recovery compared to laparotomy myomectomy. Prior to the 2014 FDA safety communication, the power morcellator device was a commonly used instrument for minimally invasive solid fibroid tissue extraction. The power morcellator device was very efficient and effective, however a high profile leiomyosarcoma case prompted reconsideration of the negative consequences of the technology. This ultimately resulted in an FDA black box warning labeling, voluntary withdraw of the product from major industry producers and a functional elimination of product availability. Although the impetus for the power morcellator ban centered around the risk of disseminated leiomyosarcoma, benign leiomyomatosis is an additional potential liability of the procedure. These fibroid tumors can adhere and proliferate on any pelvic or abdominal vascular organ. Current accepted practice for MIS tissue extraction includes the use of a containment bag combined with manual extraction through a small umbilical incision. Contained extraction prevents spillage of fibroid fragments and fluid, thus reducing the risk of disseminated leiomyosarcoma and parasitic benign leiomyomatosis.
Here we present a case of a patient with a seven cm parasitic fibroid adherent to a transplanted pelvic kidney. The patient initially presented to our clinic in 2014 at the age of 37. She reported severe menorrhagia, pelvic pain, and dysmenorrhea. She was found to have an enlarged uterus on exam, and pelvic ultrasound revealed a multiple fibroid uterus with the largest fibroid measuring ten centimeters. The patient desired robotic myomectomy for fertility preservation. The patient was an end stage renal patient status post pelvic renal allograph 2000. In April of 2014 the patient underwent robotic multiple myomectomy with power morcellation of 750 grams of fibroid tissue. The patient had an uneventful postoperative recovery. The patient returned in July of 2018. She reported a recurrence of menorrhagia. Pelvic Ultrasound demonstrated multiple submucous fibroids. The patient underwent hysteroscopic myomectomy. She had an uneventful postoperative course.
The patient presented to the hospital with abdominal pain in May of 2020. The CT scan demonstrated a seven centimeter tumor on her transplanted pelvic kidney, and recurrence of small uterine fibroids. Transplant surgery service ordered an ultrasound guided biopsy of renal mass. The pathology testing revealed leiomyoma. The patient underwent definitive surgery with robotic total laparoscopic hysterectomy and excision of parasitic fibroids on transplanted pelvic kidney and multiple omental fibroids. The patient has been seen one year postoperatively with no evidence of recurrence.
References:
Baird DD, et al. High cumulative incidence of uterine leiomyoma in black and white women: ultrasound evidence. Am J Obstet Gynecol 2003; 188:100.
US Food and Drug Administration. Laparoscopic power morcellators. http://www.fda.gov/medical-devices/surgery-devices/laparoscopic-power-morcellators .
Glaser LM, et al. Laparoscopic myomectomy and morcellation: A review of techniques, outcomes, and practice guidelines. Best Pract Res Clin Obstet Gynaecol. 2018 Jan; 46-99-112.
Salih, AM, et al. Parasitic leiomyoma: A case report with literature review. Int J Surg Case Rep. 2017, Oct; 41: 33–35.
Figure 1.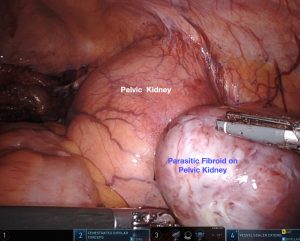 Figure 2.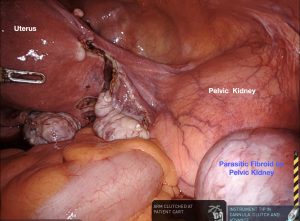 Figure 3.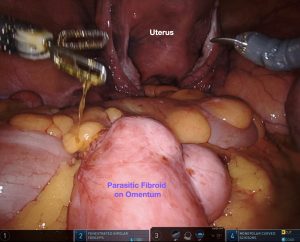 Figure 4.