Exciting Foundation Happenings!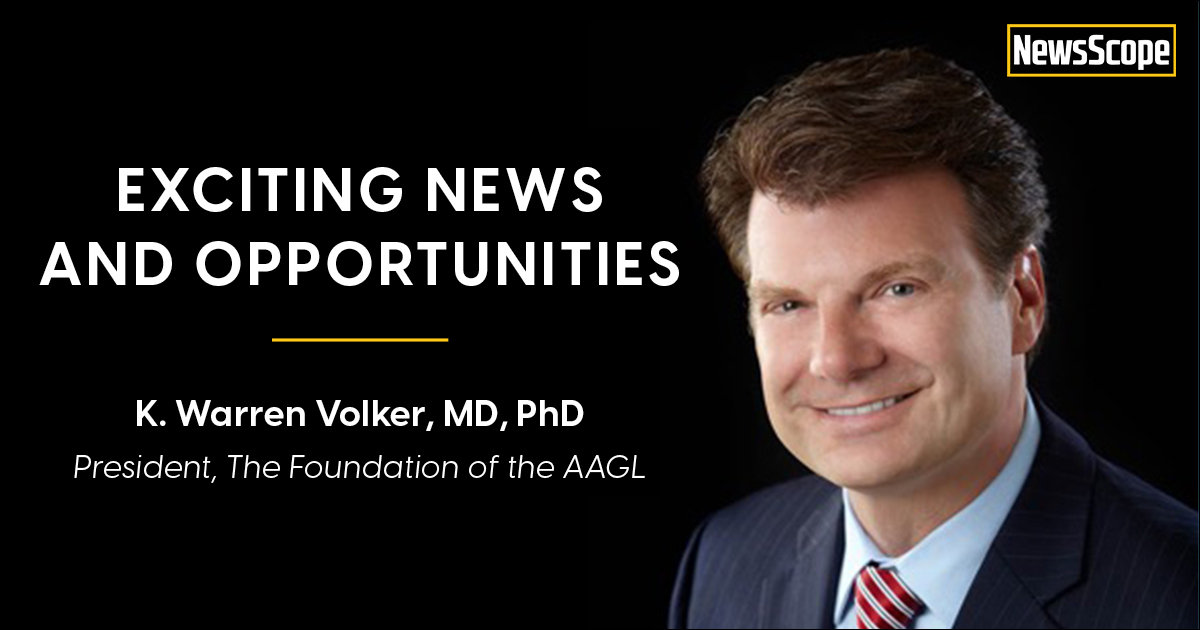 I am excited to share with you all that is happening right now in the Foundation of the AAGL, including our Congress events and our new Branded AAGL apparel! I am pleased to announce the FAAGL's 2022 Board Appointees. Vadim Morozov, MD has been appointed to serve as the new Secretary/Treasurer and ascend to the Vice President, President, and Immediate Past President positions. In addition, Iris Orbuch, MD, Gaby Moawad, MD and Wendy Winer, RN have been appointed to serve as directors for the 2022-2024 term.
On behalf of the Foundation Board, I would also like to say a heartfelt thank you to Kristinell Keil, MD and Joseph Gobern, MD, MBA, for their years of dedicated service on the Foundation Board. Your generosity with your time, great ideas, and commitment to our mission, served to strengthen the Foundation in your time on the board.
The Foundation of the AAGL has several exciting things planned for this year's 50th Global Congress including all new 50th Anniversary and AAGL branded apparel. The limited edition, 50th anniversary commemorative apparel is available now for Pre-Order on the FAAGL Branded Gifts page. If you want to show off your new AAGL branded gear at this year's Congress, be sure to get your orders in by October 22th. There will be limited stock available on site, so reserve the branded gift of your choice now! Pre-orders will be available for pick up at the FAAGL lounge located within the AAGL booth in the Exhibit Hall.
Performers, sign up now! The 1st Annual Music is Medicine Karaoke FUNdraiser and Party will be the event everyone is talking about! If you love to sing Karaoke and put on a performance, it is time to show off your talents! Space is limited to 12 Teams (individual or group). We have over 30,000 songs to choose from, but song choice is first come, first serve. To register, go to the Music is Medicine Karaoke website, register your team and donate $100 to the FAAGL to pick the song of your choice. Each team will then compete to raise the most donations for the FAAGL on behalf of your team!
Don't sing? No problem. Please join us to cheer on your colleagues and enjoy the show! Get your Karaoke Party tickets on the Global Congress Website or at the registration desk for only $25 per person. Please note, tickets will not be sold at the door. Party Goers will be able to place votes for the winner of the coveted Best Performance Award by donating to the FAAGL. VIP tables are available with preferred seating, drinks and snacks for $1500. Reserve a VIP table now! All proceeds from this event benefit the Foundation of the AAGL!
We are looking forward to recognizing our 2021 Foundation of the AAGL Award Winners at the Awards Ceremonies held November 14th and 15th, during General Session I (Noteworthy Awards) and General Session II (Signature Awards), respectively. Thank you to each of you who submitted work for review. We'd also like to thank the independent award committees and committee chairs for their meticulous grading and commitment to honoring those whose work is truly the "best of the best".
The Noteworthy and Signature Awards empower progress in minimally invasive gynecologic surgery thereby improving the health of women worldwide. We are very proud of each of you and applaud your contributions to our field. This year we have two new awards at the AAGL Global Congress: The Barbara S. Levy, MD, FACOG, AchieveHER Award recognizing women advancing as leaders in our field, and the Franklin D. Loffer, MD, FACOG, Exceptional Resident Award recognizing promising resident leaders. In addition, in honor of the AAGL's 50th Anniversary, The Leila V. Adamyan, MD, PhD, Innovation in Surgery and Reproductive Medicine Award will recognize five individuals representing the five decades of the AAGL. Please join me in congratulating the 2021 Noteworthy and Signature Award Winners!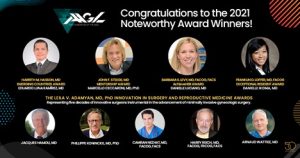 2021 Noteworthy Award Winners (in alpha order of award)
Leila V. Adamyan MD, PhD
Innovation in Surgery and Reproductive Medicine Awards
Representing five decades of innovative surgeons instrumental in the advancement of MIGS
Jacques Hamou, MD – Professor Hamou's continuous reach for innovation combined with his engineering and surgical acumen created hysteroscopy. This achievement moved the treatment of intrauterine pathology to its natural transcervical route, avoiding the transuterine incisions and allowing for delicate work in the endometrial cavity. Hysteroscopic septum resections, polypectomies, submucosal myoma treatments, adenomyosis treatments, and the endoscopic treatment of intrauterine anomalies began with his work.
Phillippe Koninckx, MD, PhD – Professor Koninckx founded the philosophic and theoretical bases of laparoscopic reproductive surgery and technology. His work enabled surgical approaches that married the science of reproductive disease and laparoscopic surgery, revolutionizing our perspective on the surgical management of reproductive diseases. His works have included discoveries related to peritoneal fluid, adhesions, deep endometriosis, infertility, and creation of hormonal radioimmunoassay. His highly rigorous scientific publications and novelty demonstrate the importance of integrative qualities of a surgeon.
Camran Nezhat, MD, FACOG, FACS – Professor Nezhat pioneered video-laparoscopy, providing generations of surgeons the opportunity to learn operative techniques remotely from the operating table. He developed safety principles for the use of lasers in laparoscopy, establishing lasers as safe tools for laparoscopic surgery. He published numerous articles and books, instructing young surgeons, and developing their laparoscopic skills within the framework of surgical safety.
Harry Reich, MD, FACOG, FRCOG, FACS – Professor Reich had the courage to perform the world's first laparoscopic hysterectomy and laparoscopic ligation of the uterine vessels. This innovation was a cornerstone and the beginning of advanced laparoscopic surgery in the fields of both gynecologic and general surgery. Dr. Reich inspired multiple brilliant surgeons and demonstrated that endoscopy/laparoscopy was likely the best tool to visualize, perceive, and work on pelvic tissue in patients with advanced gynecologic surgical diseases.
Arnaud Wattiez, MD – Professor Wattiez's love for his patients and colleagues and dedication, along with his irrepressible drive to discover new approaches, paradigms, and skills, has touched every field of laparoscopic surgery on every continent and, probably, every country of the world. His groundbreaking achievements in laparoscopic surgery, development of philosophy and strategy in the management of advanced surgical conditions, and lifelong devotion to training young surgeons and bringing them forward in international settings, have highly Elevated Gynecologic Surgery Worldwide in both established and new laparoscopic geographies.
Harrith M. Hasson, MD
Emerging Countries Award
Eduardo Luna Ramírez, MD – Dr. Ramirez is Deputy Chief of the Operating Room at Hospital Militar de Especialidades de la Mujer y Neonatología in Mexico City where he reviews surgical cases and promotes and practices minimally invasive robotic surgery. Dr. Ramirez's passion for MIGS and his desire to become a better surgeon every day, also extends to the students he trains as a Professor of Laparoscopy at the Military Graduate School of Health. In a country with limited access to MIGS, Dr. Ramirez is an advocate and source of hope. He feels honored to help the women of his country by promoting MIGS and sending trained surgeons out into the public sector, thereby improving women's healthcare in Mexico.
Barbara S. Levy, MD, FACOG, FACS
AchieveHER Award
Danielle Luciano, MD – Dr. Luciano is the Director of the Center of Excellence in Minimally Invasive Gynecologic Surgery at the University of Connecticut Health Center (UConn) and Program Director of UConn Health's FMIGS Program. She has served in many leadership roles including an FMIGS board member, participant in multiple AAGL committees and as a reviewer for JMIG and other medical journals. Dr. Luciano is a nurturing mentor who strives to encourage her residents, fellows, and medical students to not just be good doctors, but to improve their skills daily and serve as advocates for their patients and colleagues. Dr. Luciano goes the extra mile to help her mentees overcome roadblocks, publish case reports, and learn to balance the life of a surgeon. She has particularly been instrumental in encouraging young female surgeons struggling to balance the professional demands of a surgeon with the demands of being a wife and mother. Under her leadership, women in her program developed a group called ILLAST (I Look Like A Surgeon Too) who strive to encourage female medical students to consider a surgical field and also reaches out to local high schools to encourage young women to go into medicine.
Franklin D. Loffer, MD, FACOG
Exceptional Resident Award
Danielle Ikoma, MD – Dr. Ikoma is entering her final year of OBGYN Residency at the University of Iowa, is expected to graduate in June 2022, and is currently interviewing for a MIGS Fellowship. She is passionate about MIGS and brings hard work, perseverance, perfectionism, calm, humor, and humility to her practice, regardless of the setting. In addition to the surgical and clinical excellence she demonstrated in her residency, Dr. Ikoma has multiple peer-reviewed publications with four currently submitted for consideration and numerous oral and poster abstracts presented locally and nationally. She demonstrates exceptional leadership qualities of taking command in a pleasant way, modeling evidence-based decision making, and motivating the junior residents whom she mentors. Dr. Ikoma is highly respected by her supervisors and will continue to pursue her passion of serving a diverse group of patients with a large breadth of conditions.
John F. Steege, MD
Mentorship Award
Marcello Ceccaroni, MD, PhD – For over 20 years, Marcello Ceccaroni, MD, PhD, has developed groundbreaking minimally invasive techniques to improve women's health and quality of life and has made it his life mission to transmit his expertise to the next generation of pelvic surgeons. With his enthusiastic approach and generous personality, Dr. Ceccaroni, has directly mentored over 500 MIG surgeons. His support also extends to the colleagues whom he inspires and the patients who he counsels. Dr. Ceccaroni founded the International School of Surgical Anatomy (ISSA) which shares advances in minimally invasive surgery with surgeons interested in growing as radical pelvic surgeons with an anatomic approach to pathologies. This continuous didactic activity attracts professionals from all over the world who then apply Dr. Ceccaroni's approach in their hospitals. Dr. Ceccaroni also built several humanitarian projects which prepare young surgeons to face difficult surgeries independently and provide healthcare for the poor in their communities. Dr. Ceccaroni is not only a gifted surgeon, but also a passionate, kind, and dedicated teacher who is individually empowering progress in MIGS throughout the world.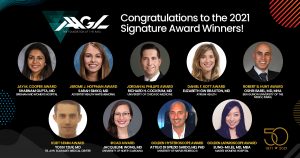 2021 Signature Award Winners
Jay M. Cooper, MD, Award
Best Paper on MIGS by a Fellow
Shabnam Gupta, MD
Jerome J. Hoffman, MD, Award
Best Paper Submitted by a Resident or Fellow
Sarah Simko, MD
Robert B. Hunt, MD, Award
Best Paper Published in JMIG (September 2020-August 2021)
Oshri Barel, MD, MHA
Jordan M. Phillips, MD, Award
Best Research Paper on MIGS
Richard Cockrum, MD
Golden Hysteroscope Award
Best Paper on Hysteroscopy
Attilio Di Spiezio Sardo, MD, PhD
Golden Laparoscope Award
Best Surgical Video on MIGS
Eung-Mi Lee, MD, MBA
IRCAD Award
Excellence in Education
Jacqueline Wong, MD
Daniel F. Kott, MD, Award
Best Paper on New Instrumentation or Technology on MIGS
Elizabeth Braxton, MD
Kurt K.S. Semm, MD, Award
Best Paper on Laparoscopic Surgeries

Yossi Tzur, MD
To learn more about the Foundation of the AAGL or to give in support of these awards, please visit www.foundation.aagl.org. The support of our donors is the fuel behind the mission of the Foundation of the AAGL. Please consider the Foundation in your year-end giving. Thank you for joining the Foundation in empowering progress in minimally invasive gynecologic surgery and helping to shape the future of MIGS. We look forward to seeing you at this year's 50th Global Congress!