Countdown to Congress Has Begun!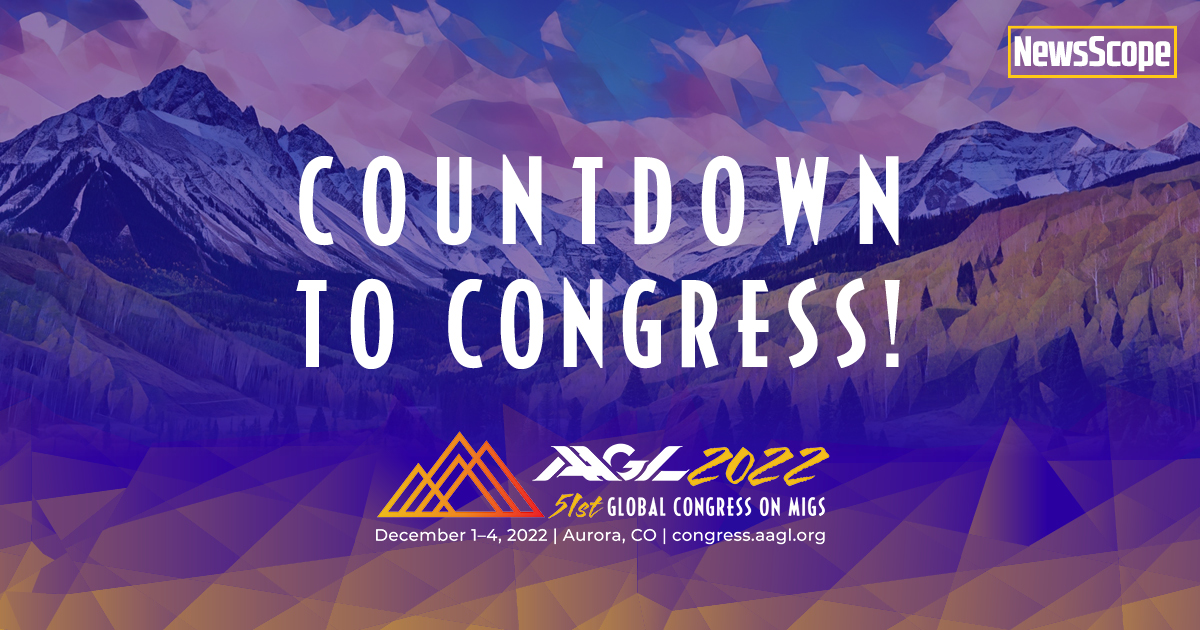 With only six weeks to go until we meet in Aurora, CO, top-tier minimally invasive gynecologic surgeons from 26 countries worldwide are making final edits on their presentations, hotel rooms are filling up, and the excitement is building for the 2022 AAGL Global Congress! There is still time to register, reserve your hotel room, and join us! Discounted room rates are available until November 1st or until rooms in AAGL's reserved room block are sold out, whichever occurs first.
The 2022 Scientific Program can now be found on the AAGL Global Congress website under the "Program" dropdown menu. On the Scientific Program page, you will find options to peruse by day or by type of program, along with general Global Congress information and a list of our speakers. For example, the "Browse by Program" option leads you to the option of selecting "Panel Sessions" where descriptions of all eight panels are housed. The panel schedule is packed with content, including surgical coaching best practices, vaginal laser/photobiomodulation therapy, quality improvement and patient safety, racial, ethnic, and socioeconomic disparities in gynecologic care, fibroids and adenomyosis, social media in mainstream medicine, and telementoring and artificial intelligence. In addition, you may want to check out Panel 6's discussion on the occupational hazards of MIGS and adopt the surgical techniques that impart the least ergonomic risk and reduce the risk of occupational injury. Visit the Panel web page to find a full description of each panel and its presenters.
A glance through the "Browse by Program" section of the website will reveal that along with the postgraduate courses, surgical tutorials, and MED talks, we are also planning 22 engaging Luncheon Roundtables, multiple product theaters, video sessions, virtual posters and 4 General Sessions featuring multiple live and prerecorded surgeries. In fact, our final General Session on Sunday, December 4, will end with a live surgery extravaganza featuring four pre-recorded and live surgeries that you won't want to miss!
In addition to the many educational offerings, this year's Global Congress has a full array of entertainment and networking opportunities. Keep the conversation going and connect with your fellow MIGS colleagues in our after-hours themed lounge on Thursday and Friday nights from 10pm – 12am (MT). The After Hours Networking Lounge offers ambient entertainment, light snacks, coffee, a cash bar, and is open to all! Friday evening, December 2, support the Foundation of the AAGL at their annual Music is Medicine Karaoke Party and FUNdraiser. Cheer on your colleagues or put on your best karaoke performance, all for a good cause! We also are offering a Craft Beer Tour to explore Aurora's finest breweries and sample their delicious craft beers or take a day trip for a hosted tour of the area's famous Stanley Marketplace. Last, join us for this year's Presidential Gala, a "white-tie," themed Evening of Elegance. White gowns, white bow ties, white shirts or white suits capture the fun of the "white-tie" theme, but we welcome whatever attire is your dress to impress choice! Enjoy a full bar, assorted appetizers, dessert, coffee, "cabaret" style seating, and live music to dance the night away. For more information on each of these social events, visit the Networking Activities and Tours page of the Global Congress website.
I encourage you to peruse the entire Global Congress website and Scientific Program as it will ignite your excitement and provide full descriptions of what is to come! See you in Colorado!