Spotlight On: Endometriosis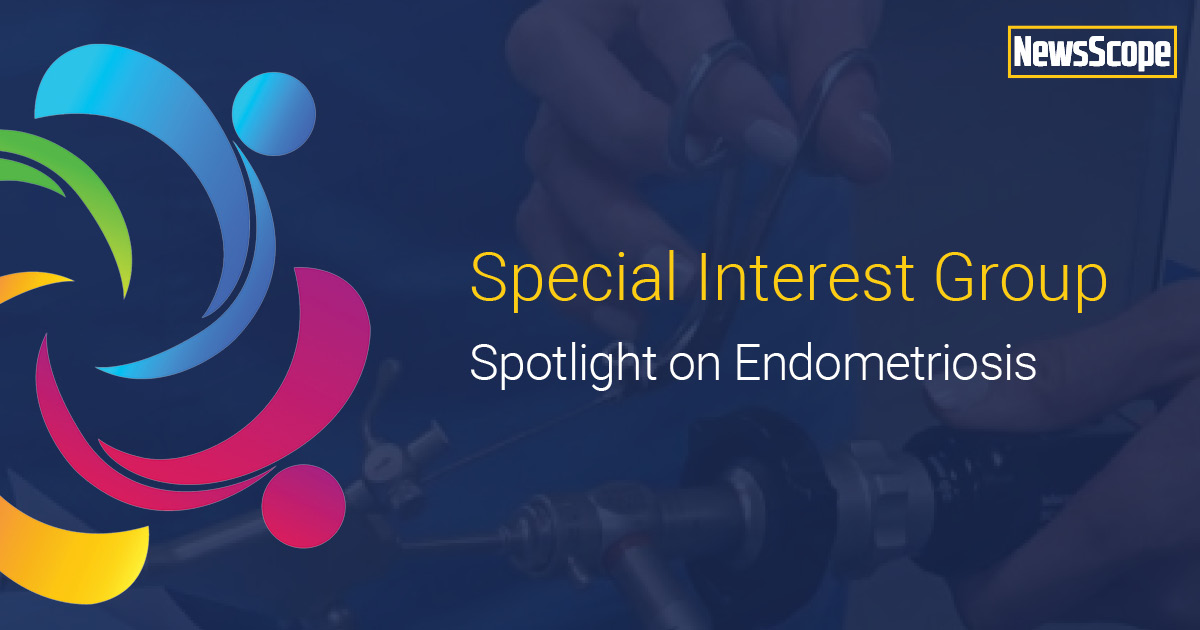 This month we are spotlighting Endometriosis and articles from the Endometriosis Special Interest Group led by Cindy Mosbrucker, MD, Chair and Jeffrey Arrington, MD, Vice-Chair. SurgeryU features hundreds of high-definition surgical videos from surgeons from around the world. Access to SurgeryU is one of the many benefits included in your AAGL membership. If you would like access to these videos, CME programming, JMIG Journal, and member-only discounts on meetings, join AAGL today. These videos are being made available with public access for a limited time. Click here to join AAGL!
---
Most Difficult Case Report by Cindy M. Mosbrucker, MD and Maria Victoria Vargas, MD Featuring a New SurgeryU video by Dr. Mosbrucker
Patient is a 28-year-old, nulliparous female who had no pelvic pain until July 2019 when she had a ruptured cyst in her right ovary that self-resolved. She had a similar episode in December 2019 which resulted in surgical intervention. She was found to have a hemorrhagic corpus luteum in the right ovary with suspected endometriosis of the left ovary. The right ovarian cyst was evacuated but the left ovarian lesions were untreated. She did well until October 2020 when she had another episode of acute onset right lower quadrant stabbing pain. At this time, she had a second surgery at which time nodules were seen on bilateral ovaries. They were biopsied and found to be granulomas, however stains for AFB were negative. She did well for several months and then developed sharp stabbing pain in the right lower quadrant. Ultrasound in November 2021 showed a solid mass likely emanating from the right ovary in the deep pelvis that measured 3.5 x 3.3 x 1.3 cm.
She came to see me in February 2022 and office ultrasound revealed a tender solid mass in the cul-de-sac that appeared contiguous with, yet separate, from the right ovary. She chose to have another surgery with the following findings: 2x3cm cystic mass in the cul-de-sac adherent to rectum and posterior cervix, containing a thick yellow substance consistent with old hemorrhage. No endometriosis was found. Pathology again showed granulomas, however this time AFB stains were positive, and she was ultimately diagnosed with Mycobacterium nebraskense. She was referred to University of Washington Infectious Disease for further treatment. (Please see the accompanying video, Pelvic Mass from Mycobacteria Nebraskense by Cindy M. Mosbrucker, MD).
Currently, she is doing well with minimal pain, but a recent CT showed a rim-enhancing cyst measuring 4 x 4.8cm in the left adnexa. She will begin Azithromycin (500 3x/wk), Rifabutin (300 3/wk), and Ethambutol (25mg/kg 3x/wk) for at least 6 months.
Mycobacterium nebraskense is a very rare Non-Tuberculous Mycobacterium that can be found in soil and water along with other Non-Tuberculous Mycobacteria (NTM). It can cause skin infections in non-human animals. Only a few human infections have been reported, all pulmonary, and most in elderly or immunocompromised individuals. (1)
While Mycobacterium nebraskense is extremely rare, Mycobacterium Tuberculosis is not. Extrapulmonary Tuberculosis represents 27% of all cases, and 9% of these are in the female genital tract where it is frequently found in asymptomatic infertility patients. Genital Tuberculosis can be transmitted hematogenously, directly from renal or splenic lesions, lymphatically, or via sexual contact. It is the latter that tends to cause tubal disease and infertility. Postmenopausal women tend to have symptoms that mimic endometrial cancer- vaginal bleeding, leukorrhea, and pyometra. (2) We in the developed world tend to forget about the possibility of pelvic Tuberculosis, but it is quite common in India and other developing countries with prevalence as high as 48% in women with tubal factor infertility. (2) It is postulated that patient became infected at the time of her first surgery, but this is not confirmed. She had no tubal damage so sexual transmission is less likely, although as this is the first known pelvic manifestation of Mycobacterium nebraskense, it is unknown if it would act similarly to Mycobacterium Tuberculosis to damage the tubes.
References:
Rare case ofMycobacterium nebraskense presenting as asymptomatic cavitary lung lesion, Abdulfattah, et al; J Community Hosp Intern Med Perspect. 2018; 8(1): 32–34.
Genital tuberculosis in females, Grace, et al; Indian J Med Res. 2017 Apr; 145(4): 425–436.
About the Authors: Cindy M. Mosbrucker and Maria Victoria Vargas, MD
Dr. Mosbrucker is the AAGL Endometriosis/Reproductive Surgery SIG Chair and physician at Pacific Endometriosis and Pelvic Surgery in Gig Harbor, WA. Dr. Vargas is an AAGL Endometriosis/Reproductive Surgery SIG Board member and physician at John's Hopkins Medicine/Sibley Memoria Hospital in Washington, D.C.
---
Improving Informed Consent and Triage of Patients with Endometriosis Using In-office Dynamic Ultrasound by Jeff Arrington, MD, FACOG
Approximately 190 million patients worldwide are impacted by endometriosis, and many suffer significant delays in diagnosis and treatment. The sequelae of endometriosis affect patients in multiple ways.
Current management strategies in patients with suspected or confirmed endometriosis fall into three general categories: observation, palliation of symptoms, and surgical management of disease. Failure to treat endometriosis appropriately can contribute to its far-reaching impact on personal relationships, work productivity, mental health, function of various organ systems, and opioid dependance (1). For patients who have failed palliative measures or who choose surgical management as their treatment of choice, it is imperative that they understand the extent of disease to guide decision making. A surgeon should have a realistic understanding of the skill set required to adequately manage the disease.
In the last decade, significant advancements have been made in the use of transvaginal ultrasound that aids in determining the location of endometriosis and significant inflammatory and adhesion related responses to the disease (2,3,4). This is not the basic ultrasound that evaluates the appearance of the uterus and ovaries. Instead, a detailed endometriosis ultrasound systemically evaluates anatomic compartments for evidence of disease and integrates the dynamic use of the probe to clarify mobility at the interface of pelvic organs. The dynamic aspect is accomplished by gently pushing the probe and watching the relative movement of the organs in focus as demonstrated in this video, Transvaginal Ultrasound with Bowel Prep: A Technique to Evaluate the Presence of Deep Endometriosis by Megan Billow, DO, Scott Young, MD, Javier F. Magrina, MD, and Rosanne Marie Kho, MD).
The ultrasound visualization of deep endometriosis and adhesions that correlates with surgical findings has been validated by a recent, international, multicenter study involving 273 patients. The sensitivity was 90% and the specificity was 76% (5). With the ready availability of transvaginal ultrasound in most clinics, ultrasound is uniquely positioned to assist in information gathering that will aid the patient -provider discussion regarding treatment options, facilitating a more complete informed consent.
Although there are more technical aspects to endometriosis-based ultrasound that may allow detection of small disease foci, the key endometriosis ultrasound techniques can be easily learned through practice with evidence-based protocols and surgical correlation. Learning to evaluate the vaginal wall, the bladder wall and the anterior wall of the lower colon and rectum can provide clues to deeper endometriosis nodules that may require additional expertise or surgical planning. The use of dynamic ultrasound in evaluation of organ interfaces can provide clues regarding adhesions and anatomic distortion. This is known as the sliding sign. Normally the ovaries move separately from the pelvic sidewall and uterus, while the bowel moves separately across the posterior uterus, cervix, and vagina. Uniform movement or absence of sliding provides significant clues to the degree of adhesions and the complexity of the surgery (4).
Learning endometriosis-based dynamic ultrasound allows for timely evaluation giving immediate information that can be used by the patient to make an informed decision and by the provider to triage appropriate surgical management when chosen by the patient.
Advances in ultrasound are continuing. Ultrasound can add to the clinical suspicion of endometriosis, organ involvement, and the severity of adhesions related to the disease. This gives the patient a greater ability to decide which treatment fits best within individual goals.
References:
Missmer S, et al. Impact of endometriosis on life-course potential: A narrative review. J Gen Med. 2021; 2021:9-25
Guerriero S, et al. Systematic approach to sonographic evaluation of the pelvis in women with suspected endometriosis, including terms, definitions and measurements: a consensus opinion from the International Deep Endometriosis Analysis (IDEA) group. Ultrasound Obstet Gynecol. 2016; 48: 318-332
Goncalves MO, et al. Transvaginal ultrasound for diagnosis of deeply infiltrating endometriosis. Int J Gynaecol Obstet. 2009; 104: 156-160
Macias G, et al. Deep learning to diagnose pouch of Douglas obliteration with ultrasound sliding sign. Reprod Fertil. 2021 Dec; 2(4):236-243
Espada, Mercedes, et al. Multicenter International Temporal and External Validation Study of the Ultrasound-based Endometriosis Staging System. J Minim Invasive Gynecol. 2021 Jan; 28(1):57 – 62
About the Author: Jeff Arrington, MD, FACOG
Dr. Arrington is Vice Chair of the AAGL Endometriosis SIG and a physician at the Center for Endometriosis Care in Atlanta, Georgia.