Patient Advocacy and Education at AAGL22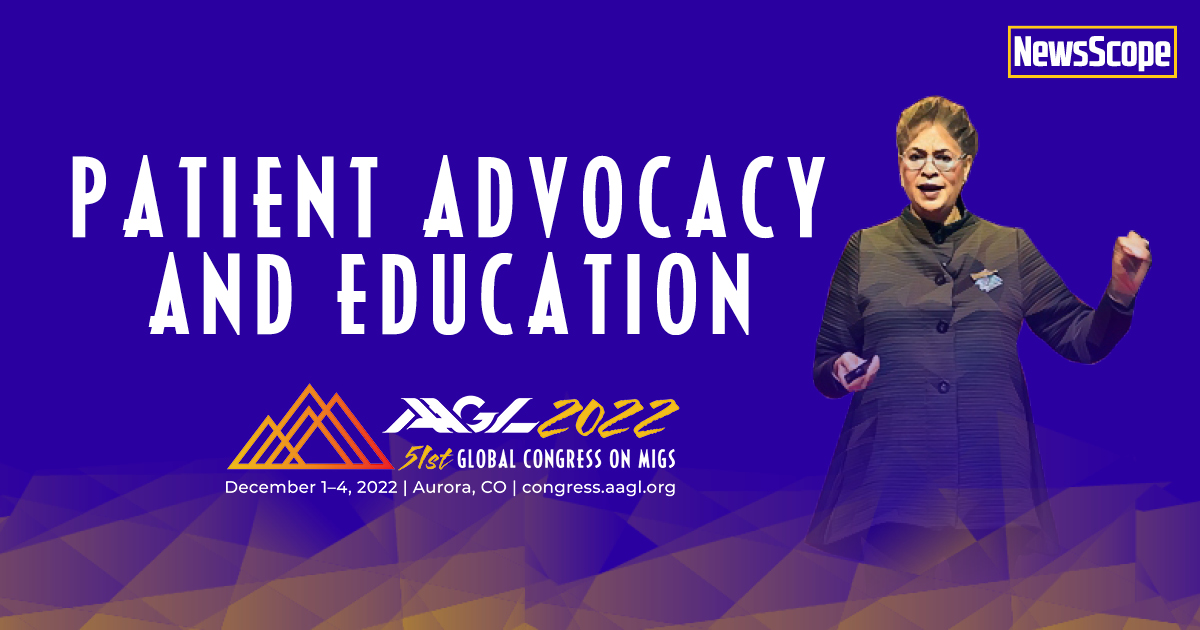 Our annual AAGL Global Congress is a mere few weeks away. Of course, it will be a great time to reconnect with old friends, make new friends, and learn cutting edge surgery and emerging medical therapeutic options for many disease states. As physicians, we will be enthralled as we watch live-telesurgery procedures, robust debates about the management of a myriad of gynecologic conditions and observe state-of-the-art imaging for surgical procedures.
Since our inception, we have focused on educating our colleagues (gynecologists and surgical nursing team). More than ever, our AAGL Board and Foundation of the AAGL Board are galvanized to put the motto of "patient first" in all that we do. You might say that we already do that with our programming, as we are teachers who are teaching our peers to better care for their patients.
However, this year, we are adding another dimension to our meeting by inviting patients to participate, via zoom, in a patient-centric program on fibroids. Drs. Jessica Opoku-Anane, Cara King, Sony Sukhbir Singh, and I will host a one-hour live, zoom session for patients on December 3, 2022, to discuss "Everything You Want to know about the "F" Word: Fibroids, Facts, Fiction, and Fallacies." This first-of-its-kind webinar will also be archived for future patient viewing. To this end, we are putting the patient at the center of all that we do.
Women with fibroids have many uncertainties. They are afraid and feel alone and vulnerable. They are often unsure of what medical and surgical decisions they need to make and what rights are available to them. These are reasons that the AAGL has decided to embrace patient advocacy. We will be the liaison between fears, fallacies, and the facts that they need to know.
The options for medical intervention and surgical procedures have become more complex and fragmented. Most patients report that they can't decipher fibroid treatment options and feel like they are in a maze. For some, access to information is cumbersome.
I'm confident that through this session, we will help patients face the many uncertainties related to fibroid symptoms and treatment options. We will educate the participants on state-of-the-art therapeutics and minimally invasive surgical options for myomectomy, hysterectomy, and hysteroscopy, in addition to non-surgical options for fibroids. We will also share recent medical and surgical updates and encourage self-care and self-advocacy during their fibroid journey. Our goals are lofty, but we hope to detangle and dismantle issues related to equal healthcare access for all. How? By educating the patient and most importantly providing them with a toolbox of questions to ask their provider.
In addition to our panelists, we have invited two ardent patient advocate founders, Sateria Venable from the Fibroid Foundation, and Tanika Grey Valbrun from the White Dress Project. They will help promote this session to their constituents and explain why they began their programs and the importance of advocacy.
We believe that thru patient engagement, communicating clearly, answering questions, and showing videos of surgical procedures, patients will learn about their options, gain confidence in minimally invasive treatments, and come to understand the concept of fibroid pathophysiology – that each fibroid is unique. We will measure the success of this session through a post-webinar survey.
Our vision is to be a guiding light in the patient's fibroid healthcare journey. As we demonstrate evidence-based options, we will improve trust and reduce unnecessary fears about fibroids.
To view the full scientific program, click here or please visit AAGL22 Global Congress – Aurora, CO – Dec 1—4, 2022!
See you in Colorado!