Recognizing Extraordinary Physicians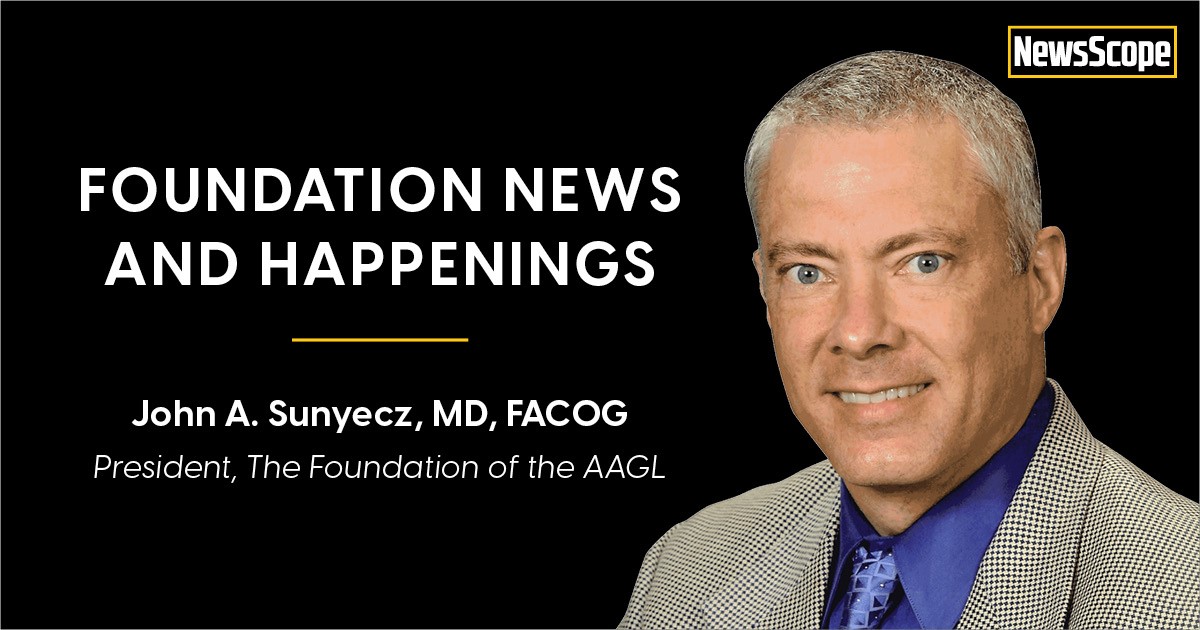 The Foundation of the AAGL recognize physicians every year who exemplify the highest values of leadership, mentorship, and dedication to the care of patients. We look forward to recognizing our 2022 Foundation of the AAGL Noteworthy and Signature Award Winners during the annual Foundation of the AAGL Awards Ceremony held Friday, December 2nd, at the AAGL Global Congress during General Session II.
This year we received support for the creation of three new awards that will be presented at the AAGL Global Congress: the Javier Magrina Robotics Award, the Medstar/NCAPS Diversity and Inclusion Award, and the Charles Koh World Suturing Champion Award (winner announced at AAGL Congress). We thank our generous donors who made these new awards possible.
Thank you to each of you who submitted nominations, applications, abstracts, and other required documentation for review. We'd also like to thank the independent award committees and committee chairs for their meticulous grading and commitment to honoring those whose work is truly the "best of the best."
The FAAGL's prestigious Noteworthy Awards recognize individuals who have personally empowered progress in MIGS through excellence in skill, innovation, mentorship, or service to others. Their professional achievements inspire others to do the same thereby elevating the entire profession and improving the health of women worldwide. Noteworthy award winners are nominated or complete an application process. An FAAGL committee then examines the qualifications of each individual and selects the person who most exemplifies excellence in the subject of the award. We are very proud of each person who has won a Noteworthy Award and applaud your contributions to our field. Congratulations to our 2022 Noteworthy Award Winners!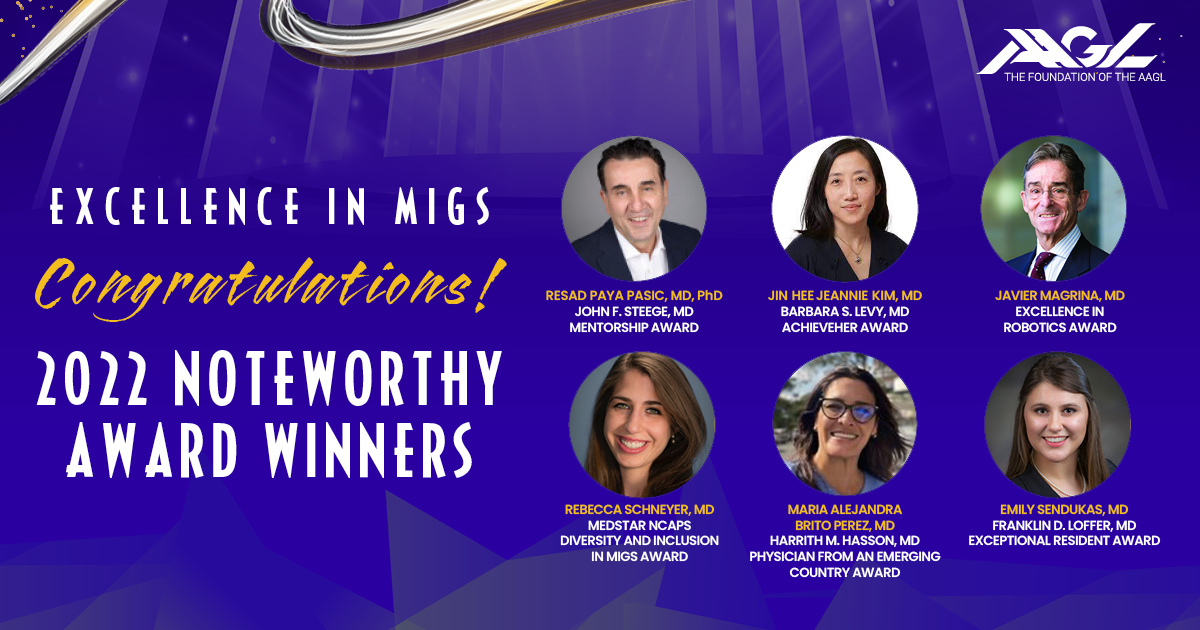 2022 Noteworthy Award Winners
(in alpha order of award)
Harrith M. Hasson, MD – Deserving Physician from an Emerging Country Scholarship
Maria Alejandra Brito Pérez, MD
Barbara S. Levy, MD, FACOG – AchieveHER Award
Jin Hee "Jeannie" Kim, MD
Franklin D. Loffer, MD, FACOG – Exceptional Resident Award
Emily A. Sendukas, MD
Excellence in Robotics Award
Javier F. Magrina, MD
Medstar/NCAPS – Diversity and Inclusion Award
Rebecca J. Schneyer, MD
John F. Steege, MD – Mentorship Award
Resad Paya Pasic, MD, PhD
In addition to the FAAGL Noteworthy Awards, we will also be recognizing winners of the 2022 FAAGL Signature Awards for the highest scoring abstracts. Abstract submissions are still being reviewed and award winner announcements will be coming soon. To learn more about each award or to support future awards, please visit the Foundation of the AAGL website.
Please join us for our 2nd Annual Foundation of the AAGL Music is Medicine Karaoke Party and FUNdraiser! Sign up to perform or come ready to cheer on your colleagues. This event is sure to be a highlight of the AAGL's Global Congress. Plan on joining us Friday, December 2nd from 8:30 pm – midnight in the Juniper Ballroom at the Gaylord Hotel.
VIP seating is available! For a donation of $1500 you can reserve a VIP table for you and your friends! A VIP table includes performance of a song selection of your choice (optional), bonus votes to apply to your favorite performer, preferred table seating, a scrumptious buffet, and drink tickets! To register to attend, sign up to perform, or reserve your VIP table, visit the Music is Medicine Karaoke Party and FUNdraiser website. All proceeds from this event benefit the Foundation of the AAGL!
The support of our donors is the fuel behind the mission of the Foundation of the AAGL. Check out this message from our Board about the great work the Foundation is doing and learn how your donations shape the future of MIGS. Thank you for joining the Foundation in empowering progress in minimally invasive gynecologic surgery.
We look forward to seeing you at this year's Global Congress!