National Adolescent Health Month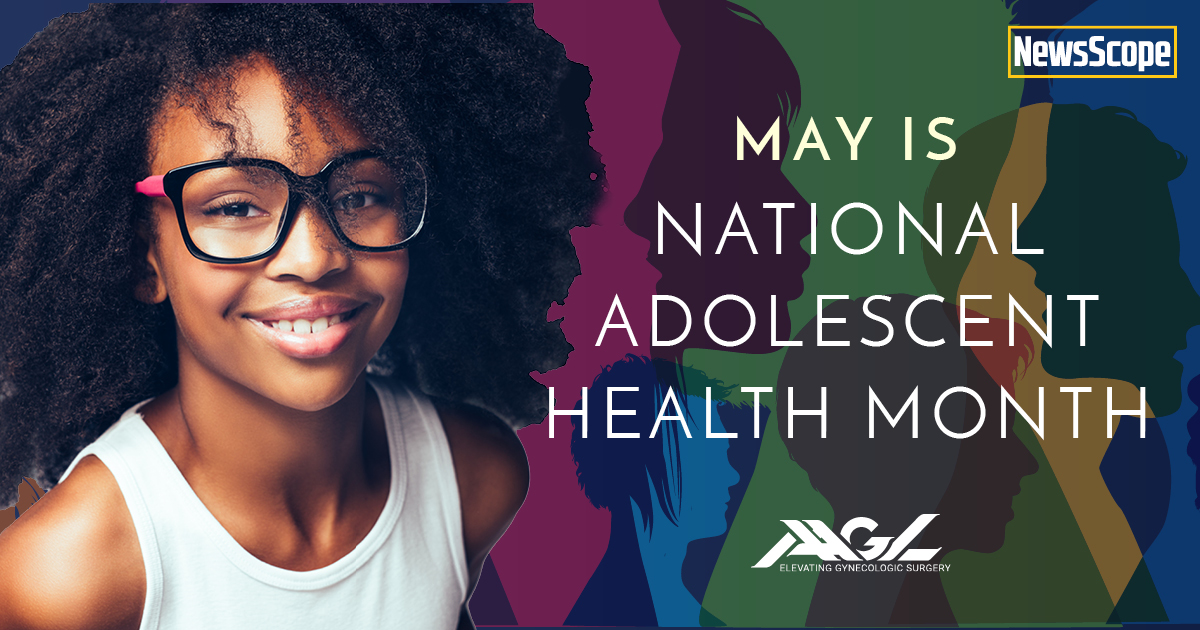 AAGL's Pediatric and Adolescent Gynecology (PAG) special interest group's mission is to: Encourage multi-disciplinary and inter-professional programs of medical education and PAG research and advocate for the reproductive well-being of children and adolescents while providing unrestricted, unbiased, and evidence-based practice.
May is National Adolescent Health Month (formerly Teen Pregnancy Prevention Month) National Adolescent Health Month is a fantastic opportunity to share current gynecology practices when consulted for the gynecologic surgical care of a child or adolescent. The following are some considerations for MIGS surgeons:
Empower youth with sexual and reproductive health information and services
Optimize care of endometriosis in adolescents/young adults

Consider endometriosis if patient does not experience improvement within 3-6 months of hormonal therapy initiation
Obtain ultrasound during evaluation for secondary dysmenorrhea Mullerian anomalies, particularly obstructive ones, can be the cause
Appearance of endometriosis at time of laparoscopy looks differently in teens compared to adults
Consideration to placing LNG IUD at time of laparoscopy1

Provide minimally invasive surgery if applicable- laparoscopy and mini-laparotomy for larger benign masses
Favor most conservative surgery to optimize retention of ovaries/tubes for reproductive health and longevity

Ovarian cystectomy for adnexal masses (benign)
Detorsing ovary without removing the ovary2

All sexually active women <26 years should be tested for gonorrhea and chlamydia annually and if they present symptoms, new or multiple partners, or a have a partner with an STI.
HPV vaccination advised through age 26 if not vaccinated previously
Counsel and provide evidence-based information about contraception options
Support mental health and well being
Consider psychological impact of chronic pain in adolescents/young adults- often early interventions can mitigate long standing pain sequelae
Understand the impact of COVID-19 on the adolescent patient
Learn the resources for teens in your local institution
Encourage physical health and healthy decision-making
Include the adolescent in the OR consent process, speak to the patient/not only the parent, have patient sign consent
Encourage autonomy and advocacy for young patients in your care
Advocate for physical fitness
Coach about the health care system and accessing their own chart access and messaging if available
Sustain equitable, accessible, youth-friendly services
Young people need guidance and support to manage chronic conditions like pelvic pain/endometriosis
Make your office/practice accessible to young patients- create a warm and respectful environment
Provide confidential conversations- encouraging younger patients to involve parents/family while ensuring and respecting their privacy
Understand your health care system to document confidential visits with the new CURES 21stCentury act3
Incorporate gender sensitive language into your practice4
1ACOG Committee Opinion No. 760: Dysmenorrhea and Endometriosis in the Adolescent Obstetrics & Gynecology, vol. 132, no. 6, 2018.
2ACOG Committee Opinion No. 783: Adnexal Torsion in Adolescents Obstetrics Gynecology, vol. 134, no. 6, 2019.
3 NASPAG/SAHM Statement: The 21st Century Cures Act and Adolescent Confidentiality. Journal of Pediatric and Adolescent Gynecology, vol. 34, issue 1, 2021.
4Grimstad, F. et al. Gender-Affirming Surgeries in Transgender and Gender Diverse Adolescent and Young Adults: A Pediatric and Adolescent Gynecology Primer. Journal of Pediatric and Adolescent Gynecology, vol. 34, issue 4, 2021.