Award Season Has Begun!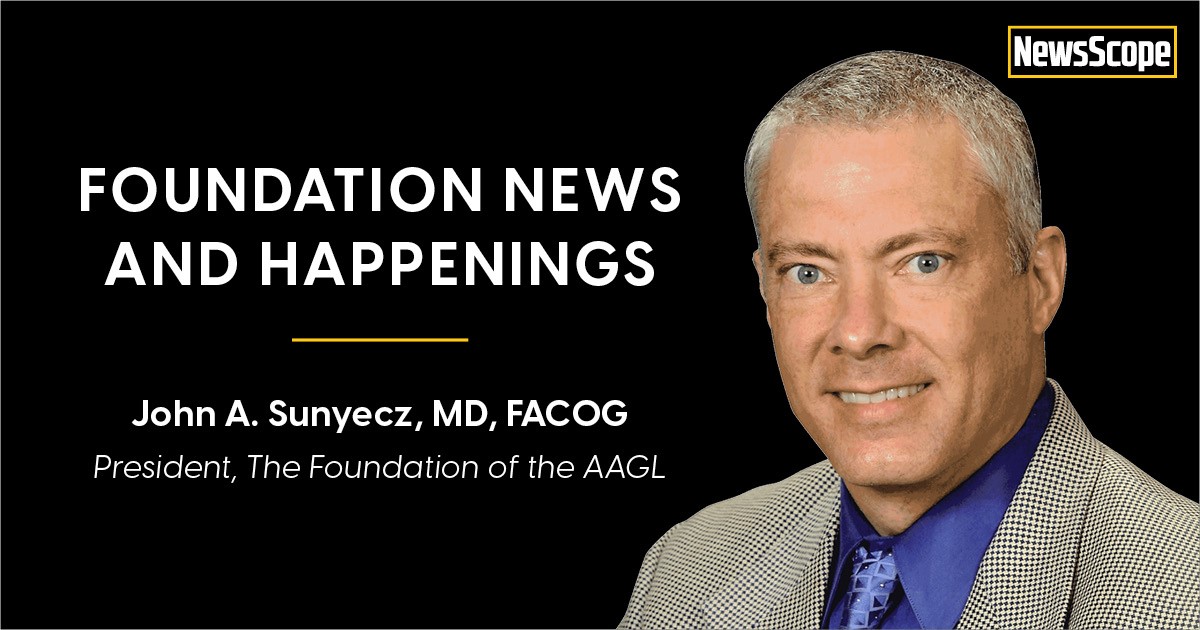 Happy Spring! As we proceed from the dark days of winter and enter the spring season of new growth and opportunity, I would like to take time to share information about our awards and the opportunity each provides. We are extremely proud of these awards, the people they honor, and the distinguished winners.
The Foundation of the AAGL will be honoring award winners at the 51st AAGL Global Congress in Aurora, Colorado, December 1-4, 2022. Many of you have already submitted your abstracts and applied for a Signature Achievement Award. The top scoring abstracts will be submitted to a designated Award Committee where they will select the "best of the best" to receive an award. Announcements of the winners will be made in late September and the awards will be presented at the annual meeting.
The Foundation will begin accepting applications for the following Noteworthy Awards on May 16, 2022. These annual awards have evolved from recognizing one single award winner to honoring multiple winners for their achievements in the following categories:
Emerging Countries Scholarship – Harrith M. Hasson Award
Dr. Hasson was a true visionary, a dedicated physician, and a prolific inventor of surgical and educational devices and techniques. His legacy endures with the cannula and open laparoscopy techniques that bear his name. Established in 2013 by Dr. Hasson's family, the Harrith M. Hasson, MD, Emerging Countries Scholarship Award recognizes a deserving physician from a developing economy who is empowering progress in minimally invasive gynecology within their community.
AchieveHER Award – Barbara S. Levy, MD, FACOG, FACS Award
Barbara S. Levy, MD, FACOG, FACS, is a lifelong advocate for advancing the quality and equity of women's health, an inspiring leader and mentor, and has broken through barriers to women in medicine. She was elected as the first female President of AAGL in 1994-1995 and has been a vocal advocate for women's health with appearances on multiple media outlets. Her clinical work has focused on evidence-based, equitable, comprehensive care for women throughout their life course. The Barbara S. Levy, MD, AchieveHER Award recognizes women leaders in minimally invasive gynecologic surgery (MIGS) who like Dr. Levy, have paved the way for female MIGS surgeons; served in leadership roles; and have been an influential mentor for five or more years. Qualified candidates must be 5-15 years out of fellowship training.
Exceptional Resident Award – Franklin D. Loffer, MD, FACOG Award
A passionate leader and advocate, Franklin D. Loffer, MD, FACOG, has worked diligently to develop and guide the organizational and medical policies of the AAGL. With a thoughtful approach and exceptional commitment, he has given over 20 years of service to the AAGL in the roles of Board President, AAGL Medical Director and Executive Vice-President (2000-2018), and Emeritus Medical Director of the Foundation Board of Directors. Established in 2018, the Franklin D. Loffer, MD, FACOG, Exceptional Resident Award recognizes a resident who demonstrates leadership qualities and an exceptional commitment to empowering progress in minimally invasive gynecologic surgery. This award was established in honor of the outgoing AAGL President and Medical Director's leadership and provides support to bring an Ob/Gyn resident to AAGL's Annual Global Congress. Third year residents selected by their chair to receive the AAGL Honorary resident status, are eligible to apply for this award.
Excellence in Diversity and Inclusion in MIGS Award – MedStar NCAPS Award – NEW
Located in beautiful Washington, D.C., internationally recognized faculty of the National Center for Advanced Pelvic Surgery (NCAPS) at MedStar Health train physicians with a comprehensive blend of clinical, surgical, and academic excellence in minimally invasive gynecology. NCAPS focuses on the latest minimally invasive vaginal, laparoscopic, and robot-assisted surgeries to improve the patient experience, reduce pain, and allow for a faster recovery. The MedStar NCAPS Excellence in Diversity and Inclusion in MIGS Award recognizes a top scoring manuscript presenting research on diversity and inclusion. The award winner will submit their winning manuscript for publication.
Excellence in Mentorship – John F. Steege, MD Award
Dr. John F. Steege famously pioneered one of the earliest Fellowship Programs with the objective of training academicians. Many of his original fellows have remained in academic positions with several going on to establish their own fellowship programs. Dr. Steege has been a leader in the evaluation and treatment of chronic pelvic pain, co-authored the first comprehensive text on chronic pelvic pain, and was an early developer of laparoscopic pain mapping under conscious sedation.
The John F. Steege, MD, Mentorship Award, established in 2015, recognizes outstanding AAGL members who have provided at least ten years of support and mentorship to future generations of minimally invasive gynecologic surgeons.
NEW! Excellence in International Contributions – Johan van der Wat, MB BCh, FACOG Award – Application Coming Soon
Dr. Johan van der Wat made many important contributions to the AAGL including serving on the AAGL Board of Directors (2010-2012), organizing the 9th AAGL International Meeting in Cape Town, South Africa, and helping to establish the Vaginal Hysterectomy Special Interest Group. The Johan van der Wat, MB BCh, FACOG, Award will recognize accomplished international gynecologic surgeons for their expertise, high surgical volume, philanthropy and/or significant contribution to the field of minimally invasive gynecologic surgery.
Innovation in Surgery and Reproductive Medicine – The Leila V. Adamyan Award
This award is periodically chosen through a donor advised selection process. This endowment was established in honor of Dr. Leila V. Adamyan whose groundbreaking contributions have had a profound impact on gynecologic surgery. Dr. Adamyan developed innovative methods of diagnosis and treatment for different gynecological diseases and is the author of three diagnostic classifications: adenomyosis, retrocervical endometriosis, and Mullerian anomalies.
The Leila V. Adamyan, MD, PhD, Innovation in Surgery and Reproductive Medicine Award recognizes exceptional achievements in the diagnoses and treatment of endometriosis, myoma, Mullerian anomalies, pelvic floor disorders and other gynecologic conditions, enhancement of surgical precision and efficacy, assistance in protection and achievement of successful reproduction, and/or significant improvements in patients' quality of life which have brought about advancement in the science, practice, technology, and education in gynecology and gynecologic surgery nationally, regionally, or internationally.
These endowment funded Noteworthy Awards are truly a great opportunity to recognize excellence in MIGS and honor current leaders for their skill, dedication, and achievement. Last year's Foundation Awards highlighted the difference our award winners are making not only in their communities, but in the world. Please consider who you think would be a good 2022 Noteworthy Award candidate for each of these awards and submit an application!
These awards would not be possible without your generous donations. The Foundation Board of Directors and I are passionate about the work we are doing to provide opportunities for MIGS education, mentorship, global outreach and awareness with the goal of improving women's health. We understand that choosing where and how to give is personal – each of us wants to have an impact on the issues important to us and the world.
If you are interested in supporting the Foundation of the AAGL and these awards, please visit the Foundation website.
If you are considering donating to the Foundation of the AAGL and have any questions about donating, establishing an endowment, making a bequest or other planned giving, please contact clovret@aagl.org for more information. We are extremely proud of the work we have accomplished in this past year and are excited to see what the future holds!
Together, and with all of you, our donors, and supporters, we will continue to make a difference by empowering progress in MIGS worldwide.