Sneak Peak: AAGL22 Pre-Congress Programming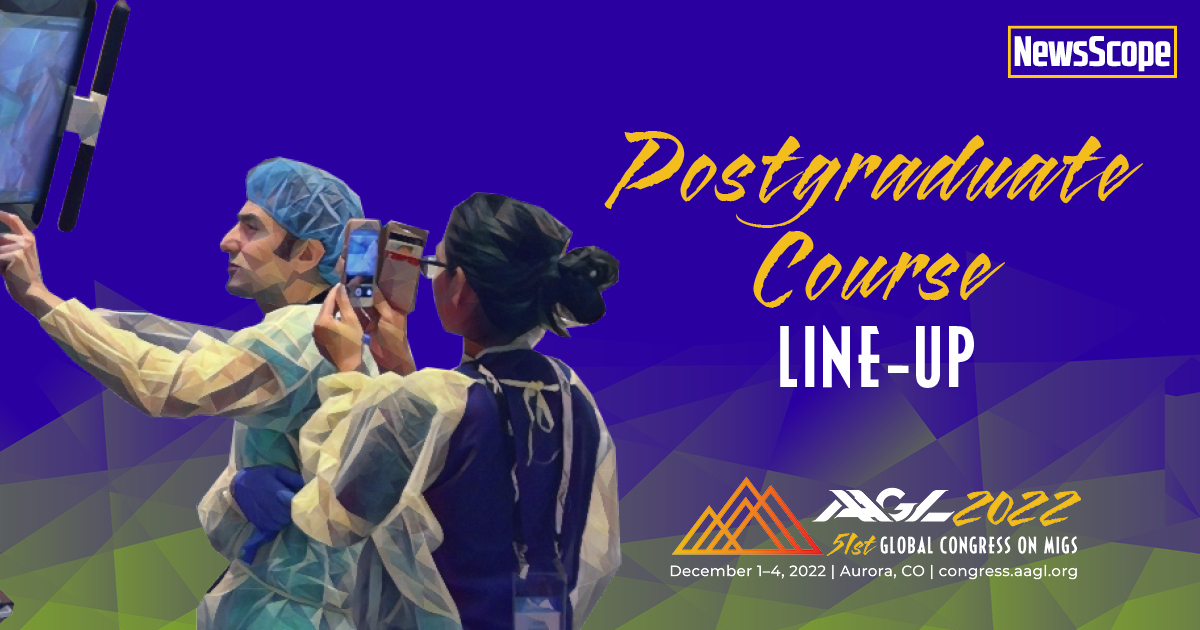 The AAGL22 Scientific Program Committee (SPC) has been hard at work developing the Final Program for this year's Global Congress, December 1-4, 2022 in Aurora, Colorado. This year's event will be held at the Gaylord Rockies Resort and Convention Center on the beautiful front range of the Colorado Rockies. Known as the "Gateway to the Rockies", the Gaylord Rockies boasts alpine styled resort rooms, restaurants, spa, and more, all located under one roof of this one-stop mountain oasis, allowing for ease in connecting with your colleagues and maximizing your Congress experience.
Our Final Program is loaded with high quality content you won't want to miss. Additionally, this year's program will cover an array of diverse topics. Here is a sneak peek into just a few of the postgraduate offerings you can expect at this year's event all while showcasing this year's theme: Dissemination of MIGS Care: Improving Access for All.
Drs. Xiaoming Guan and Kathy Huang will lead a Master's Course in Exposure Retraction and Deep Dissection, where renowned faculty will provide an in-depth discussion on exposure, retraction and deep dissection for complex cases across multiple surgical platforms, including laparoscopic, robotic, vaginal and vNOTES surgery.
In addition, Accessing the Pelvic Sidewall, an advanced anatomy course by Drs. Sven Becker and Giovanni Scambia, will present tips and tricks related to everyday surgical challenges of the pelvic sidewall.
Co-Chairs Ally Murji, MD and Caitlin Jago, MD will present Complex Obstetric Surgery for the MIG Surgeon. This course will focus on surgical nuances and techniques for Placenta Accreta Spectrum Disorder (PASD), cesarean scar pregnancy, management of complex retained products of conception, and complex cesarean deliveries (fibroids, endometriosis and more).
Check out Drs. Ashley Gubbles and Jean Uy-Kroh's discussion on Understanding Chronic Overlapping Pain Conditions. Attendees of this course will learn to evaluate, diagnose and treat common chronic overlapping pelvic pain conditions.
Should a uterine manipulator be used in endometrial cancer surgery? Should minimally invasive surgery be utilized for ovarian cancer interval debulking? Come hear the pros and cons in a panel discussion by Drs. Dario Roque and Fernando Heredia in their course, Oncology Controversies for the Practicing Gynecologist.
You won't want to miss our Honorary Chair, Dr. Charles Miller and course Co-Chair, Dr. Rebecca Flyckt, as they discuss How to Think Like a Reproductive Surgeon. Attendees will learn to apply techniques for uterine conservation and fertility preservation when treating common uterine pathology such as fibroids, isthmocele, and adenomyosis and explore what's new in treating early pregnancy failures hysteroscopically.
Additional courses include a nerve sparing didactic and hands-on cadaver lab, intrauterine surgery, endometriosis management, gender affirmation surgery, advanced robotics, fibroids, vaginal access surgery, managing complications, surgical management in pediatric and adolescent gynecology, uterine repair, surgical coaching, Asherman's syndrome, social media in medicine and much, much more!
For the latest news on this year's Global Congress, please visit and bookmark the official AAGL22 Global Congress website.
Registration will be opening soon and we appreciate your patience!
On behalf of the AAGL Board of Directors, the SPC and leadership, we can't wait to welcome you all to this year's meeting!