Spotlight On: Pelvic Pain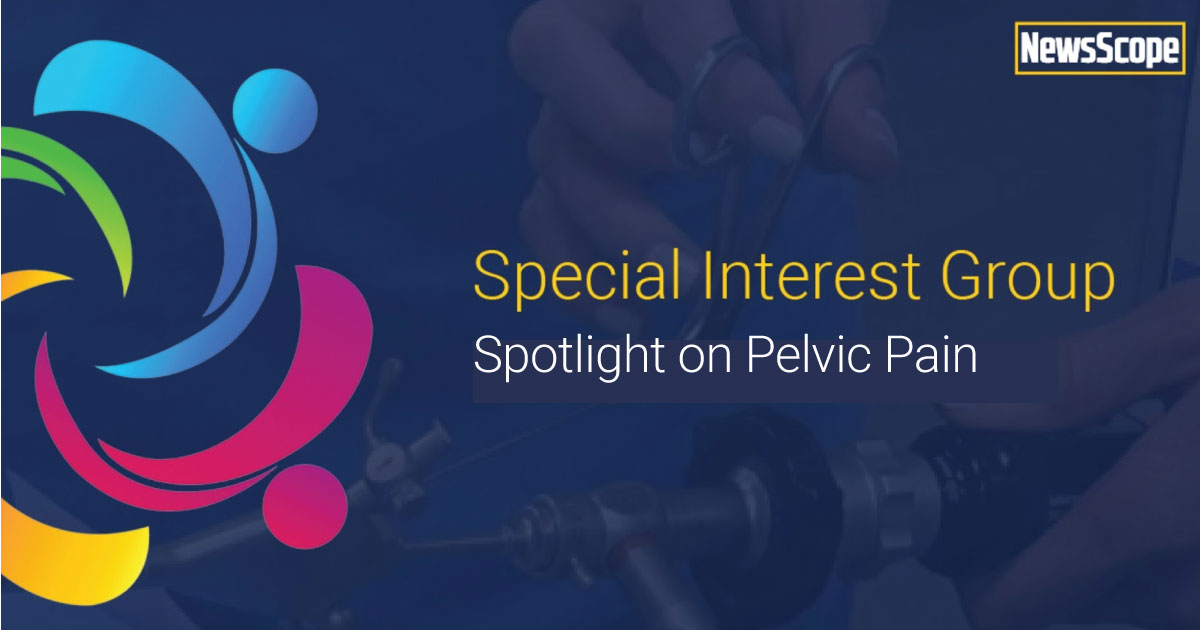 This month we cast a spotlight on articles, SurgeryU videos, and Journal of Minimally Invasive Gynecology (JMIG) article recommendations from the AAGL Pelvic Pain Special Interest Group (SIG) led by Chair Timothy Deimling, MD, MSc.
Access to SurgeryU and JMIG are two of the many benefits included in AAGL membership. The SurgeryU library features high-definition surgical videos by experts from around the world. JMIG presents cutting-edge, peer-reviewed research, clinical opinions, and case report articles by the brightest minds in gynecologic surgery.
SurgeryU video recommendations by our SIGs are available for public access for a limited time. The links to JMIG article recommendations are accessible by AAGL members only. For full access to SurgeryU, JMIG, CME programming, and member-only discounts on meetings, join AAGL today!
---

SurgeryU Video Recommendation #1:
Chronic Pelvic Pain: Untangling Nociceptive, Neuropathic and Nociplastic Pelvic Pain with the Initial History Intake by Dr. Jorge F. Carrillo
Chronic pelvic pain is a condition impacting nearly ¼ of the population and the primary indication for referral in nearly 1 out of every 5 gynecologic referrals. In this video, Dr. Carrillo provides a comprehensive overview of the mechanisms of pain encompassing overlapping pain conditions. The video highlights the importance of the initial contact we as providers have with patients suffering with chronic pelvic pain and provides insight into the benefits of a standardized history and intake form in the management of this patient population.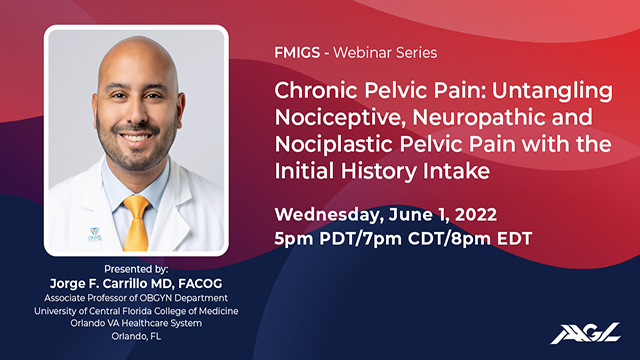 Click Image to View Video
SurgeryU Video Recommendation #2:
Laparoscopic Sacrospinous Ligament Transection for the Treatment of Pudendal Neuralgia by Drs. Dina Bastawros, Erinn Myers, and Smitha Vilasagar
The authors in this video describe a laparoscopic approach to the management of pudendal neuralgia through sacrospinous ligament transection. The video provides an excellent overview of relevant anatomy and an approach to pudendal neuralgia in the patient refractory to conservative management. The video utilizes a combination of dissection in both live and cadaveric patients to demonstrate their techniques.
---

JMIG Article Recommendation #1:
Opioid Use After Laparoscopic Surgery for Endometriosis and Pelvic Pain by Drs. Caroline K. Heres, Noah B. Rindos, Isabel R. Fulcher, Sarah E. Allen, Nathan R. King, Shana M. Miles, and Nicole M. Donnellan
In the midst of the opioid epidemic, it is important that we continuously evaluate our practices and the potential impact we have as providers. This article describes a prospective survey-based study comparing the opioids prescribed, to the opioids used, in postoperative patients who have minimally invasive surgery for endometriosis or pelvic pain.
Journal of Minimally Invasive Gynecology, Vol. 29, Issue 12, p1344–1351, Published online: September 23, 2022.
JMIG Article Recommendation #2:
Beliefs and Narratives Associated with the Treatment of Chronic Pelvic Pain in Women by Drs. Kate V. Meriwether, Jamie L. Griego, Sierra M. Jansen, Flora Abudushalamu, Tim R. Petersen, Gene C. Dunivan, Tuko M. Komesu, and Janet Page-Reeves.
In medical research, we often choose our specific aims and hypotheses based on objective data that we hope to obtain addressing the questions and/or goals of the investigator. There is a trend in medical research to consider patient-focused goals and objectives in study design. It is important that we develop techniques to assess these goals and become more accustomed to seeing and evaluating these types of studies in literature. This study evaluated the thoughts of stakeholders (patients and providers) through validated questionnaires and focus group discussion.
Journal of Minimally Invasive Gynecology, Vol. 30, Issue 3, p216–229, Published online: December 8, 2022.
---

Technology Update: Neuromodulation: Is There a Role in the Management of Chronic Pelvic Pain? by Tim Deimling, MD
Chronic pelvic pain is a complex and multifactorial condition reported to affect up to 20% of all genders. The prevalence of chronic pelvic pain is nearly twice as high among those identified as female compared to those identified as male. Chronic pelvic pain is defined as non-cyclic persistent pelvic pain that lasts 6 months or longer. The impacts of chronic pelvic pain are far-reaching and include cognitive, behavioral, and emotional ramifications. Complex anatomy and multiple inciting etiologies make chronic pelvic pain difficult to diagnose and treat. Conservative treatments often include physical therapy, pharmacotherapy, psychotherapy, botulinum toxin injections, nerve blocks, trigger point injections and more. Advances in technology and the evolution of neuromodulation have led to the increased utilization of this treatment particularly in refractory cases.
Neuromodulation is the use of various forms of electrical or pharmaceutical stimulation for variable therapeutic effects of the nervous system. There is a wide range of neuromodulators available today ranging from transcutaneous electrical nerve stimulation (TENS) to sacral neuromodulation (SNM). Neuromodulators have been around since the 1960s and they were developed based on the principles of gate control theory. The simplified mechanism of action is inhibition of A-delta and C fibers leading to decreased pain sensation. There is also thought that neuromodulation can increase local circulation, increase the release of endogenous opioids, and potentially activate descending inhibition from the central nervous system. We will briefly review available neuromodulation devices and applications.
Transcutaneous Electrical Nerve Stimulation (TENS):
TENS is non-invasive, portable, and there are few reported adverse effects. Tens uses a small generator to transmit electrical energy through the skin to stimulate nerves. Electrodes can be placed on or near the area of pain. Treatments can use variable frequency, intensity, and duration. Multiple commercially available units allow discrete use and can be worn throughout the day outside of the home.
Tibial Nerve Stimulation (TNS):
The posterior tibial nerve originates from spinal nerve roots L4-S3 and contains both motor and sensory fibers. The nerve can be stimulated either percutaneously or transcutaneously. Percutaneous application involves the placement of a needle electrode under local anesthesia. Transcutaneous tibial nerve stimulation uses surface electrodes to attempt to stimulate the tibial nerve. It is less invasive and easily tolerated by patients, but it is also less specific and could have less effect secondary to multiple variables including electrode placement and limited device settings.
Pudendal Neuromodulation (PNM):
The pudendal nerve arises from S2-S4 and it can be stimulated with implantable devices. It is less studied than sacral neuromodulation, but there is increasing interest secondary to broader impact on the sacral nerve roots and potentially shorter operative times, but outcomes data are still limited.
Sacral Neuromodulation (SNM):
The S3 nerve root is the primary location of electronic stimulation with SNM. Stimulation of the S3 nerve root has been demonstrated to have benefits for pain reduction, bladder control, and more. The procedure is typically completed using a staged approach. This approach is more invasive and can require the need for revision for wire migration or device malfunction.
Discussion:
Chronic Pelvic Pain is complex and difficult to treat. Neuromodulation is emerging as a relatively low-risk treatment option that is likely most beneficial as part of a multi-modal approach. There are multiple treatment options with variable levels of invasiveness. This provides patients with significant options allowing providers to align treatment plans with patient goals. There is still a need for more research and long-term outcomes data to draw conclusions, but it definitely seems like something to keep in our toolbox for chronic pelvic pain.
References:
Xiang H, Zhang T, Al-Danakh A, Yang D, Wang L. Neuromodulation in Chronic Pelvic Pain: A Narrative Review. Pain Ther. 2022 Sep;11(3):789-816. doi: 10.1007/s40122-022-00405-w. Epub 2022 Jul 14. PMID: 35834103; PMCID: PMC9314476.
Patel CB, Patel AA, Diwan S. The Role of Neuromodulation in Chronic Pelvic Pain: A Review Article. Pain Physician. 2022 Jul;25(4):E531-E542. PMID: 35793177.
About the Author:
Tim Deimling, MD, MSc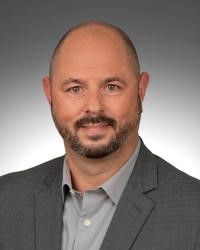 Dr. Deimling is the Chair of the AAGL Pelvic Pain SIG, and a Minimally Invasive Gynecologic Surgeon at the University of Pittsburg Medical Center, Magee-Womens Hospital, in Pittsburg, Pennsylvania, USA.