Laparoscopy Inside the Walls of Verona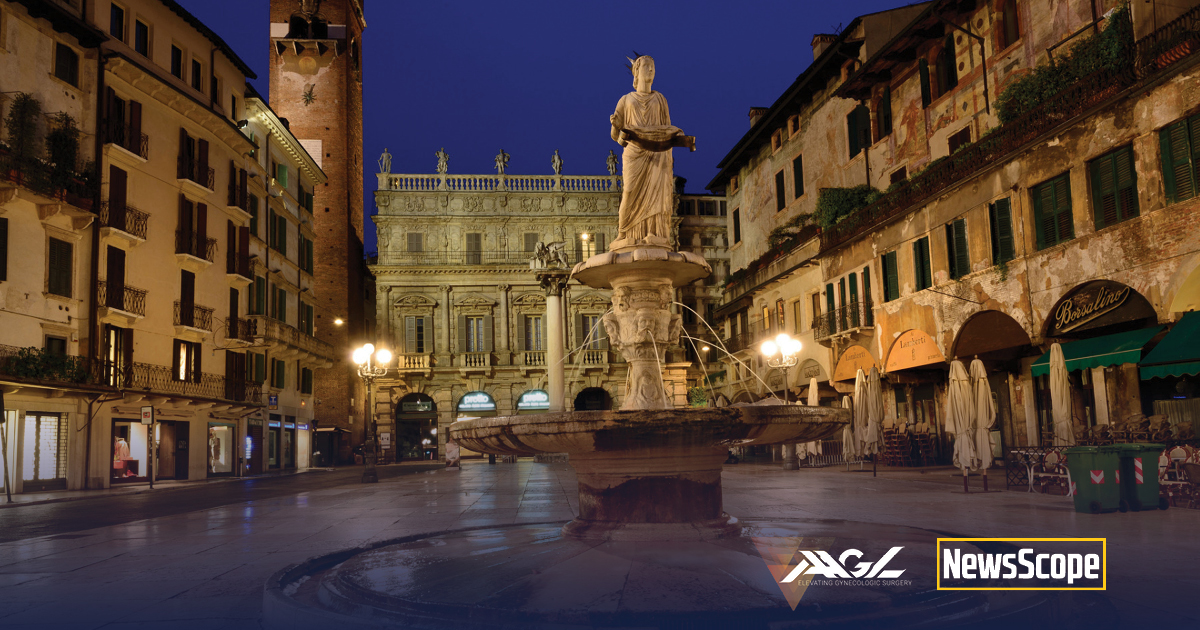 "If you love someone, bring them to Verona." This is exactly what Marcello Ceccaroni set out to do. The First ISSA International, Hands-on Intensive Master in Basic and Advanced Laparoscopic Surgical Anatomy of the Female Pelvis and Techniques was the held on July 9-12. This event was the first of its kind to be endorsed by the AAGL and the largest with both live surgery and cadaveric dissections. It attracted 110 faculty members and attendees from 25 countries, over five continents, to Verona, Italy – the birthplace of Shakespeare's Romeo and Juliette, a place known for love.
Long-time friends and pioneers in the field, Marcello Ceccaroni and Shailesh Puntambekar, share the same passion for surgical anatomy, education and teaching. Both possess the highest surgical skills in advanced minimally invasive procedures for gynecological oncology and deep infiltrating endometriosis and have utilized their skills to further advance in the areas of nerve-sparing radical surgery and uterine transplant.
In 2010, Dr. Ceccaroni and his colleagues founded the International School of Surgical Anatomy (ISSA), a non-profit association aimed to develop and support young growing surgeons. Here anatomy is the "alphabet" taught through a range of courses such as basic and advanced abdomino-pelvic surgery, surgical anatomy, and nerve-sparing surgery in deep endometriosis. An international faculty of opinion leaders and stakeholders utilized the cadaveric specimen model and live surgery experiences, along with a robust theoretical framework, to shape new surgeons (1).
Income from the ISSA courses, including the last one in Verona, are re-invested in humanitarian and educational projects, grants for residents and young specialists, and worldwide projects helping on-site surgeons learn and perform advanced surgical procedures by themselves, in a safe and radical fashion. An incredible example of this is the "Robin Hood Project" in Guadalajara, Mexico.
At the recent Master, a very rich "Italian style menu of surgical delights" was proposed to the 60 participants. Every morning, a parallel live surgery was broadcasted from two operating rooms in IRCCS Sacro Cuore Hospital in Negrar di Valpolicella (Verona). The dense schedule included deep infiltrating endometriosis eradication with segmental bowel resection, bladder and ureteral surgery (2,3) performed by Marcello Ceccaroni, and oncogyn procedures for cervical cancer and endometrial cancer performed by Shailesh Puntambekar. The group was also treated to live broadcasts from Mario Malzoni in Avellino and Ted Lee in Pittsburgh. The rest of the surgical faculty: Vito Chiantera, Andrea Puppo, Francesco Bruni and Roberto Clarizia performed other surgical procedures in a real time Olympic Surgical show.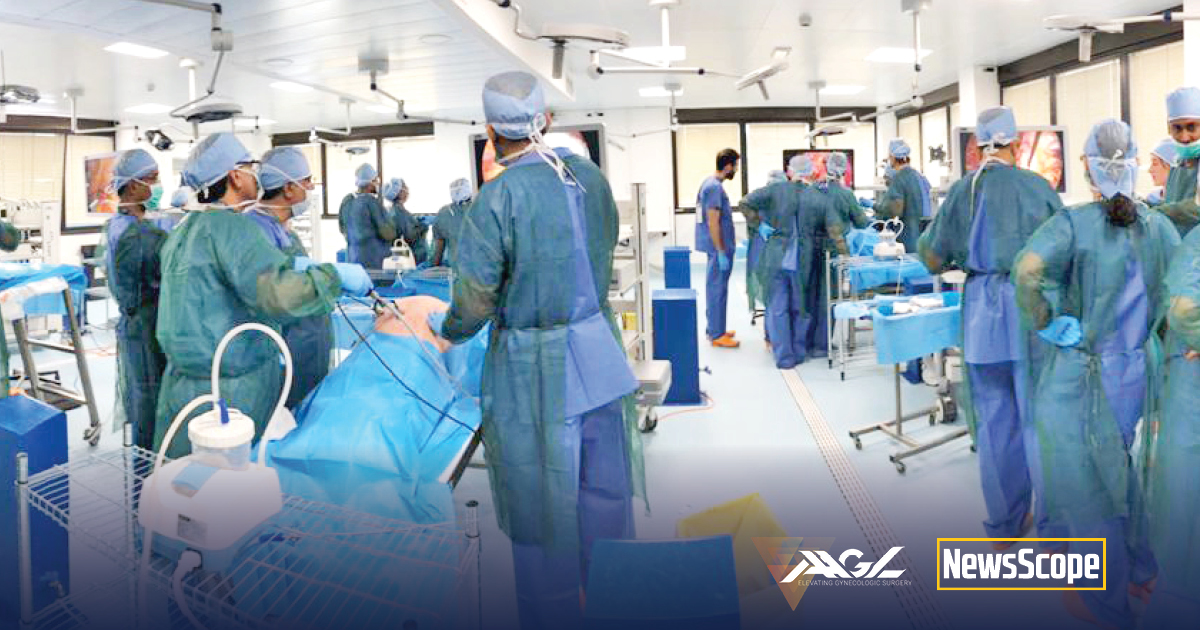 In depth lectures were given over lunch. Standing room only video sessions and laparoscopic procedures were shown with faculty members illustrating the procedures and answering questions. During the afternoon, there were hands-on sessions, where attendees began with dissection activity between two floors of the ICLO Teaching and Research Center. Stations were arranged as a real operating field, equipped with full high definition 3D scopes and all of the necessary laparoscopic devices. Each station had two expert tutors guiding participants' gestures from outside, starting from the bases of pelvic anatomy, to reproduce the procedures seen live in the morning. This course was a huge success including the highest number of specimens employed and the largest ensemble of international attendees and faculty to date!
On Thursday night, the Indian contingency enjoyed a beautiful dinner together. Participants gazed at the stars from the hills, admiring the sights and tasting the Italian gourmet food of ancient Verona. Next, each participant was awarded with a special gift and a signed final degree for the knowledge and expertise learned through the courses designed by Chairs Marcello Ceccaroni, Shailesh Puntambekar, and Linda Michels, AAGL Executive Director.
The last day was dedicated to an intensive master course in laparoscopic suturing and commenced with a live telesurgery broadcast from two operating theatres. Expert surgeons Pere Barri, Giovanni Roviglione, Daniele Mautone, and Stefano Uccella modeled the good manners of laparoscopic suturing and knotting when performing hysterectomies and myomectomies. The afternoon concluded with video presentations and lectures supporting "hands-on" demonstrations of suturing both on cadavers and on the pelvic trainers.
"This course was more than a course", said Ceccaroni and Puntambekar. "This outstanding experience is another example of the miracle of AAGL, which is, above all, a miracle of friendship. This large number of people came from all over the world as a testimony of their trust in ISSA and AAGL and their hunger of knowledge and skill – and none will ever be able to put boundaries to knowledge and skill."
If you want to fall in love with laparoscopic surgical anatomy, Marcello and Shailesh can help to nurture that love!
Be sure to save the date, July 7-10, 2020, for when the Second Edition of the Verona Master will take place!
REFERENCES
2 Ceccaroni M, Pontrelli G, Scioscia M, Ruffo G, Bruni F, Minelli L.
Nerve-sparing laparoscopic radical excision of deep endometriosis with rectal and
parametrial resection. J Minim Invasive Gynecol. 2010 Jan-Feb;17(1):14-5. doi: 10.1016/j.jmig.2009.03.018.
3 Ceccaroni M, Ceccarello M, Caleffi G, Clarizia R, Scarperi S, Pastorello M, Molinari A, Ruffo G, Cavalleri S. Total Laparoscopic Ureteroneocystostomy for Ureteral Endometriosis: A Single-Center Experience of 160 Consecutive Patients. J Minim Invasive Gynecol. 2019 Jan;26(1):78-86. doi: 10.1016/j.jmig.2018.03.031.